By Daniel Sheehan, Reporter Staff
September 10, 2020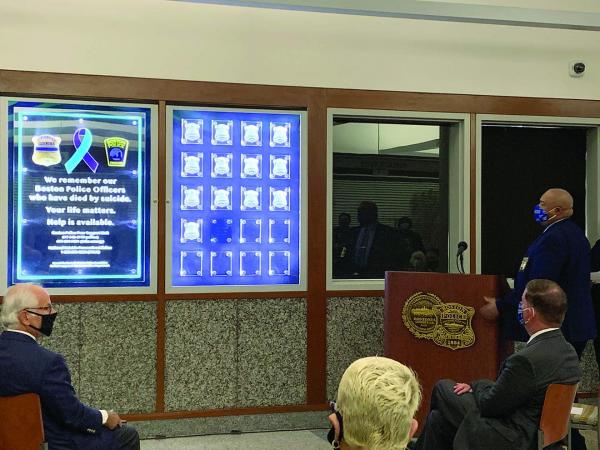 Mayor Martin Walsh and family members of fallen Boston police officers joined Commissioner William Gross Tuesday at BPD headquarters for the unveiling of a new memorial dedicated to BPD officers who have died by suicide. The memorial wall, funded and commissioned by the Boston Police Foundation, pays tribute to 13 officers who had taken their own lives in recent years. 
Speaking at the event, Gross said the memorial marks a new chapter of mental health awareness at the department's leadership level, as well as evolving attitudes of openness toward discussing symptoms of depression and PTSD felt by many members of law enforcement.
"We're not hiding that anymore," said Gross. "We're bringing it to the forefront so we can start the healing process."
Walsh quoted scripture before addressing the victims' family members, telling them, "Your city will honor these men and women forever."
Carl Jenkins of the Boston Police Foundation noted that the police memorial to victims of suicide is "the first in the nation. This is not something departments around the country recognize." He drew a parallel between the memorial and another just feet away honoring police killed in the line of duty. "We see these officers the same way, as losing their life in the line of duty."
Statistics show that police officers are among the professions at highest risk for suicide. Blue H.E.L.P., a Massachusetts-based nonprofit that tracks police suicides, reported earlier this year that suicide deaths among cops exceeded those of all other line-of-duty deaths combined in 2019.
Dianne Donovan of South Boston, whose son, Officer Patrick Donovan, died in 2014, was at the ceremony with her family. "I was sick to my stomach on the way over here, but when the event started I could feel so much love and support--they uplifted me," she said, gesturing to the community of officers and family members gathered in the hall.
She recalled her son, a Marine veteran, as being "hilariously funny" and beloved by his nieces and nephews. "It's a beautiful thing that they have brought this out in the open. We hope it can help others."