By Daniel Sheehan, Reporter Staff
March 6, 2019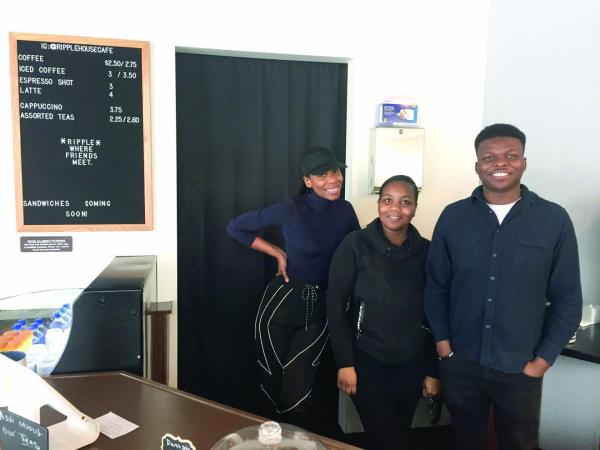 Upon entering Ripple Cafe in Peabody Square, customers see a framed black and white photograph of Ashmont Station dated from July 10, 1923. The scene is unrecognizable: a small stone building nestled amid a grove of trees, set beside a pair of railroad tracks and a boarding area comprised of patches of barren dirt and tufts of grass.
Cafe owner Gaelle Ducheine, who runs the spot along with James Guerrier, said she tracked down the photo at the city archives in West Roxbury.
"It was just in line with the fact that Ashmont's looking really different now, and I was just like, man, I wonder what it looked like back in the day," explained Ducheine. "It's insane that that's what Ashmont used to look like."
The photo is a reminder that the Ashmont neighborhood has seen a lot of changes over the past century, and Dorchester's newest coffee shop — one of the only black-owned coffee shops in the city — is an example that change is not always a bad thing.
The space across from Ashmont Station, which previously housed Flat Black Coffee, officially opened as Ripple Cafe last Thursday after months of preparation and renovation. Ducheine, a self-proclaimed "bargain shopper," redecorated the space herself. A crowdsourced GoFundMe campaign raised over $6,000 in donations, the bulk of which went towards purchasing brand new coffee-making equipment, including an espresso machine.
The sleek setting represents an upgrade from Ripple's previous headquarters, which consisted of a small coffee cart in a shared space inside Taste of Eden, a Caribbean eatery in Codman Square. After an assist from Greater Ashmont Main Streets executive director Jenn Cartee, Ducheine and Guerrier capitalized on an opportunity to fulfill their dream of operating a neighborhood coffee shop from their own brick and mortar space.
"[Jenn] knew that Flat Black was relocating, and she actually came all the way down to [Taste of Eden] and said 'Hey, there's a vacancy opening up, would you be interested?' I didn't believe her!...Six months later, here we are," explained Ducheine.
Cartee pointed to the cafe's expanded hours, which run from 7 a.m. to 7 p.m. on weekdays and 8 a.m. to 4 p.m. on Saturdays, as a boon to commuters and the 148 new incoming households that will inhabit the nearby Treadmark and 1943 Dot Ave buildings.
"There's an atmosphere here that's much more conducive to hanging out, and I think that works so well at a transit hub," said Cartee. "We have 17,000 commuters a day through Ashmont on train, trolley and bus, and the availability before and after the commute, as well as during the day for those who work from home, or folks meeting up with friends or getting work done in the community, in addition to the advantage it gives [adjoining Eastern Bank] for their customers and drawing people into this particular bank branch, it was an excellent fit all around."

Ripple Cafe's location beside a transit hub will make it a favorite among commuters, predicted Greater Ashmont Main Streets' Jenn Cartee.
Ripple's brand has a millennial flare. Ducheine manages the cafe's nascent online presence through an Instagram account that regularly updates followers with carefully framed still-life portraits of lattes and pastries, building awareness of the business organically through social media. Guerrier, a musician, curates the playlist at the cafe, alternating Prince with original songs from his friends' bands.
"We will hopefully have some live music here soon," he added.
Ashmont residents can enjoy the simple comforts of having a spot to grab a coffee, get some work done, or — as the cafe's motto suggests— "meet with friends."
Barbara Lewis, an Ashmont resident and director at UMass Boston's Trotter Institute of African American Culture who was writing in a journal and sipping a coffee in the cafe, called the cafe's opening "wonderful." To describe the community impact of the space, she echoed a phrase she had heard Ducheine use regarding her status as one of Boston's few black coffee shop owners: having "a seat at the table."
"This is a place where there's a seat at the table for all of us," she said. "For those who are not thought of as intellectual or educated or sufficiently cultured or into cafe society in the new iteration...this is the community taking part in that, which I think is beautiful."