By Reporter Staff
August 7, 2019
The following obituary was compiled and written by relatives and friends of the deceased:

A funeral Mass will be held on Sat., Aug. 24, at St. Ann Church in Neponset for Neil F. Jones, a dancer, a singer, actor, and Dorchester native who over a long career in the performing arts appeared in a string of Tony-winning Broadway musicals.
Mr. Jones, the second son of James C. and Eleanor F. (Stillman), died earlier this summer, on Sun., June 2, at Boston Medical Center. He was 78.
While growing up in Neponset alongside his older brother, Larry, Mr. Jones developed a love for his community and its people. Following in the footsteps of his father, known throughout the city for his booming singing voice, he took to entertaining at an early age. As a child, he tap-danced on the sidewalk for pennies. Later, as a member of St. Ann Parish, Jones joined the CYO's St. Ann's Players, performing in theatrical productions under the direction of his mentor Jack Morris.
After graduating from Dorchester High School in 1959, Mr. Jones entered the workforce with jobs as a soda jerk at Teddy's Drug Store in Old Harbor Village, as a copy boy at the Boston Herald Traveler, as an emergency room X-ray technician at Boston City Hospital, and as a salesman for the Scripto Pen Company. He also served in the US Army National Guard.
But the theater was in his blood and in the early 1960s, he was awarded a full, four-year scholarship to the Boston Conservatory of Music, where he studied music, dance, voice, acting, and piano. He spent summers during this period performing in 30 musicals with stock companies in North Carolina, Cape Cod, and New Jersey.
In 1963, Mr. Jones headed to New York and, while waiting for his big break, landed a job as a captain at the iconic Tavern on the Green restaurant. He was soon hired to perform for a season with the Joffrey Ballet. He was then cast in his first Broadway musical, with the original company of "Hello, Dolly!" The David Merrick-produced musical starring Carol Channing won 10 Tony awards in 1964, including Best Musical. This set a record that the play held for 37 years. His show-stopping leap over the orchestra pit drew gasps from the audience at every performance. Channing gave him a baby grand piano for his Manhattan apartment.
Soon, television came calling. While still a cast member in "Dolly," Mr. Jones was one of a quartet of young actors tapped to star in the NBC network children's series "The First Look." Each week, the Saturday morning live-action series took an introductory look at subjects like travel, time, and books.
On the personal front, Mr. Jones met and married dancer Beverly Baker while the two were appearing in "Hello, Dolly!" The couple attended classes at Fordham University by day and performed at night. Their first daughter, Tara, was born in 1966. That year, Jones was cast as a dancer/singer/actor in the Tony-nominated "The Apple Tree," starring Alan Alda and directed by Mike Nichols. He next appeared in "Henry, Sweet Henry" as a dancer, singer, and understudy to the starring role. The musical, choreographed by Michael Bennett and directed by George Roy Hill, featured Don Ameche and Louise Lasser.
A second daughter, Bonnie, arrived in 1968. That year, Jones was cast in the original company of "Promises, Promises." The huge hit was produced by Merrick with music by Burt Bacharach, lyrics by Hal David, and book by Neil Simon. Actors Jerry Orbach, Jill O'Hara, Donna McKechnie, Ken Howard and Kelly Bishop starred. Tony nominations included Best Musical, Best Direction of a Musical, and Best Choreography. The cast album won the Grammy Award for Best Musical Theater Album.
In the early 1970s, along came "Liza with a "Z": A Concert for Television" which took the entertainment world by storm. Mr. Jones was a featured dancer in the 1972 concert film starring Liza Minnelli. The film was directed and choreographed by Bob Fosse, with music by Fred Ebb and John Kander. The NBC television special went on to win four Emmys and a Peabody Award.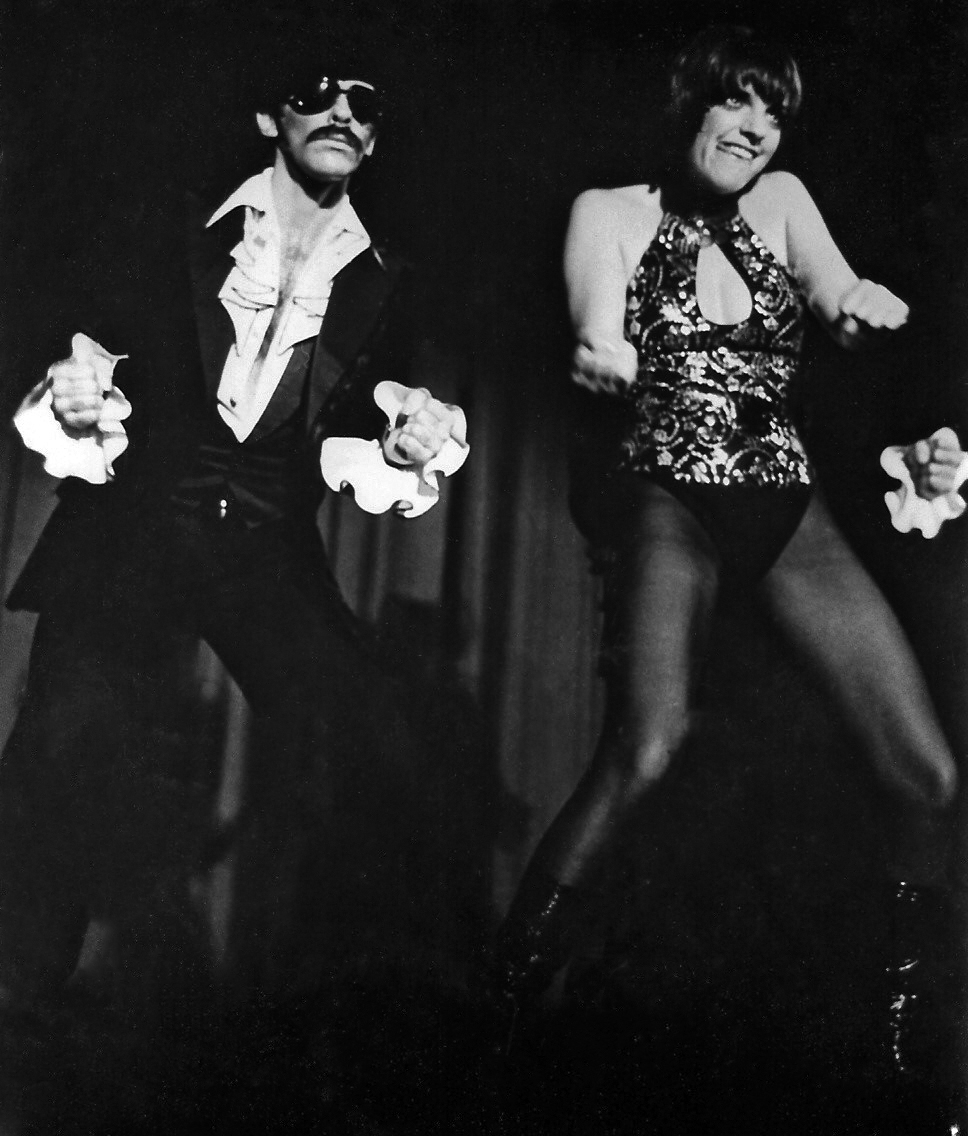 Neil Jones performed alongside Liza Minelli in the award-winning 1972 concert film "Liza with a 'Z': A Concert for Television."

During the show-stopping "I Gotcha" number, Minnelli appears with only two dancers: Mr. Jones and Spencer Henderson. On the commentary track of the film's 2006 DVD release, Minnelli calls them "Two of the best dancers in the world – Spencer and Neil!" Returning to New York in 1973, Mr. Jones was dance captain and assistant director of "Cyrano," starring Christopher Plummer, at the Palace Theatre. He also danced in the musical, which was produced by Michael Kidd.
Mr. Jones left the Big Apple in 1975 and returned to his beloved Dorchester, sharing his knowledge and love of the stage with several local theatre companies. One of those was the newly reformed St. Ann's Players – rechristened The New Neponset Players. With his old friend Jack Morris, he produced, acted in, and designed scenery for the troupe for nearly a decade.
In 1979, The McCormack Center for the Arts hired Mr. Jones as director of theater programs. He oversaw productions at the renovated Strand Theatre in Dorchester, bringing name talents like Count Basie and Buddy Rich to the venue.
Always eager to continue his education, Jones returned to college in 1985, at age 44. He earned a Bachelor of Arts in Visual Arts at Bradford College in Haverhill, Mass. Following his graduation in 1989, Mr. Jones returned to Dorchester and threw himself into painting, sculpture, and poetry. His poems run the gamut from the whimsical to youthful remembrance to pointed social commentary. He continued to perform on stage in productions for local theatre companies including The Actors Playhouse in South Boston and The Company Theatre in Norwell. He sang every Sunday with the St. Ann's Choir.
Mr. Jones would often introduce himself with the words from one of his poems: "My name is Cornelius Francis Patrick Xavior Cugat Jones. I'm an English, Irish, German, Welsh, Catholic, Jewish American which, to my way of thinking, deems me to be, I suspect, a paranoid schizophrenic, dyslexic manic depressive, multi-transsexual petty thief and a bigot suffering from attention deficit disorder, the Roman Catholic Church, and guilt over the joy of being born in Boston, Massachusetts."
In 2012, Mr. Jones suffered a stroke that left his left side paralyzed. This did not deter him. He continued to paint and write poetry. His eternal optimism, loving spirit, and ability to cheer others never dimmed. He was a fun-loving, consummate entertainer who enriched the lives of all who knew him with his generous nature, sharp sense of humor, and joyful personality.
In addition to his daughters, Tara Jones of Eugene, Oregon, and Bonnie Shugrue and her husband, Christian, of West Simsbury, CT, he leaves four grandchildren, Sophia of Eugene, and Aidan, Lydia and Brandon of West Simsbury, and many nieces and nephews and their families.
The funeral Mass on Aug. 24 will begin at 11:30 a.m. and be followed by a Celebration of Life from 1 p.m. to 4 p.m. at The Common Market Restaurant on Willard Street in Quincy. RSVP to neiljoneslife@gmail.com.