By Elana Aurise, Reporter Staff
April 24, 2019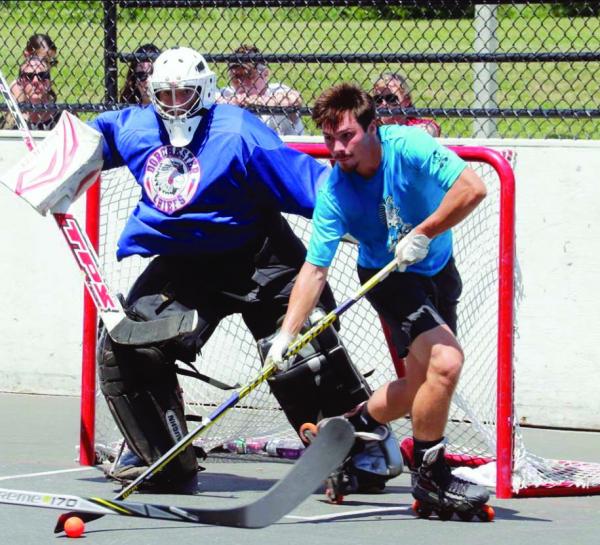 Now in its fifth year, the Dot Pot street hockey tournament — set to take place at Neponset's Garvey Park on the weekend of May 25-27— is growing to include more teams. Two dozen clubs — each with 5 skaters and a goalie— will play in the charity event, which this year will benefit Dot's own Bobby Collins, a coach and father of two who is battling terminal kidney failure and melanoma.
A trio of Dot natives— Peter Cahill, Timmy Galvin, and Ryan Sweeney — organized the first tournament in 2015 to benefit 43-year-old Carl Hosea, the father of one of their friends who had been recently diagnosed with cancer. Hosea passed away shortly after the tournament. Each year since the tournament's genesis, the trio has honored a local community member in need.
"Despite his condition, Bobby remains a source of inspiration to us all; especially his wife, Helen, daughter, Merry, and son, Robert," they explained. "Even with so much stacked against his family and him, he has remained in positive spirits. Mr. Collins is a dear friend and neighbor of Dorchester, having volunteered over 25 years to coaching Cedar Grove baseball. The road to recovery is a steep one, and it is going to take all hands-on deck to ensure a healthy recovery, which is why we need your help."
The goalies play free of charge and skaters pay $50 each, so each team will donate, in total, $250 to play. Dot Pot is looking for sponsors to help raise enough money to purchase the shirts for this year's tournament that are worn by the players and sold to fans. Sponsors will have their names printed on the back of each shirt. To become a t-shirt sponsor, all that's asked is a donation of $125.
Donations to Dot Pot can be made through the Venmo application (@dotpotV) and cash or checks can be dropped off at the Galvin Group Office, 375 Neponset Ave. Donations like coolers, sunscreen, and water are also welcome.
If you or someone you know would like to sponsor, donate, or put a team in, please contact one of the organizers: Peter Cahill, pjc3@williams.edu, 617-921-3855; Timmy Galvin, timmygalvindot@gmail.com, 617-913-8230; Ryan Sweeney, ryansweeney@umass.edu, 617-694-4666.