By Katie Trojano, Reporter Staff
December 4, 2019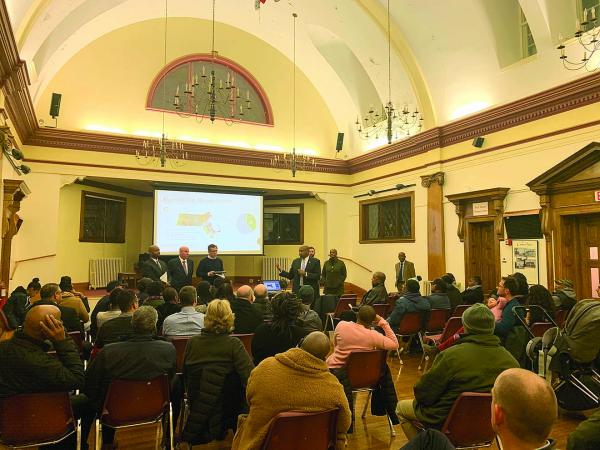 A proposed recreational marijuana shop that would open in in what is currently a residential property on Washington Street in Codman Square was the subject of a public meeting held last Monday at the Great Hall. About 50 people, some of whom relayed their concerns about how the process was playing out, were in attendance to hear a presentation by representatives of the Grazin Group, which is co-owned by Cheryl Crawford and Stephen Suida.
They were joined by Mike Ross, the former Boston city councillor who represents them, and Derrick Small, a consultant and attorney, along with security consultant Daniel Linskey, a former superintendent-in-chief of the Boston Police Department.
Christine Brandao from the Mayor's Office of Neighborhood Services facilitated the city-mandated session. 
Crawford, who owns 51 percent of the business (Suida owns 49 percent), said that as a long-time Dorchester resident, she hopes to improve the community. "As I've grown up, I've supported this neighborhood, and I still live in this neighborhood. I do see, as we're building movements in our community and throughout the state, the opportunity to be here and bring about economic empowerment."
Although the property at 533 Washington St. is within an area that is zoned as a neighborhood shopping district, the house is on a plot of land that is zoned as residential. Grazin Group, which has a ten-year lease on the property, needs to win a conditional use permit from the city's Zoning Board of Appeal (ZBA) to open a dispensary.
Ross, who noted that the team hopes to submit an application to the state early next year, called a community agreement a "starting block" for the team's goal of getting a license. Roughly 3,500 square feet of the building's 6,000 square feet would be carved out for adult retail use, which would be confined to the basement level, with entrances in the rear of the building and security surrounding the property, he said. The property also includes on-site parking for five cars, and is located along a heavily traveled bus route, and a few blocks away from the MBTA's Shawmut station.
The Grazin team said there would be opportunities to consider "educational programs" on the first floor to teach customers about marijuana use. 
The proposed hours of operation would be 10 a.m. to 10 p.m., seven days a week, with 15-30 customers expected per hour. Ross said that the facility would be accessible to individuals with disabilities, and include ample room for queuing inside. Delivery trucks would be expected at the store about two to three times weekly. 
Since recreational cannabis use was legalized in 2016, only two marijuana dispensaries have opened in Boston. The team from Grazin said that this will change very soon, as many vendors are proposing shops all around the city and state. 
"As these start to fill out, Boston is supposed to have 52 total," said Ross. "Ideally, every neighborhood is going to have two or three ... The idea is that people won't have to drive out of their neighborhood to fill their prescriptions. That's eventually what's going to happen with the industry." He added that the owners intend to hire locally.
"There are six-figure jobs in this industry, to be sure," Ross said. The business would create 15-25 positions. The company would also be required to honor a community agreement, pay 23 percent in taxes to the city, and make charitable contributions. 
"This is a very high-netting business," he said. "There's a good opportunity to be good corporate citizens in this industry." 
Linskey said his outlook on the legalization of recreational marijuana use changed after he saw how the drug benefitted a neighbor of his who was suffering from cancer. "I saw that there are better ways to treat people than opioids, and that cannabis might be a way to relieve some people's suffering," he said.
He explained that security measures at the dispensary will be tight, and customers who don't follow the rules will be flagged and denied service.
"We're going to make sure that anything we're doing inside doesn't create issues in the community," Linskey said. 
Some community members at the meeting expressed the sentiment that Grazin had "already set up shop," and that the group didn't actually care about an agreements and approval from the community. 
"I apologize, the reality is that it's not done. We do need a post-community agreement. We've had a number of community meetings," said Ross. Added Crawford: "It looks this way because this [proposal] and process is what's required by the state in order to apply for a license."
Many residents pushed back, arguing that marijuana is a gateway drug that will bring more violence to the community. Some asked, "Why this neighborhood?" 
Marilyn Forman, a Dorchester resident, said that although she understands that cannabis has already been legalized, she still worries about safety. "I just want to share that when the subject of legalizing marijuana came up, I voted against it. But the power of the people is what made the difference; people voted for it. When this came up they came out because they wanted it," she said while noting: "I'm concerned about the safety aspect of it. If someone comes in to purchase, how will you prevent violence and muggings? I feel the pain of not wanting this in our neighborhood. How do we safeguard the residents here?" she asked. 
Other residents argued that cannabis is already illegally sold all over the city, and that legalization of the drug creates a pathway for safer access and opportunities to give back to communities that were disproportionately harmed by the recent criminalization of the drug.
"A lot of people ask, 'Why this neighborhood?' said Jaison Chavez, a Dorchester resident. "This neighborhood, among other neighborhoods, is the epicenter where people die over marijuana sales. What we have here is the opportunity to take the war on drugs and turn it around."
The Grazin Group argued that the business would benefit the community by making the product safer and investing back into the neighborhood.
"We're able to control the substance, and provide a product that people can actually know what's in it," said Suida. "And this is a multi-million dollar business in the sense that it gives back to the community. We can spend money in the community." 
For his part, state Rep. Russell Holmes urged residents to consider the basics of the proposal, instead of spending their time arguing back and forth over the morality of recreational cannabis use. 
"My point to you all," he said, "is whether or not you are pro or against, to please not let these opportunities arise without getting to the basics of the proposal. Let's try our best to question these folks, because there are going to be more proposals like this coming forward in the neighborhood. Going forward we need to make a very good assessment of who's the right person to pick."