By Katie Trojano, Reporter Staff
September 11, 2019
The summer recess has given way to what will undoubtedly be a very busy fall season for civic leaders in Dorchester and Mattapan. The re-development of the Bayside Expo property looms as the biggest item on the local agenda, but it will be just one project on a punch list that is growing as fast as the neighborhoods themselves. Following is an overview of developments that will definitely be in the news in the coming weeks:
Morrissey Blvd. Reconstruction

A state-led effort to redesign flood-prone patches of Morrissey Boulevard stalled in 2017 after Mayor Martin Walsh raised concerns over a proposed lane reduction and asked state planners from the Department of Conservation and Recreation for a reboot. Last May, Mayor Walsh told the Reporter that he wants to get the project in motion again. State planners have been reconvening to incorporate feedback and expect design meetings to resume in 2019.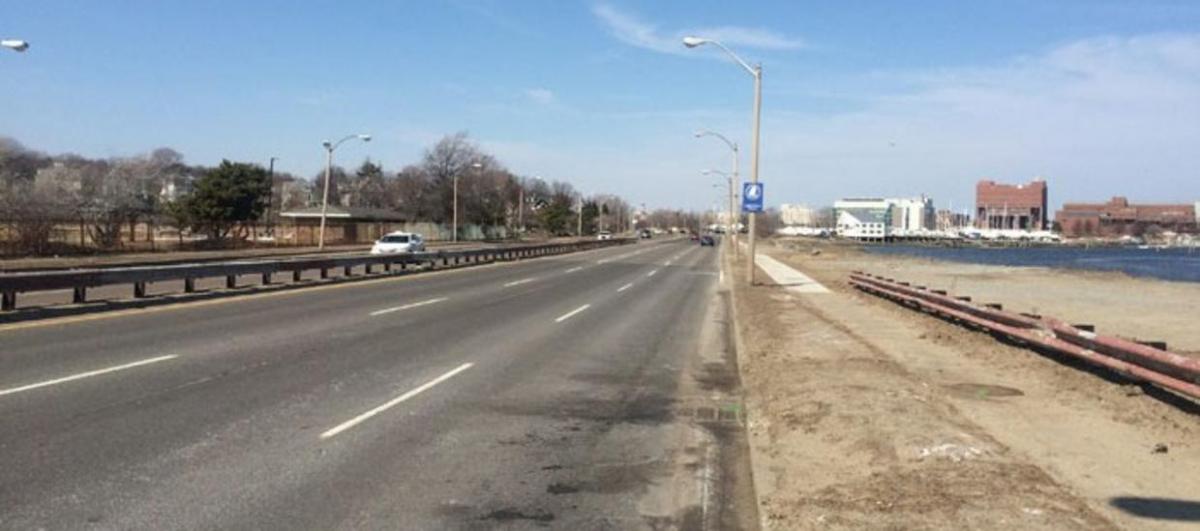 "I know people are frustrated and it's been a long time," Walsh said. "I think now we have to have a serious conversation about moving forward." 
The Morrissey redesign was estimated to cost at least $40 million in 2016 when the initial public process began. Project managers have since said that they expect the construction will need to take place in phases over ten years, mainly due to financial reasons. 
DCR has an annual budget of $80 million and has spent about $191 million of the capital budget in the past five years through the DCR Engineering Division. This money allocates funding for parkway and bridge projects, as well as trails, such as the Neponset Greenway.
Although there's no definitive date for when preliminary designs will be made public through any process, planning for reconstruction of the parkway is still ongoing. 
"The DCR recognizes the importance Morrissey Boulevard has on the region and within the city of Boston's Dorchester neighborhood, and continues to work toward the redesign and reconstruction," DCR Press Secretary Troy Wall said,  "While the agency does not have new information at this time, the DCR anticipates future public engagement later in the process." 
The area around Morrissey has been booming with development over the past few years— with much more density on the way. With the former Globe headquarters conversion to The Beat, a multi-tenant co-working space across the street from BC High, and UMass Boston in the piture, congestion along the Boulevard will show no signs of slowing down. 

Center Court towers on Morrissey

A plan to build a pair of high-rise apartment buildings on Morrissey Boulevard next to the former Globe site is likely to take shape in the coming months. Center Court Partners, which owns the 2.23 acre site that was once home to a TV station, floated the idea of the towers with 24 and 21 floors, respectively, to civic leaders in Savin Hill last year. It would be the first in a multi-phase buildout of the land they control between that site and the Hub 25 buildings next to JFK/UMass station. Expect to see that plan— which would dramatically change the Dorchester skyline and add nearly 700 new housing units—return this fall.
David Rafferty, developer and architect with Center Court, said that he hopes to "bring a draft back in front of the neighborhood [association] soon." He also confirmed in June that the development team has participated in meetings with nearby stakeholders like Boston College High School, BEAT developers Nordblom Co., UMass Boston,  future Bayside developers Accordia Partners, and Corcoran-Jennison in looking at the "macro-picture' of development in the area. 
Old Colony House Apartments

A brand new component to factor in along the Morrissey corridor is an emerging plan to redevelop 780 Morrissey, an acre-and-a-half site that is currently home to Phillips Old Colony House and a large parking lot. The restaurant and function hall closed two years ago. It would be replaced with a 6-story, 203-unit apartment complex by Michaels Development, a New Jersey-based company that has an agreement to buy the property.
Neighbors at the Clam Point Civic Association were briefed on the plan on Monday evening.
"I imagine the price range will be somewhere around what Hub 25 is going for," said Jay Russo, a vice-president at Michaels Development, referring to the apartment complex near JFK/UMass station. "We're trying to hit a price point that's as affordable as it can be in this kind of a market."
Approximately 13 percent of apartments would count as affordable housing. The building would be a mix of studio, one-bedroom, and two-bedroom apartments, with a parking garage contained within the footprint of the building that would provide 1-to-1 parking and bicycle storage.
The developer has invited the public to a meeting at Old Colony House starting on Wed., Sept. 18, at 7 p.m. for a presentation of the plan.
Lower Mills condos

Plans for a condominium complex at 1120-1132 Washington Street in Lower Mills —in the works since 2016 and stalled out in recent months—will likely be revisited this fall.  The developer, City Point Center, LLC, had introduced plans to build a 4-story structure housing 57 residential units with two ground-level retail units on the 48,303 square-foot site, which is currently home to three buildings, including the former Molloy's funeral parlor.
The project faced significant opposition, including from those concerned about the historic nature of the existing block of buildings. In 2018, representatives for City Point, LLC aired out three "alternative" designs for their new building project if the existing buildings were to be kept in place. According to Bonnie McGilpin, spokeswoman for the Boston Planning and Development Agency (BPDA), the agency currently has no updates on the project. Civic leaders say they are also waiting to hear back from the development team. The project is not on the agenda for the next Lower Mills civic meeting on Sept. 17.
Little Saigon Cultural District

An ongoing process, undertaken by the Networking Organization of Vietnamese Americans (NOVA), to designate an area of Fields Corner as Little Saigon Cultural District, will be moving forward this fall.  Last Tuesday (Sept. 3) Annie Le, who spoke for NOVA, presented members of the Fields Corner Civic Association (FCCA) with an update on the initiative.
If approved, the district would serve as a center of cultural, artistic and economic activity for at least five years. "Whenever this gets approved, for the first six months to a year we're [facilitating] district planning, which means we will have more meetings, focus groups and one-on-one meetings with everyone," Le said. "We want to make sure that what we have outlined makes sense with what the community wants, and if it's not then we go back, edit, and revise. This whole process has been a lot of edits and revisions." 
The current mapping proposal for Little Saigon Cultural District includes a half-mile stretch along portions of Dorchester Avenue and Charles, Park, and Adams streets that is dense with Vietnamese businesses and activities. 
Mayor Martin Walsh has publicly expressed support for exploring the issue. During an appearance In January at the Boston Vietnamese community's annual "Tet in Boston" festival, Walsh said he and state officials would be creating a task force to take up the matter and try to figure out a way to make it happen. 
According to Councillor Frank Baker, who was present at the FCCA meeting, there will be a hearing this Wednesday (Sept. 11) involving city councillors, the Mass Cultural Council, and the mayor's office. After the hearing, the Council will decide whether or not to pass the resolution to the Massachusetts Cultural Council for review. 
"I'm supportive of it," said Baker. "I've been involved in this discussion for about five or six years. If the community comes out and there's a large opposition, then maybe we have to figure out how to get people more comfortable with it," he said. "The hearing is so that people can get more comfortable with it and figure out how we can get groups involved that feel like they aren't a part of it."  
DotBlock buildout gets under way

Construction is expected to begin early next year on the massive, $200 million DotBlock development in Glover's Corner. With full city approvals in hand, the development team is in the final preparations of designs, according to Catherine O'Neill, a representative for the developers, Samuels and Associates and Wintergold, LLC, who plan to build 488 housing units in four buildings - up from the 362 originally envisioned for the site.
"We expect to be ready to file for permits at the end of the year and start construction in the first quarter of 2020," O'Neill said this week.
The revised plans also include a 345-space underground garage - compared to the original plans for a 5-story, 450-space above-ground garage. The complex will also have about 30,000 square feet of neighborhood-focused retail space, and more than an acre of public space.
Port Norfolk-Neponset Wharf project

A controversial proposal to site new condo buildings on an 156,816 square-foot site off of Ericsson Street in Port Norfolk, known as the Neponset Wharf project, could be back in the coming year. The project has been met with general opposition from many vocal Port Norfolk residents, but the plan— in some form— may well resurface in the context of Climate Ready Dorchester planning, which will get under way later this month.
The most recent proposal includes 96 condo units,170 parking spaces, a small neighborhood market and deli, and renovated boat storage and service facilities.
"The Neponset Wharf project team is currently working on changes to their proposal based on extensive engagement with the Port Norfolk neighborhood," BPDA Project Manager Tim Czerwienski told the Reporter. "The agency plans on hosting a community meeting to discuss the project in the context of Climate Ready Dorchester." 
According to Czerwienski, that meeting will be scheduled after Climate Ready Dorchester's open house on Sept. 25. 
Mattapan Square project ramps up

Mattapan neighbors will continue to monitor the redevelopment of a parking lot adjacent to Mattapan station that promises to bring new housing and a mix of retail uses – including a restaurant – to Mattapan Square. The Mattapan Station project, with a price-tag estimated at $67 million, has lined up the necessary funding and construction should begin next year. A city-led "PLAN: Mattapan" initiative is already up and running and will continue into the next year. The BPDA-based initiative is intended to "create a comprehensive vision for the Mattapan planning area and guide future growth and investment."
Daniel Sheehan and Bill Forry of the Reporter staff contributed to this report.