By Daniel Sheehan, Reporter Staff
May 29, 2019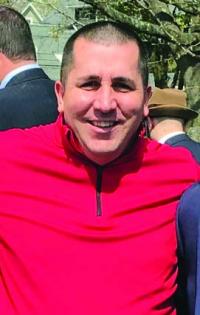 This July will mark the 50th year of the Boston Neighborhood Basketball League (BNBL), the oldest municipal basketball league in the country and a summertime fixture for families across the city.
Charlie Conners, a Dorchester native and the city's Parks and Recreation Department's new program manager, told the Reporter that the Dorchester and Mattapan neighborhoods are in for something of a basketball renaissance this summer.
Conners, who played in the BNBL as a kid, later coached teams in the league, and has a son who is following in his footsteps playing summer ball in Dorchester, is trying to help the neighborhood rediscover its BNBL roots.
"Through the last few years, Dorchester has been kind of a smaller BNBL area, which is a little weird because it's the biggest part of the city," he said. "This year we think we're going to see a lot of growth."
One of the first things Conners did after getting the gig earlier this year was study up on the history of the program by delving into a 50-page report on the BNBL written in 1976 by current Boston Globe sports columnist Dan Shaughnessy, who had covered the league as a summer intern at the paper.
His report details the origins of the BNBL in 1969 through its heyday in the mid-70s, when the league thrived amidst the racial strife and rioting as a result of the desegregation of the Boston public schools.
In its early years, Dorchester was a force in the BNBL, developing powerhouse teams in places like Lower Mills and Savin Hill.
In its current iteration, the Dorchester region of BNBL had been offering a single successful program at the Perkins Community Center on Talbot Avenue. But the league is looking to "rejuvenate" its popularity in Dorchester this year by adding a new U-15 girls program at the Leahy-Holloran community center in Neponset, a U-13 girls division at the Holland Community Center in Four Corners, and U-15 and U-18 boys programs at the Daniel Marr Boys and Girls Club in Savin Hill.
"So, Dorchester went from last year being the smallest region in BNBL to actually, potentially being the biggest region in BNBL this year," said Conners.
The BNBL is also expanding its presence in Mattapan, where this summer it will offer programs at the Gallivan Community Center, the Mildred Avenue Community Center, and at Almont Park.
Another goal Conners has set for this year is to "bring the program back outside," a nod to the league's roots. In its early years, nearly all games were played on outdoor courts; today, Conners estimated, between 80 and 90 percent are played indoors.
This year, kids at the Leahy-Holloran program will get a chance to play outside on the courts at Hemenway Park on Adams Street and kids at the Mildred Ave program will play on the courts at Walker Playground. In total, three out of the four outdoor BNBL programs will be in the league's Dorchester/Mattapan region.
"It'll be good for the town to be able to see programming going on in these parks, said Conners. "BNBL hasn't been outdoors for so long. It's just been kind of in hibernation."
He added that getting basketball outdoors should be a boon to the parks themselves.
"The mayor is a big believer in positive programming in the parks pushing the negative programming out of the park. So the idea is to get some of these sites outside if they feel comfortable doing it...Something is less likely to happen in a park with 300 people in it than a park 5 or 10 kids in it who aren't necessarily doing the right thing."
Back in 1969, the BNBL was seen not only as a source of free, fun and positive programming, but also as a "curb to juvenile delinquency." Today, it still serves that purpose: keeping at-risk teens safe and off the streets.
"For the at-risk kids, BNBL has always been a program where hopefully the way it works is you come in here, and in a lot of these neighborhoods, what happens outside is outside," said Conners. But when you come into BNBL, it's always been kind of that safe zone. The kids and the coaches and their mentors all respect that, and it's always been kind of looked at that way."
Finally, Conners is looking to emphasize the "neighborhood" in the BNBL. He described how, as a kid, he played with and against other kids he knew from the neighborhood: essentially, his neighbors. With teams becoming more and more competitive, that has sometimes changed, he said.
"One of the problems that a lot of people have been throwing at me is people have been putting together these AAU caliber teams, all-star teams basically. …What we're trying to bring back as a department is a neighborhood feel where we have neighborhood leagues and you play your neighborhood teams. In your neighborhood you should know all the kids you're playing and you should feel comfortable doing that."

50th anniversary ball. Photo by Charlie Conners

To celebrate the league's 50th anniversary in style, the Parks and Recreation Department is organizing an end-of-season event in addition to getting the kids new sleeveless dri-fit jerseys and custom basketballs bearing the 50th year logo. The league championships are scheduled to be played at UMass Boston on August 19-20. And, in a fitting final touch: In its 50th year, the league will increase its sites by 50 percent, jumping from 10 to 15 programs citywide.
"BNBL has always been a great program for me, whether it be as a player, a coach, a parent, and now as a director of BNBL in my first year. I'm really excited for July to come," said Conners.
Registration for BNBL will remain open through the end of June. You can register online here: apm.activecommunities.com/cobparksandrecdepart/activitysearch. For more information email Charlie Conners at charles.conners@boston.gov or call 617-961-3093.