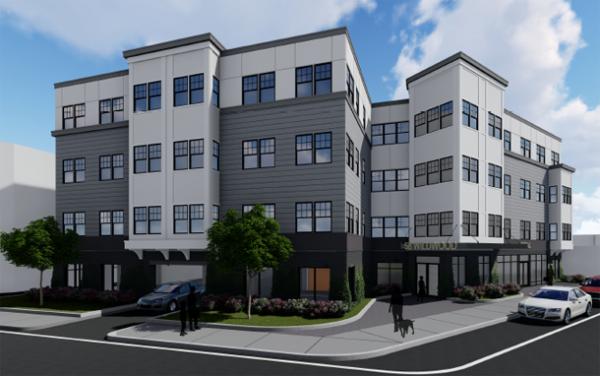 The Zoning Board of Appeal on Tuesday approved a 27-unit apartment building at 775 Morton St., on the corner of Wildwood St., after confusion caused by a shortage of board members due to holdups by city councilors on questions for proposed new members involving marijuana-related zoning.
Mayor Walsh's appointment of several new members to the zoning board has been held up by City Councillors Lydia Edwards and Michelle Wu in part because of questions on how the new members would interpret a city ban on marijuana establishments less than a half mile apart - which became an issue in East Boston when the mayor's office supported two applications a few blocks away from each other.
The holdup meant only six, rather than seven, zoning-board members heard developer Anthony Ruscitto's proposal, which left him with little room for margin - the board requires a two-thirds favorable vote for a project to be approved.
The board actually voted 5-1 in favor of the project - with member Bruce Bickerstaff casting the lone vote against - but board Chairwoman Christine Araujo declared the vote was not sufficient and that the project was denied.
At the request of Ruscitto's attorney, John Pulgini, the board then agreed to withdraw the motion on the project and let Pulgini ask for a deferral on the vote - on the hopes that by the time the board could next get to hearing the proposal, it would have seven members. After a recess - and after residents who had opposed the proposal had left - Araujo announced that due to confusion over the quorum issue, she had incorrectly ruled the project denied.
Member Craig Galvin then moved to approve the project, the vote was once again 5-1, but this time Araujo ruled the project was approved. She asked the mayor's neighborhood liaison to forward word to the opponents who had left.
Ruscitto's proposal calls for a four-story building on what has long been a vacant lot, with ground-floor retail space and a 29-space garage accessed through Wildwood Street. Four of the units will be sold as affordable.
The mayor's office supported the proposal, but some residents said the building was too tall and too dense and would cause traffic problems because of the way the way the busy Morton Street curves near the site.
The BPDA board approved the project in January.