By Reporter Staff
November 7, 2018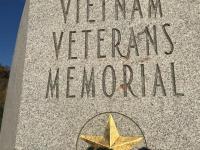 With Veterans Day fast approaching, UMass Boston has set a goal to finish makeshift repairs to the Dorchester Vietnam Veterans Memorial in time for the holiday, along with a pledge to contribute $15,000 toward the eventual full restoration of the monument, which was vandalized last month.
UMass Boston workers have already cleaned up debris from nearly two dozen shrubs that were slashed with a chainsaw, and replaced the ropes and flags that were cut down, which included an American flag and an MIA/POW flag. The vandal also appeared to throw bricks at the central granite monument, which bears a list of names of Dorchester men killed in Vietnam. The total cost of damage is estimated to reach around $20,000.
The university plans to replant severely damaged shrubs and restore the granite stonework in the spring.
"UMass Boston is very proud of the veteran community on our campus and in the neighborhoods around us," said Interim Chancellor Katherine Newman. "While we deplore the vandalism that recently damaged the monument to veterans of the Vietnam War, we are proud to contribute the remaining resources needed to fully fund the restoration of this memorial. Let us all remember what we as a country ask of the women and men, of all ethnicities and from all national origins who serve as soldiers, sailors, Marines, members of the Air Force, and participants in the reserve forces, as well as the countless families who support them."
A GoFundMe page created to support the memorial has amassed nearly $20,000 in contributions from the internet community.
"The show of support for the memorial has been incredible," said committee president Joe Zinck, whose daughter, Lisa, began the online fund. "We thank UMass Boston—particularly David Lanchester in facilities—for all their help over the years in maintaining the monument site, and everyone from Dorchester and beyond who has joined in responding to this senseless act."
The memorial was erected by the Dorchester Vietnam Veterans Memorial Committee in 1985. It bears 80 names of fallen soldiers, with the most recent added last year. The memorial is located on UMass Boston property, near the Morrissey Boulevard entrance to the campus.