By Daniel Sheehan, Reporter Staff
March 20, 2018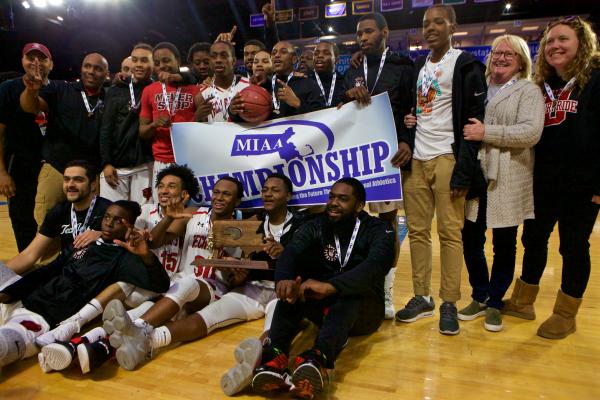 The TechBoston Academy's boys basketball team travelled to Springfield for "a business trip" on Saturday.
And as promised, they handled business.
The Bears capped off a dominant postseason with an emphatic 78-40 win over Taconic to capture their first ever Division 2 state championship and bring the trophy back to Dorchester.
After jumping out to a 33-19 lead at the break, the Bears came out of halftime and used an aggressive full court press to seal the victory. The blowout win was anchored by solid team defense and another all-around performance from senior Walter Dew-Hollis (pictured above), who posted 17 points, 8 rebounds, 5 steals, and 2 blocks. "He's our engine," said head coach Johnny Williams. "We go when he goes."
Describing his team as a unit, Dew-Hollis pointed to the little things on defense that his coach drilled into his players daily in practice. "Taking charges, trapping in corners, helping defense, closing out shooters— just making sure everyone was solid and did their job," he said.
The team's unofficial motto for the season was "We all we got," a reality that turned into a rallying cry for the Bears. "We only had about four home games and the rest were on the road," said Dew-Hollis. "So the fans were always against us. Everybody wanted to see us lose. So we had to prove them wrong."

Neighbors posted signs on streets surrounding Tech Boston Academy on Monday to salute the championship team and its school.
Senior Shamar Moore added in 16 points — including three 3- pointers— in the final. Moore, whose hot shooting often sparked TechBoston's offense during the season, said the championship was a long time coming. "I've been here since sixth grade, watching the team lose year in and year out...we made sure that this year would end different," he said.
Mayor Walsh congratulated the team in a written statement to the Reporter: "A big congratulations to the TechBoston Bears for their well-deserved win in Springfield for the MIAA State Championship. Our student athletes have made Boston proud, showing that teamwork and hard work truly wins."
After the final whistle, Williams said he made sure his players savored the moment. "I told them they made history," he said. "No matter what anyone says, you are a Division 2 champion and no one can take that away from you."