By Daniel Sheehan, Reporter Staff
April 19, 2018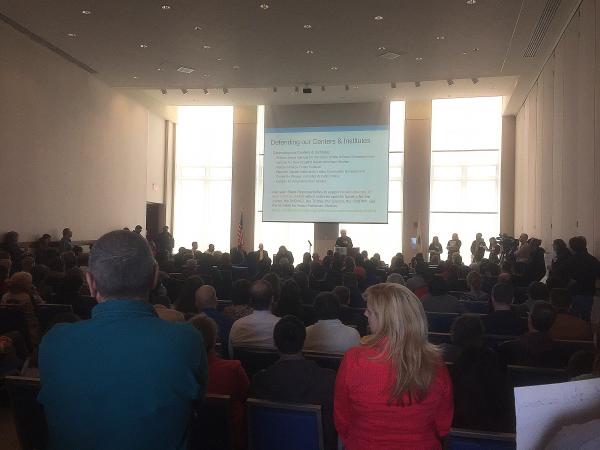 Anger and resentment that had been simmering among UMass Boston students and staff for the past week, since UMass Amherst announced a deal to purchase a 74-acre Mt. Ida site, erupted Wednesday at a public meeting on campus attended by hundreds.
State Rep. Dan Hunt and City Councillor Frank Baker were in attendance as faculty members and student leaders took turns voicing their concerns that the Columbia Point campus continues to be neglected in favor of other satellite campuses.
The general sentiment at the meeting was one of weariness, with several speakers using the term "fed up" to express the state of affairs on campus. They leveled critiques not only at the recent Mt. Ida deal, but also at the financial restraints and massive debt that have forced sizable cuts and layoffs on campus in recent years.
UMB Professional Staff Union President Tom Goodkind ticked off a laundry list of wrongdoings, from decades of financial mismanagement by the board to a mass layoff in Spring of 2016 to a parking fee hike announced earlier this year. He ended the list with an emphatic statement that was greeted with thunderous applause: "We have had enough!"
At the core of Goodkind's speech was a sentiment echoed throughout the meeting: that students and employees of UMB have been "saddled with a debt that never should have been ours to pay." Financial pressures on the university have resulted in cuts to departments such as the William Monroe Trotter Institute, the Center for Women in Politics and Public Policy, and other research institutes for women, minorities, and veterans. Representatives from each department lamented cuts to their funding and staffing and suggested racist and classist implications of University System policies, which they say have favored Amherst's majority white campus over UMB's largely minority campus.
Related: Interim chancellor moves to boost morale at UMass Boston as transition looms
Economics professor Marlene Kim contended that UMB students and staff were being treated as second-class citizens, and labeled the Mt. Ida deal a form of "funding apartheid."
President of the Massachusetts Teachers Association Barbara Madeloni was equally frank in her assessment, calling the Mt. Ida move a "direct assault on higher education" that is "about economic injustice" and "racist in its origin."
Intermittently between speeches, audience members in the packed ballroom took up chants of "No cuts, no hikes! Education is a right!" as others held up signs reading "Defend public education" and "Umass works because we work."
Rep. Dan Hunt, who says he attended the meeting to "listen to faculty and students to let them know that their voices are being heard on Beacon Hill," told the Reporter he understands the crowd's frustration.
"The whole university is being asked to fix sins from a bad construction deal decades ago that resulted in construction reform and people going to jail," he said. "Now UMass Boston is being scolded for those decisions."
Hunt also questioned interim chancellor Barry Mills' approach to the situation.
"As far as funding goes, it appears Barry Mills is using a hatchet where a scalpel could work," he said.
More pushback is likely on the horizon, with two ongoing online petitions to reverse the Mt. Ida acquisition and restore funding to a number of under-fire university departments, as well as a planned protest at the Massachusetts Board of Higher Education on April 24.