By Jennifer Smith, News Editor
December 12, 2018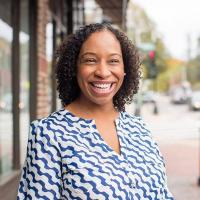 City Council President Andrea Campbell is looking to continue to use her platform to push for equity across a city strained by housing costs and grappling with new industries as she prepares for another run for her District 4 seat.
The 36-year-old councillor swept into office in 2015 by unseating 32-year incumbent Charles Yancey. Two years later, her colleagues elected her the first African-American woman to serve as the body's president.
In a conversation with the Reporter in her council office last week, Campbell said she has not lost sight of her roles in representing a district and being a Mattapan resident as she continues to head up the council.
"The reason I even sought this role out after, being encouraged by some colleagues to do it, was to raise their profile District 4," she said. "To get folks to not talk about these neighborhoods, particularly Mattapan and Dorchester, through a deficit lens but through a lens that highlights all of the incredible work that people are doing in the community every single day: to expand resources for our youth, to make sure we have more parks, affordable housing, and just to make sure just to ensure that it's a safe and thriving and prosperous community."
With her suitcase packed for a work trip, and munching on almonds, Campbell discussed the continuing need for investment in her district, which covers large parts of Dorchester and Mattapan and some of Roslindale and Jamaica Plain, saying she is focused on making sure that her neighborhoods are poised to take advantage of the city's boom times while they last.
"You know, folks see the city of Boston booming and doing really well and they're wondering, 'at what point does that trickle into District 4?'" she said. Some of her residents have never set foot outside of their neighborhoods, she noted in recalling a senior who wanted to visit "that new neighborhood" – the Seaport.
"So there are folks that still feel very disconnected from the boom generally," Campbell said, "but also from the new beautiful spaces that have been created as a result of that boom. I want to make sure that my folks know that every part of the city is their city as well, but at the same time, remind the city and the administration that while the city as a whole may be in a boom, that's not the picture for everybody."
People are struggling to find affordable housing, Campbell said. She and Councillor Michael Flaherty of South Boston were the two most prominent advocates on the council for the 2016 Community Preservation Act that is generating, through a property tax surcharge, revenue for affordable housing, open space, and historic preservation.
"We have a lot of development projects with affordable units because of the CPA, but there's more than we can do to make sure that some of these development projects use a lower AMI (area median income), which is more reflective of what people can actually afford," she said. "We could be a little bit more creative in our senior home repair program."
Many seniors want to stay in their homes, Campbell noted, but they don't have the cash on hand to make necessary repairs. A program might pair seniors in multi-family housing with families looking for homeownership opportunities, she suggested.
On the AMI front and the city's Inclusionary Development Policy, redone in 2015, which sets developer requirements for affordable housing production, she said, "we absolutely have to revisit that."
Overall housing goals may be moving along, she said, but they are not necessarily hitting all of the benchmarks with respect to seniors, for one instance. "We in government have to show up," she added, and so if it's changing IDP or linkage, then we have to do that. If it's reducing current AMI that we use for development projects, we have to do that."
Further reading: Fed tax program eyed for growth in 'Opportunity Zones'
Which is where planning comes in, Campbell said, noting that a Boston Planning and Development Agency initiative in Mattapan is poised to evaluate most of the neighborhood and shape future investment.
"Pushing for Mattapan to be undergoing the process was a priority of mine since Day One when I joined the council," she said. "That priority moved up on to the top of the list when you looked at the state and the MBTA and their proposal with respect to the development of the T station," a reference to an ambitious mixed use, largely affordable development meant to transform a disused MBTA lot by the Mattapan Square terminus of the high speed trolley line. Nearby, the final station on the Fairmount Line is well under construction on Blue Hill Avenue near Cummins Highway.
Campbell supports initiatives seeking to bring the Fairmount Line up to a subway mode of service, as the wide stretch of her district relies on the less-frequent commuter train service without any standard stations nearby. But there are also "tremendous gaps" between the Red Line and Fairmount, she notes, and finding affordable, reliable modes of transit for the bulk of her district should be a priority.
"Residents have been wanting this for a really long time," she said of the PLAN Mattapan project. "I'm extremely excited it is happening and that we're pulling in the community and various stakeholders. I still have a concern, in that the boom that is currently being experienced in the city of Boston is not going to last forever, so we all have to sort of push this planning process to happen probably faster than we want … so that we can actually implement what's in that plan while the city is still booming and not later on, for example, have any excuses as to why we can't implement that plan because we're in a recession or something else where the market is down."
The City Council is looking for ways to guide one potential windfall industry – cannabis – in neighborhoods that historically have been negatively impacted by zealous enforcement of now-outdated drug laws. The two open recreational marijuana shops well outside of Boston have raked in millions in the weeks since their opening. At a hearing last week, Campbell worried that the city was "behind the ball" in laying out equity groundwork for an industry it knew was coming.
Some of the most vocal residents are nervous about marijuana shops opening up in their villages, with one ongoing discussion around the best placement for a proposed site in Fields Corner.
"We are going back and forth right now," Campbell said. "But it would be a missed opportunity if we didn't allow folks who were born and raised in Boston – and we've met some incredible applicants who have done their homework, who are experts in this – to be able to take advantage of this opportunity and this market in the communities they grew up in."
She still has a full slate in front of her, Campbell said. Her district has high incidences of fatal violence, including a murder two weeks ago outside a Codman Square gathering on the very subject. Violence is tied to disinvestment, Campbell often says, as she underlines the need for strong local schools, more available green space and youth programming, and addressing anxiety around displacement.
She is driven by the fundamental question of how access to resources and support in the city affects life outcomes. It is a question prompted from how her path diverged from that of her twin brother, Andre, who died at 29 while a pre-trial detainee in jail.
"There's so much work to be done, and there's a lot of need and still a lot of inequities," she said. "And my job, of course, is to continue to work with my residents in partnership to close those gaps and I'm still excited and grateful to do this work because it's always been a purpose for me, and a purpose fueled by that basic question."
Jennifer Smith can be reached at jennifer.smith@dotnews.com, or follow her on Twitter at @JennDotSmith