By Andy Metzger, State House News Service
March 15, 2018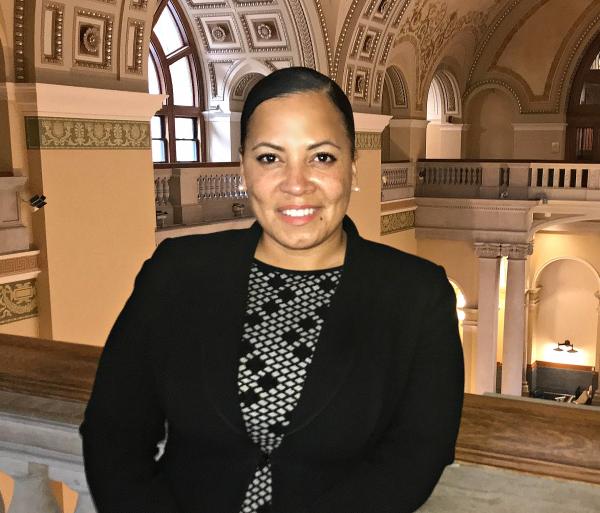 Rachael Rollins has joined the field of candidates hoping to succeed Suffolk District Attorney Dan Conley in the open race for the top prosecutorial position in Boston.
A Roxbury resident, Rollins has led the legal departments of major transportation agencies and worked as a federal prosecutor.
She joins a field that includes fellow Democrats Rep. Evandro Carvalho, of Dorchester; Greg Henning, of Dorchester, who led the gang unit for the Suffolk DA; and Shannon McAuliffe, who was director of Roca, which works with gang-involved youth and lives near the North End. Boston At-Large City Councilor Michael Flaherty, of South Boston, and Mayor Marty Walsh's chief legal counsel Eugene O'Flaherty, of Charlestown, are both considering runs.
"We deserve a system where addiction, poverty and mental illness are not criminalized; where socio-economic status and race don't increase the likelihood that someone is incarcerated; and where the District Attorney, prosecutors and members of law enforcement are a true reflection of the rich diversity in the communities that they are sworn to protect and serve," Rollins said in a statement. "I am running to be the next District Attorney for Suffolk County because I believe that, with strong leadership and a commitment to social justice, transparency and an innovative approach to community involvement, the system can be improved without sacrificing the safety of the community."
Rollins, who is African American, was president of the Massachusetts Black Lawyers Association in 2012-2013 and broke the color barrier as the top lawyer at the organization that oversees Logan Airport, according to the association.
A graduate of UMass Amherst, Northeastern University School of Law and Georgetown University Law Center, Rollins has worked in private law offices and in government.
After working at the National Labor Relations Board, Bingham McCutchen LLP and Seyfarth Shaw LLP, Rollins went to work at the U.S. Attorney's Office in Boston in September 2007, where she both defended the federal government in civil suits and prosecuted drug, gun and white-collar crime cases, according to her resume.
Rollins moved from Medford, in Middlesex County, to the Boston neighborhood of Roxbury in Suffolk County this month, she told the News Service. As a candidate, Rollins is working with Liberty Square Group.
In October 2011, Rollins became general counsel for the Massachusetts Department of Transportation and in March 2012 she took on the legal portfolio for the MBTA, as well, becoming the first person to be general counsel for both agencies. In September 2013, Rollins became the first person of color to serve as chief legal counsel at the Massachusetts Port Authority, leading that legal department until July 2015.
While at Massport, Rollins initiated a program to provide parking and transportation for victims of the Boston Marathon bombing so they could avoid the regular fees of $40 per day while attending the bomber's trial at the federal courthouse in Boston, according to Rollins.
After a months-long participation in Harvard Business School's Program for Leadership Development, Rollins became an independent consultant in February 2016.
Rollins was appointed by Treasurer Deborah Goldberg to the Task Force to Review Alcohol Laws; she served on Attorney General Maura Healey's Advisory Council on Racial Justice and Equity; and was on the former Gov. Deval Patrick's Judicial Nominating Commission, which helps select judicial candidates.
Immediately after law school, Rollins clerked for Justice Frederick Brown on the Massachusetts Appeals Court. A Cambridge native, Rollins was captain of the women's lacrosse team at UMass Amherst, according to her resume.