By Jennifer Smith, News Editor
April 12, 2018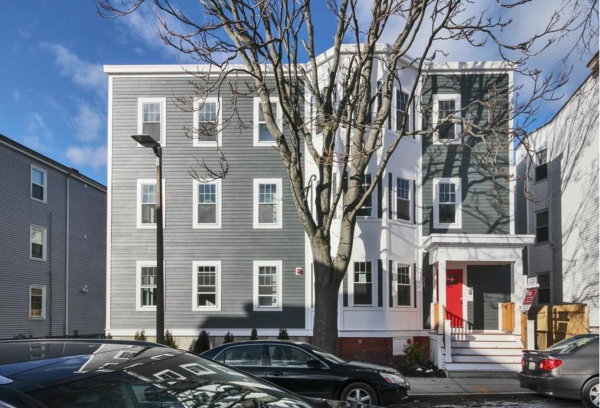 A permitting loophole that allowed a developer to build on a former city-owned lot once considered "unbuildable" has prompted the city to take a fresh look at how it monitors and sells off similar parcels citywide.
The lot in question— a 3,529 square foot parcel at 212 Westville St.— was sold to an abutter in 1996, a time when city officials were seeking to dispose of vacant land to create open space, not new buildings.
Starting in the 1990s, "there was great interest in getting rid of the city-owned land," Boston housing chief Sheila Dillon told the Reporter. "We do not have that orientation or opinion now."
From the early 1990s through 2002, Dillon said, the city's Department of Neighborhood Development "sold over 400 parcels of land for small amounts of money, for open space." The sales came with deed-restrictions to match.
The parcel at 212 Westville St., which was sold in 1996 to the next-door neighbor at 214 Westville St. for $750, came with three conditions included in the deed. It noted that the premises are to be used for "open space purposes" like landscaping or off-street parking, that no structures would be installed on the premises, and that it should not be used for "unsightly storage or any hazardous purpose."
Fast-forward to 2017.
Vivian Girard, a Fields Corner resident, wrote to elected officials in early March saying she was concerned about an possible uptick in substantial construction on small neighborhood lots once considered "unbuildable." He pointed to one example— 212 Westville St.— where a development company, Dot Realty, was building out an expansion to an existing three-decker next door at 214 Westville St. The project turned a modestly sized (2,742 square feet) three-decker into "three luxury condominiums," according to a real estate listing, by expanding its footprint with a 3,000-square foot addition.
"We fear that this is opening the flood gates to similar projects getting approved with little to no scrutiny," Girard wrote in his letter.
A close examination of the deed shows an important exception included in the second condition, a loophole found in a number of such deeds at the time that allows for an "addition to the existing dwelling unit."
According to Inspectional Services Department spokeswoman Lisa Timberlake, the Westville permitting was approved "as of right," meaning no variance or community notification process was needed to go ahead with the addition.
Further reading: Codman hearing focuses on as-of-right zoning
Many of the 400 or so lots sold in the 1990s are still intact, technically bound by the open space deed-restriction but not triggering normal zoning processes because of the addition rule.

Above, the Westville Street three-decker before an expansion project last year.
"All of them did have language that allowed additions, so it could be used for open space, some limited parking, and home additions," Dillon said. "I think people were thinking, if you want to put a family room alongside, or a shed; I don't think anyone anticipated that there would be [owners] building very, very large additions."
In any other circumstance, Dillion noted, the Westville construction would have needed zoning relief for the size of the structure. "We've been working since Westville to figure out a technology fix so any time one of these parcels are going to [city inspectors] for an addition, that if they trigger zoning relief, DND (the Department of Neighborhood Development) is notified and we can certainly have an opinion at the Zoning Board of Appeal."
These days, DND still faces a conundrum with respect to very small lots. The city controls 488 lots classified as "unbuildable." They account for about 233 acres across Boston and make up about 39 percent of all DND-controlled land. Some are unbuildable due to their placement on ledges, under water, urban wilds, or conservation land; 116 of them are due to size; and others are in the process of being reviewed or transferred by the city.
The definition of an unbuildable lot has changed over the years, with increasing acceptance of smaller modular home sizes and a more severe land crunch across Boston's 48 square miles.
In remarks to the Boston Municipal Research Bureau last month, Mayor Martin Walsh said that 17,000 new units of housing have been completed since the 2014 launch of his Boston 2030 master plan, with an additional 9,000 units currently under construction and 26,000 units under review. Given the pace of population growth, policy makers are mulling whether the city's housing target of 53,000 new units by 2030 might need to rise.
So the tiny parcels are scarce cargo. Of the 1,270 city-controlled lots — both buildable and unbuildable — only 306 of them are considered inactive. Many of them are clustered in areas like Dorchester, Roxbury, and East Boston.
While the city might still sell off, say, a four-foot wide parcel to an abutter, or the area around a tree planter, Dillon emphasizes that selling parcels of the Westville lot size for green space is a vestige of a bygone era, when Boston's growth was far slower.
"This hasn't happened since 2009," she said. "We are not interested — unless it is a very, very small side yard — in providing land of buildable sites for side yards. Land's too precious in the city."