By Staff
September 4, 2018
Rollins rolls in DA race; Miranda wins in 5th Suffolk; Cullinane beats back tough challenge in 12th
Dorchester's own Ayanna Pressley will leave the Boston City Council next year for a new desk in a bigger chamber: She has stunned the state's political world today by upsetting longtime Congressman Mike Capuano to win the Democratic nomination to US Congress in the state's 7th district.
Capuano, 66, conceded his defeat in remarks made to supporters at a Somerville hotel around 9:10 p.m.
"We've done everything we could do to get this thing done. Today was no exception .... I'm sorry it didn't work out, but this is life. This is OK," he said in his concession speech, according to WBUR.
In a speech to a raucous audience that gathered at Dorchester's IBEW Hall, Pressley praised her family and supporters and her former opponent.
"Tonight is but the first step but we have many more to take," Pressley said. "Are you ready to come to Congress with me? Are you ready to bring change to Washington? Because... change can't wait."
For the congressman, she had kind words.
"Mike Capuano is unapologetically himself... he forced me to bring my best just like he did in this race and I thank him for his 20 years of service."
But Pressley, 44, added that she knew this would be a drawn out and trying race.
"Ours was truly a people-powered, grassroots campaign launched just 195 days ago that dared to do what Massachusetts Democrats aren't supposed to do," Pressley said, referring to what she said was a difficult decision to challenge an incumbent. She added, "I knew we would be essentially alone, I knew we would find no favor with the Democratic establishment both here at home and in Washington and I knew we would have to fight for every dollar, every volunteer, every door, every voter. I knew I would be demonized as entitled and what no woman can ever be -- ambitious. But change can't wait."
As she spoke to residents, she saw that "the people in the Seventh CD expected more from their leaders" and having Democrats in office isn't enough. "It matters who those Democrats are."
Also happening at this hour:
• Rachael Rollins has been nominated to be the next Suffolk County DA, besting her closest rival Greg Henning and three other hopefuls.
"I am honored and humbled," Rollins said in a statement issued by her campaign. "But I also need to say – for all of us – that this is earned. As a 47-year old Black Woman, I have earned this. We have earned this. This is the time for us to claim our power and make good on our promises to make true criminal justice reform for the people in Suffolk County. Reform that is progressive – that decriminalizes poverty, substance use disorder, and mental illness. This is the time to create a system that puts fairness and equity first – as a model for the Commonwealth and the nation."
Greg Henning, who finished second to Rollins, spoke to a gathering of supporters at Dorchester's Florian Hall. He thanked his family and his girlfriend before asking his supporters to congratulate and rally around Rollins:
"If Rachel Rollins is the next District Attorney in Suffolk County, we need to support her and her efforts to combat gun violence," he said, "to address the opioid epidemic, and to help rebuild relationships with people in the community."
Rollins' supporters across the district were equally elated.
"I think it's incredible news — it speaks to the voters and the hard work of all the campaigns and their volunteers," City Council President Andrea Campbell said after the wave of victories was announced. "The voters spoke — and I never trusted polls and I always trust what people say — and they said we want more women, people of color, and we want the electorate to represent the diversity of district."
Hard work comes first, said Campbell, who ousted her own 32-year incumbent in City Councillor Charles Yancey when she won election in 2015.
That paid off in every campaign she endorsed, Campbell said, especially Rollins. "People — regardless of demographics, how old they are, diversity, gender, how they identify —want a particular thing, want their electorate to reflect their community."
• Liz Miranda has won the Democratic nomination to be the next state representative in the Fifth Suffolk district, defeating her closest rival Darrin Howell in a four person race.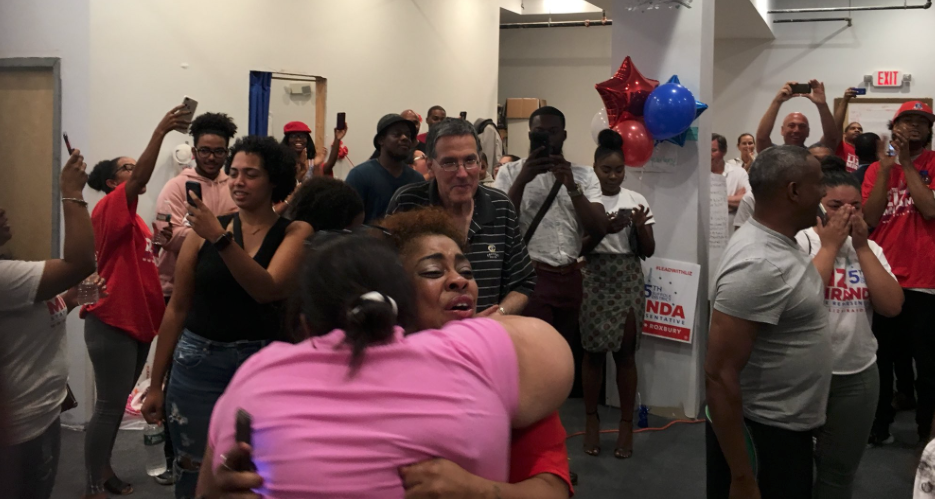 The scene as Miranda supporters received the word of her win at her Bowdoin Street headquarters. Jenn Smith photo
"They said I wasn't ready," Miranda told supporters at her Bowdoin Street headquarters just after 9 p.m. "They said I didn't have the experience but I beat a machine, we beat a machine."
She thanked her mother — who said she was "crazy," but still wrote the campaign's first check.
"Tonight in Boston, we just made history," said Miranda, who will eventually replace Rep. Evandro Carvalho— who did not seek re-election this year, opting to run for DA instead.
Earlier that evening, just a short walk down Bowdoin Street to the Pasciucco Apartments, the last dozen of so voters had scrambled into the Ward 15, Precinct 4 polling location just before it shut down for the night.
Sylvia Lopes, 51, originally from Cape Verde, has never missed an election in her 11 years as an American citizen.
"I already had my idea on who I was going to vote for," she said, "and for me I came out here especially for Evandro. Because that's my people, and I'm supporting him, even though I know he's fighting for a good cause, too."
She did not vote in the Fifth Suffolk race. There was considerable overlap between Carvalho support and Miranda support at the election watch party, especially among Cape Verdeans.
Even without Lopes' vote, Miranda took the 15-4 precinct with 244 votes to Howell's 89, followed by blanks at 43.
This was Howell's second run for office, having previously lost to current 6th Suffolk District state Rep. Russell Holmes. Holmes endorsed Howell in this race. After the stunning losses of Ways and Means Chairman Jeffrey Sanchez and Assistant Majority Leader Byron Rushing, on his way into the Pressley campaign party, Holmes said the will of the voters was clear.
"I feel the people have spoken and clearly there was time for change, and the winds and the currents were clear," he said. "Whether that was at the State House or at the federal level, we have to listen to the voters, and the voters say it's time for a change."
• Rep. Dan Cullinane has fended off a tough challenge from second-time candidate Jovan Lacet in the 12th Suffolk district, which includes parts of Dorchester and Mattapan. Cullinane has won re-nomination by about 470 votes, according to several sources in his campaign.

Rep. Cullinane greeted family and supporters in his campaign office on Adams Street after his election win.
Cullinane told the small group of supporters, "We may have been a smaller army this time, but we showed a lot of fight. That's what this district deserves."
"We have two years of work ahead of us. We won by 467 votes. Each and every day if you look across the district... people know that when they reach out to our office, they get a response," Cullinane said.
"This was all across the district— we have work to do. This election and the turnout across the board is a wake-up call for everyone. I think the price of winning is getting right back to work. And that's what we will do," he said.
This report was assembled by Reporter editor Bill Forry, news editor Jennifer Smith, and staff writer Daniel Sheehan.