By Dan Sheehan, Reporter Staff
November 30, 2018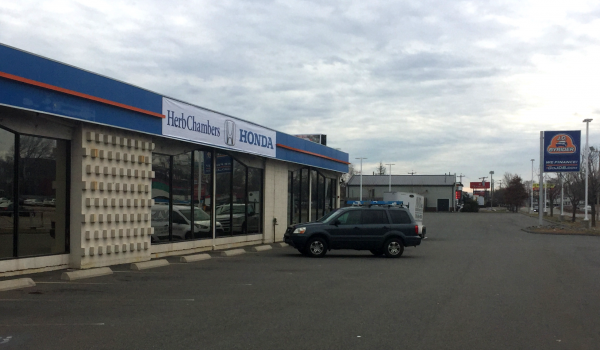 A Herb Chambers car dealership is set to move into a property on Morrissey Boulevard that up until recently housed a J.D. Byrider used car business, according to the company.
Herb Chambers Companies plans to move their Herb Chambers Honda branch, which currently operates on Commonwealth Avenue in Allston, to the site at 720 Morrissey Blvd. sometime early next year, according to a company statement to the Reporter.
"We are very excited that, after a successful 30+ years run in our current Commonwealth Avenue location, we will be re-locating our Herb Chambers Honda in Boston dealership to 720 Morrissey Boulevard in early 2019," the statement said.
The car dealership conglomerate, which describes itself as the largest dealer in New England, also hinted at future alterations to the property:
"At the outset, we will be operating the business out of the existing building there but are already developing the plans for a brand new, multi-level, state-of-the-art Honda dealership that will help us deliver an even greater customer experience in the future."
The J.D. Byrider dealership that had operated on the premises since 2012 abruptly closed its doors two weeks ago. This week, a Herb Chambers banner was hung on the facade of the vacant building, along with signs that read: "Herb Chambers Honda Opening Soon."
In the statement, the auto dealer indicated that it chose the Dorchester site for its accessibility.
"In relocating our Honda dealership, we set out to find a location that would be close and convenient for our huge customer base and easy to access. We're very glad we've been able to deliver on that goal and look forward to the next successful 30 years of Herb Chambers Honda in Boston," the statement continued.
Herb Chambers Companies currently operates 60 dealerships across the region, including a handful in the Greater Boston area. Herb Chambers, the 77-year-old car dealership magnate who founded the company 1985, was born and raised in Dorchester.