By Jennifer Smith, News Editor
November 29, 2018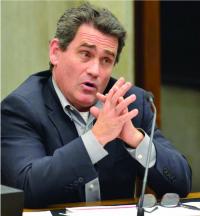 Development and investment came to City Councillor Frank Baker's district in Dorchester in a trickle, then a flood. Now planning to run for another term in District 3, the seat he has held since being elected in 2011, Baker wants to be mindful of the interactions between forthcoming major projects and the neighborhood.
"I went into that [2011] race just as someone who thought that maybe I could be a good voice on the council, not totally understanding the job," Baker told the Reporter during a wide-ranging conversation at McKenna's Cafe in Savin Hill. "I had for forever advocated for my neighborhood and for different programs that I like. And that's basically what you are in the city council. You're an advocate."
Looking back on the hard-fought contest seven years ago for an open seat, Baker said he was of used on the odds and ends of the council duties once he made it into office. It was street signs, problem landlords, and local schools.
"We still do all of that, but it's morphed into so much more," he said. "All my communities, it's just changing so rapidly and we try to do our best to make sure that people are listened to going forward, because this whole wave is coming and it's here."
The epidemic at home
An overriding priority ahead of Baker — one that briefly makes the 50-year-old Dorchester native well up over his breakfast — is addressing the scourge of opioids.
Of the multiple people who Baker has seen die from the epidemic, the first was his older brother who was hooked in the Vietnam era. He died more than two decades ago. When Baker was around 24, a young man whom he was mentoring went to get sober out of the city, but ended up back on heroin and overdosed in a car with a few other people. They pushed the 19-year-old out the door onto the side of the street.
"They're in serious, serious pain," Baker said. "Alcohol, opioids — they're painkillers, a way for the person to take the pain away. Nobody wants to be a heroin addict, but once you enter into it, it is very, very difficult to get out of it. Those couple of deaths we just talked about were just a couple of the deaths. I have probably 10 more. Not to mention the social impact, like we get ahead of this and we don't have thousands of kids every day trying heroin for their first time, countrywide.
"When we finally get past that we're gonna have a whole generation of people that don't know how to live, because they've stunted themselves with usage. So we're going to need to retrain in life skills, need to show people how to live again."
Baker credits people like Mayor Martin Walsh with policies that do not penalize those with a person doing drugs for seeking help for them. First responders carrying Narcan, he said, are keeping the already horrifying numbers of overdose deaths down.
He says safe injection sites, which he saw on a council visit to Vancouver, are "a scary idea." There is a value to Section 35, he said, which is a Massachusetts General Law that allows a judge to "involuntarily commit someone whose alcohol or drug use puts themselves, or others, at risk."
On the city level, he and the mayor and other officials are starting to work "on a concentrated effort to use this as a tool… To someone who's been shooting heroin for five years, 30 days sobriety is something they never thought they would ever achieve. And if they were left to their own devices they would probably never achieve."
So, he argues, designating Section 35 beds, finding housing and space apart for recovering addicts to heal is critical. It is not about keeping them out of sight, Baker emphasizes, but allowing them a recovery space away from the bustle until they have a better shot at not falling back in.
Boom times
Looking around, Baker's district is busy. It stretches from the tip of the Polish Triangle, through Savin Hill and Columbia Point, past Clam Point, and along the coastline down to Neponset. Each village is weighing some major projects.
"It's my job here to just pay attention to it, make sure that it's all able to mesh together," Baker said. "For me, these next 10 years are all going to be about transportation, all be about how are we moving people through our choke points."
Keeping an eye on the sheer number of projects means watching everything from the high-tech redevelopment of the former Boston Globe site, neighboring projects on Morrissey Boulevard that could involve a pair of 20-plus-story towers, a debate over how to use prime privately owned waterfront land in Mary Ellen McCormack project where Dorchester meets South Boston, and the future Bayside Expo site redevelopment, to start.
"I think even when the economy turns, when it turns, I think we're still going to be in Dorchester positioned where it will hurt, but it's not like all these big projects are just going to turn and walk away," Baker said. "The type of investment that's here now is long-term investment."
Add in the city planning project underway in Glover's Corner, where billionaire Gerald Chan is the owner of the Dot Block land and two large parcels nearby.
In Glover's Corner, the mixed-used Dot Block project is expected to come back to the community in December with new designs, which Baker said he likes. They include changes to parking and green space, he says.
"Gerald Chan, I think places a value on education, and in meetings he's talked about trying to bring educational components there," Baker said. "Not at Dot Block; possibly Russell [Engineering], possibly Spire [Printing]. And it's not just housing that we're having a problem in, we're not training our people for the jobs of the future."
Nordblom Co., the developers of the former Boston Globe site, are envisioning an innovation campus. Baker said they will include a training facility inside their building for the new technology jobs planned for the site. On top of adopting the neighboring Patten's Cove and taking over its maintenance, Nordblom is dedicating half a million dollars to local groups and an access study around JFK/UMass station.
Further reading: City's top planners juggle long-term projects as new proposals stream in
This brings in the state initiative redesigning Morrissey Boulevard itself, discussions around the vortex of Kosciusko Circle and several Red Line stations in need of care and better access routes, and major infrastructure projects down the line like the Eversource transmission line planned to snake along Morrissey between South Boston and Savin Hill.
"We have literally hit a point where a lot of these developments have all converged," Baker said. "Glover's Corner down on this end, which is along the highway, which is along the Red Line. We have the Globe site, which is along the highway right at the red line. We have Center Court which now has control from Star Market all the way up to the Globe. We have UMass — that is very real and very, very exciting."
After the resounding thud of a proposed stadium for the Bayside lot ended in April 2017, UMass Boston took a step back to assess the best choices for the property. News is expected soon on the development team to take over transforming the 20-acre site into a new harborfront community.
"When UMass is being talked about as a stadium — and I don't know how real that was. That seemed like a balloon that was just floated out there," Baker said. "But now, because of that we're actually at point where they, they have educated themselves on the Master Plan. They know about how neighborhoods around UMass are stuck where they are. We live closer than anybody to the water and can't get to the water."
The Master Plan itself, Baker notes, "is a good jumping off point" for the village that did envision some height and density. While UMass "wasn't in the mix" at the time, he said, the connections the plan called for are still relevant.
Baker said the stadium proposal came with a push for a massive investment in changes to Kosciusko Circle, which he ballparked at $100 million.
"It's going to be incumbent on myself and our state partners to make sure that that commitment is still in," he said of current Bayside planning. "Because without that commitment, we're stuck on the other side of Kosciusko Circle."
There should be an opportunity for the university to get its square footage needs met in the Bayside project, Baker said, whether it be for a new nursing school or student space.
Further reading: City plan for Dot waterfront resilience rests in state hands
Like the Bayside site, a nearby massive public-private partnership would transform the climate-vulnerable Mary Ellen McCormack housing site, with developers WinnCompanies prepared to add in thousands of new middle-income and market rate housing to supplement the low-income-restricted project.
"When you're dealing with the development, we need resiliency measures, whether they're berms of water management systems. With that project, with the UMass project, with the Globe and everything's happening, it's not a question of "should the developer do this or should the city do this?" This is something that we know now we have to do. We cannot hope the storm never happens. Morrissey Boulevard, redoing that needs to be about resiliency. It was real last year in January when Savin Hill Park was flooded and had a foot of water. Now that's scary. That makes it real. The McCormack project can play a big part of that."
Future calling
Baker's district is full of community groups and civic networks keeping an eye on their individual territories, though they do join together on neighborhood bugaboos like billboards. In looking ahead, if he makes it into another term on the council, Baker thinks his role is managing a holistic vision for this swath of Dorchester.
"I think the transparency level now is much better than it used to be," Baker said. "With that being said, my office -- little play on the words -- is almost a catch basin, because we're involved in whatever the jurisdiction is all of District 3.
"Having the foresight to see as a community where we should be going in, is less about me and more about the city. And in District 3, what's going to be good for them in 20 years, when I'm out of this role for multiple years? But I think right now it's critical that someone's paying attention to all of it together."