By Jennifer Smith, News Editor
September 26, 2018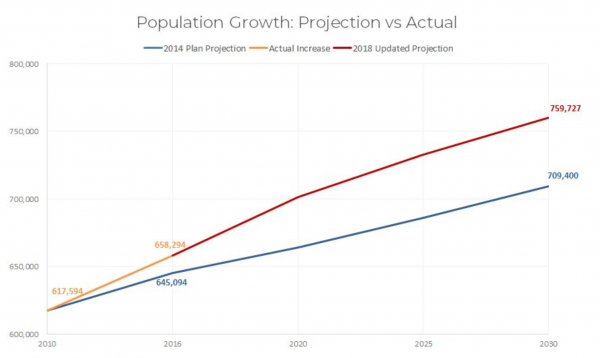 Boston's faster than expected population growth prompted the city to re-assess its housing goals, the Walsh administration announced Wednesday, as it raised the planned number of new units to be completed in 2030 from 53,000 to 69,000.
The change in growth trajectory was discovered when the city did a half-decade check on census data and came up with an estimate of 759,727 Bostonians by the year 2030. In a new report, city housing leaders laid out their expanded housing plans.
Goals for construction of affordable housing are staying roughly within the same ratios as the prior plan, officials said. About one in five units in the city are deed-restricted as affordable housing, reporters were told on Tuesday. With the updated estimates, this would mean 15,820 new income-restricted units by 2030, bringing the citywide total of such dwellings to 70,000.
Upping the amount of deed-restricted housing is critical to "make sure that people can stay in the city of Boston," Mayor Martin Walsh said at a roundtable with reporters on Tuesday. Another priority is "stopping displacement … gentrification that's happening. It's one of those things that's a constant, everyday battle to make sure we do this."
Related reading: Housing allies mobilize ideas at YIMBYtown weekend events
When the city rolled out its initial plan in 2014, it already looked like Boston would be seeing robust growth. The city was expected to grow by about 91,800 people over the next 16 years.
Amelia Najjar, a research analyst at the Boston Planning and Development Agency, said their recent check-in found "the population was growing a lot faster than we anticipated, with another 13,000 people at the 2016 marker than we had projected originally."
These numbers are seen as resulting from the city's major economic boom, increased job growth, people wanting to live in the city to begin with, and older residents trying to move back in. Officials were only beginning to see these signs in 2014.
"I don't think everyone understood the magnitude of the housing crisis, but there was a housing crisis going on," Walsh said. His administration's plan was to produce 53,000 units of housing across areas like low-income housing, dormitory construction, senior housing, and moderate-income housing. "We didn't really incorporate high-end housing in that as far as how to do it," he said, "because that happens regardless."
Almost 18,000 new units have already been completed, housing leaders said, with another to 9,480 under construction since the original plan was laid out. Things are on pace to meet the initial 2030 goal almost a decade early if the market stays in good shape, Walsh said.
Areas targeted in the new report align with the neighborhood in the city's Imagine Boston 2030 plan, like Newmarket and Widett Circle, the Fort Point Channel, Suffolk Downs, and Readville. Planning initiatives like those around Uphams Corner and Glovers Corner should help shape zoning and growth in tailored village areas, as will forthcoming planning studies, including one in Mattapan.
A certain amount of housing considered to be affordable for middle-income earners comes out of private markets, said Boston housing chief Sheila Dillon. "The market has produced, according to our analysis, 5,700 middle-income units that are not deed-restricted," she said, "but [it's] also important to meet the housing shortages and needs," she added.
The city's focus remains on building homes for low- to middle-income renters and buyers, In the update, the city's targets are 8,300 units of general low-income housing, 2,000 units of low-income senior housing, and 5,520 units in the middle-income-restricted category.
The new look at the city's demographics shows a future population that is older and more financially vulnerable. "We are where we should be for the various income groups," Dillon said.
Seniors — those 65 and older — will make up 56 percent of expected 2010 to 2030 growth, according to the new report, and households making less than $49,000 a year will account for 43 percent of the growth over that same time frame.
Housing officials highlighted a number of existing initiatives meant to produce affordable housing. Since 2014, the city has awarded more than $115 million in funding and made 1.4 million square feet of city-owned real estate available for affordable housing. To that end, Dillon said, about $50 million each year going forward will be dedicated by the city to affordable housing.
As to money coming in, an increase in linkage fees to 8 percent and the 2016 overhaul on inclusionary development, which may be in line for another update, have upped the revenue stream from private development. The recently passed Community Preservation Act will likely net the city $18 million next year, Walsh said.
One new strategy rolled out in the updated program involves the city purchasing 1,000 market-rate rental units and converting them into deed-restricted affordable homes.
More broadly, an announcement is expected to come soon from the Metropolitan Mayors Coalition on their regional housing targets.