By Jennifer Smith, News Editorer
August 30, 2018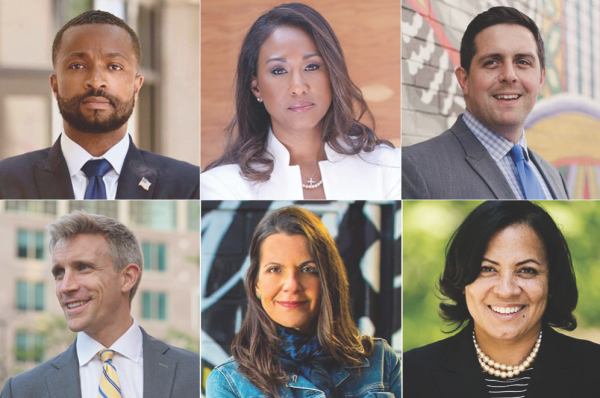 One of the busiest and flashiest races of the local primary season — and one for which advocates are straining to drum up public awareness — is the contest for the Suffolk County district attorney's office.
The incumbent DA, Dan Conley, is stepping aside after 16 years, a move that has attracted a wide array of hopefuls looking to succeed him, all touting their progressive credentials.
The Democratic field features Evandro Carvalho, a state representative and former assistant district attorney who lives in Dorchester; Linda Champion, a former assistant district attorney who most recently worked at the state Department of Industrial Accidents; Greg Henning, former head of the Suffolk DA's gang unit and decade-long veteran of the department; Shannon McAuliffe, a director at the Roca organization, which engages with high-risk youths to interrupt cycles of poverty and criminality; and Rachael Rollins, a former federal prosecutor and former head of the legal departments of the MBTA and Massport and chair of the Legal Redress Committee of the Boston branch of the NAACP.
Four of the five candidates met for their final public forum at the Boston Teachers Union Hall in Dorchester last week. At the Greater Boston Interfaith Organization's "candidate accountability night" event, panelists answered "yes" or "no" to a series of questions on mandatory minimums, bail, and data transparency.
Henning, whom Conley has endorsed as his successor, did not attend the forum because, he said, the format did not allow for complex answers; instead, he proffered a document containing his answers to the forum questions. At the event, candidates were allowed to elaborate beyond their initial yes or no answers.
Carvalho, McAuliffe, and Rollins said they would institute a policy prohibiting prosecutors from seeking bail unless a case carried with it the possibility of a state prison sentence. Champion said she would not do that. She has said she believes the office should not be focused on prosecuting "petty" offenses. Henning wrote that the guide should not be a state sentence. The candidates all said that increasing data transparency is paramount and mandatory minimums are not appropriate for drug offenses.
A district attorney's power goes beyond simply enforcing laws on the books, the American Civil Liberties Union (ACLU) notes; the office comes with broad discretion to determine when to show leniency, and to decide who gets charged with a crime.
"This means these elected officials have tremendous impact on people's lives and our communities," the group wrote on their "What a Difference a DA Makes" website.
Each candidate filled out a survey circulated by the Difference group this year, which is available online.
In reviewing questionnaires and panel discussions across the campaign, the five Democrats agreed on some basic tenets: The office needs to be better at reflecting the diversity of the district, both in leadership and in general staffing; they largely support the criminal justice reform bill passed this year by the Legislature and signed into law — although they believe additional supports need to be in place for reentry.
The disputes between the candidates, some of them sharp, arise from the candidates' relative experiences. Three — Carvalho, Champion, and Henning — have prosecuted cases in the Suffolk DA's office. Rollins has experience in the US Attorney's office and touts her material experience at the helm of legal teams. McAuliffe has worked on the other side of the courtroom as a public defender, although she says prosecutorial exercise should not be required for the top law enforcement post in the county.
Whoever wins the Sept. 4 primary will be on the ballot in November opposite unenrolled candidate Michael Maloney.
The Reporter has profiled each of the Democratic candidates:
Money talks
The five candidates have pulled in contributions from across their districts, and some from across the country, according to filings with the Massachusetts Office of Campaign and Political Finance. In contributions since January 2018, Henning leads the pack by a wide margin.
Henning -- contributions, $510,268; cash on hand, $256,059
Contributions of interest: The Henning campaign has received more than $65,000 from those who self-identify as police, detectives, or law enforcement members. None of his competitors received more than $1,400 in such donations.
Rollins -- contributions, $226,085; cash on hand, $92,736
Contributions of interest: Rollins stands to benefit from national attention, as a funding drive started by activist Shaun King thorough ActBlue has so far raised $40,209.
McAuliffe -- contributions, $322,049; cash on hand, $32,572
Contributions of interest: Only one law enforcement official had given money to McAuliffe's campaign — a Provincetown detective — until Suffolk County Sheriff Steve Tompkins gave $1,000. She has pulled in $65,755 from lawyers, including defense attorneys.
Carvalho -- contributions, $112,441; cash on hand, $7,918
Contributions of interest: The zip codes covered by his current legislative seat, the Fifth Suffolk district, accounted for $24,283 in contributions. State Representatives Byron Rushing, Michelle Dubois, Cassidy Gerard, and Christopher Markey have all donated to his campaign.
Champion -- contributions, $62,683; cash on hand, $4,239
Contributions of interest: She has the fewest receipts for $1,000 of all the candidates — only 22 such donors — with the remaining 326 campaign contributions coming in smaller denominations. About one third of her donors are from Boston.
Endorsements and reinforcements
Carvalho boasts endorsements from many of his Beacon Hill colleagues: Speaker Robert DeLeo; House Ways and Means Chairman Jeffrey Sanchez (facing his own competitive primary in Jamaica Plain against Nika Elugardo); and representatives Representative Chynah Tyler, Jay Livingstone, RoseLee Vincent, Byron Rushing, Liz Malia, Michael Moran, Russell Holmes, Dan Ryan, and Kevin Honan. The Ward 15 Democratic committee also endorsed Carvalho, as has Suffolk County Register of Probate Felix Arroyo. Wayne Budd is his campaign chair.
Champion has publicly railed against calls for the candidates of color to coalesce around a single best option so as not to dilute their communities' votes. She does not have any prominent elected officials on the record in support, but her campaign frames her run as "the people's champion," highlighting endorsements from the Missouri-based Korean women's nonprofit National Association of Intercultural Family Mission, her ex-husband Eddie Jenkins, a former prosecutor and Super Bowl champion with the Miami Dolphins and campaign chair David Rosenberg, CEO of Prime Motor group.
Aside from Conley, other endorsements in Henning's corner align with his reputation in the race as the most traditional pick for district attorney. Former Boston Police Commissioner Ed Davis; Laborers Local 223, run by Mayor Martin Walsh's cousin, Martin F. Walsh; law enforcement and public safety groups like the Latino Law Enforcement Group of Boston and Professional Fire Fighters of Massachusetts; City Councillors Matt O'Malley and Tim McCarthy; and state representatives Aaron Michelwitz and Ed Coppinger. The Boston Herald has endorsed Henning.
McAuliffe, the first to enter the race, was endorsed off the jump by Suffolk County Sheriff Steve Tompkins. She also has endorsements from Boston Democratic Wards 9 and 10, Withrop town councillors Michael Lucerto, Heather Engman, and Nick LoConte, Chelsea City Councilor Enio Lopez, and Terry Kennedy of the Governor's Council. Unions endorsing her include Painters District Council 35, Plasterers and Cement Masons Local 534, Sheet Metal Workers Local 17, Iron Workers Local 7, and the New England Regional Council of Carpenters and NAGE/SEIU Local 5000.
Rollins has a host of progressive voices at her back, including Democracy for America and the Real Justice PAC. The Massachusetts Women's Political Caucus, the Progressive Democrats of Massachusetts, Mass Alliance, progressives in West Roxbury, Roslindale, and Jamaica Plain, and Our Revolution Boston are in her camp., as are the MBTA Police Association, Boston Wards 4, 11, 12, and 19, and Chelsea Ward 4. Elected endorsements include state senators William N. Brownsberger and Sonia Chang-Díaz; Boston City Council President Andrea Campbell and councillor Kim Janey; three Chelsea city councillors; former state representatives Marie St. Fleur and Doris Bunte; and former city councillor Charles Yancey and Tito Jackson. The Boston Globe endorsed her candidacy this week.
Editor's note, Thurs., Aug. 30 at 11:43 a.m.: this article was updated with additional financial data.
Editor's note Thurs., Aug. 30 at 4:21 p.m.: an earlier version of this article included state Sen. Nick Collins' name on the list of endorsements for state Rep. Evandro Carvalho, as it was listed on Carvalho's website. There has been no endorsement, per a Collins spokesperson, and the name has been removed.
Jennifer Smith can be reached at jennifer.smith@dotnews.com, or follow her on Twitter at @JennDotSmith