By Daniel Sheehan, Reporter Staff
March 19, 2018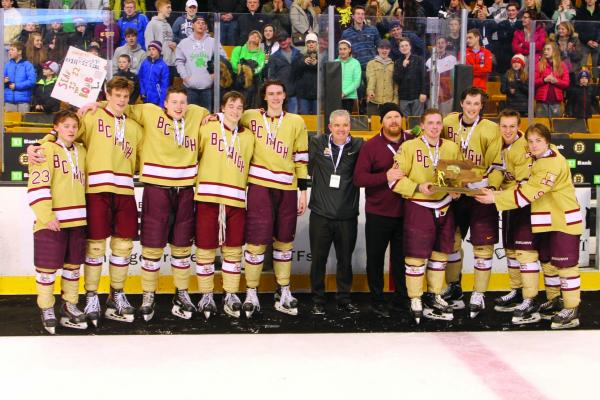 The BC High hockey team rallied in the dying moments of regulation to tie the score at one goal each in the Super 8 final on Sunday at TD Garden, then, less than two minutes into overtime, defeated Pope Francis High of Springfield for the state title when senior Maverick Woods converted a pass from classmate Timmy Kelly to win it for the Eagles, 2-1.
The winners, coached by South Boston native John Flaherty, struggled to find the back of the net until the dying moments of the third period when senior forward Joe Dragon tied the score at 1-1 with about a minute left in the game.
Goaltender Luke Garrity, of Duxbury, who let in only four goals during the tournament, made several crucial saves down the stretch to keep the Eagles in the game.
Flaherty said Sunday's game exemplified the character of his team, a mindset he summed up with one word: resilience. "They didn't quit, they didn't back down even when they were up against it," he said of his players. "We started the season with a record of 1-3-1, but then they really responded. They rose to the challenge."
Andrew McDonough, a senior defenseman from Neponset, described playing at TD Garden as "unreal. It's a dream come true to play there. As a kid growing up in Boston that's all you ever think about."
McDonough chalked up the title win to hard work and the Eagles' team mentality. "We have a lot of unselfish kids," he said. "We worked so hard to get where we are...in the end we just made sure to leave it all out there."
The win, BC High's fifth state title, returned the Super 8 trophy back to Morrissey Boulevard for the first time since 2007.