By Michael P. Norton, State House News Service
April 5, 2017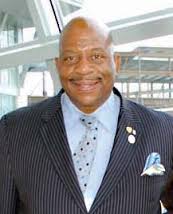 UMass-Boston Chancellor Keith Motley plans to step down June 30, take a year's sabbatical and then return to campus to teach.
In an email to the "university community" Wednesday night, Motley, who served as chancellor for a decade, said enrollment at the campus had grown 25 percent in the past ten years, research funding had increased 53 percent, and student retention and six-year graduation rates had risen.
"It has been deeply rewarding to see how much we have accomplished together. Bringing people from many communities into one community to do great things - often against great odds - is in the nature of this place," Motley wrote.
"For a university that started out in a gas company building and moved to a landfill, we haven't done badly. Despite funding cutbacks, collapsing garages, and the doubts of unsympathetic outsiders, we have thrived and grown. Every step of the way, you and the generations before you have been guided by a shining idea: that human beings in all circumstances deserve the best teaching, research, and service that any university could give them, regardless of the obstacles life may have put in their way."
Motley also referenced the budget troubles, brought on in part by infrastructure spending, at the university's Boston campus.
"We are going through hard times at the moment, but the hard times are temporary," he wrote. "So are the huge dirt piles! I expect to walk around our beautiful campus in future years and see still more fine places to teach, learn, live, work, and even park-and an expanding, harmonious community of students, teachers, researchers, and staff members that is extraordinary in every way."
In early March, UMass officials announced they had hired former Bowdoin College president Barry Mills as deputy chancellor and chief operating officer, in part to work on long-term strategies. At the time, UMass President Marty Meehan called Mills "one of the nation's preeminent higher education leaders."
Mills will not be a candidate for chancellor, according to Meehan, but will serve as interim chancellor beginning July 1 "until finances are stabilized and the university is positioned to attract a world-class chancellor through a global search."