By Bernadette Darcy, Reporter Correspondent
September 21, 2017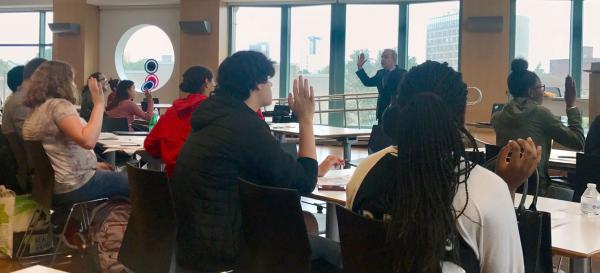 Boston voters will see some new faces when they arrive at their polling locations next Tuesday. City high school students have been recruited to help set-up, greet voters and prepare ballots for pick up through a new initiative. Roughly 40 students from 13 high schools attended mandatory training sessions at the BPS headquarters in Dudley Square on this week.
The city's Election Department and BPS History Department joined forces to coordinate the program. The students must be at least sixteen years old to participate.
"By working the polls, students will have a hands-on learning experience," said Natacha Scott, Director of History and Social Studies for Boston Public Schools.
Elections Commissioner Dion Irish and Kyron Owens, the Civic Engagement Coordinator for the Boston Election Department, were on hand for a training session on Monday, which began with students taking an oath to become an election officer. Students learned about the behind-the-scenes logistics of Boston's polling process. Martin Kain, Administrative Assistant to the Elections Department, lead the training session.
"Engaging students in the citywide election is key for us because this election is personal to them," Owens said. "Not just in Boston, not just in Massachusetts, but nationally, we are concerned with recruiting qualified people to staff the polls."
Kain emphasized the importance of respecting voters, maintaining an accessible polling place, and following laws to ensure the election is free, fair, and efficient. He described the roles and duties of poll workers, preparing students to confidently work the polls.
"We're hoping that exposing people to the process will encourage them to participate," Kain said.
"You'll be working with people from a lot of different backgrounds, so it's important for you to be respectful and remain impartial," Owens told students.
The students will also work the polls in the city's final election on Nov. 7.
Bernadette Darcy can be reached at bdarcy@dotnews.com, or follow her on Twitter at @BernadetteDarcy