By Jonathan Innocent, Reporter Correspondent
June 7, 2017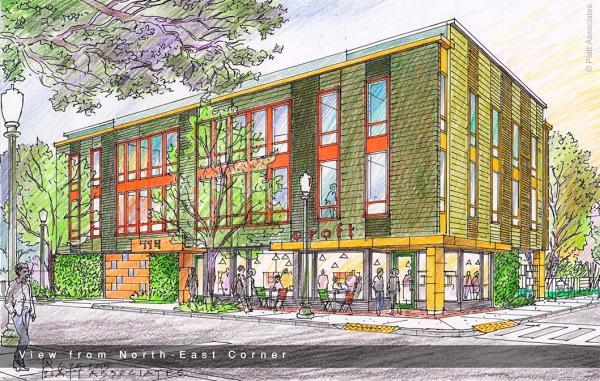 A new, eight-unit condominium building with ground-level retail space is rising from what was formerly an unsightly, abandoned gas station lot near Codman Square. New property owners and Kristine and Tom Piatt of Piatt Associates say their vision for the project— dubbed "West on Washington"— was "to create a building for the next 100 years."
The Piatts acquired the property at 717-719 Washington St. — situated at the corner of Washington Street and Dunbar Avenue — in a competitive bid process conducted by the City of Boston. Once finished, the three-story building will house eight condo units on the upper two floors, each with three bedrooms, two baths, and a full washer and dryer set.
Tom Piatt, who co-owns the architectural firm Piatt Associates with his brother James, says he expects that the asking price will be reasonable for working families.
"We are targeting it for families, for couples who work in the city with kids, as an option for them," said Piatt. Each unit will come with a deeded parking spot on-site and there will be two additional guest spots in the rear, along with two set aside for the retail space.
Co-owner Kristine Piatt explained, "We're trying to give everyone all of the amenities that a luxury building has, but in an energy efficient, environmentally sensitive way that is beyond luxury. Because luxury is often not meant to last. It's meant for show and eye appeal, but the luxury in this building is in the infrastructure of the building. The insulation, the windows, the high efficiency appliances that we're using; that's where the luxury is."
It is set to be a "net-zero" building, meaning that the amount of energy used on an annual basis will be roughly equal to the amount of renewable energy created and supported by its infrastructure. An array of more than 120 photovoltaic solar panels will be installed on the roof.
The Piatts want the decor and building aesthetics to match the sustainable features of the building, with white walls and light wooden counters, shelves and accents. Each bedroom and living room in the building will have at least one five-foot window that will provide natural light for the space. Outside, they have planned out a communal patio area, with a grill and picnic table for the residents. There will also be a covered back porch area with bicycle storage space.
The building will be fully accessible with an elevator and Type A apartment units, meaning that they will feature five-foot turning radiuses, lower shelving, lever type door hardware, tilt-turn window handles, and lower kitchen workstations and bathroom counters.
Other sustainable elements that the building will feature are its heating and cooling systems, which will both be run on recycled air. "Each unit will have its own heat pumps," Piatt continued. "The pumps function with high efficiencies, and are supposed to be 80 percent efficient at -14 degrees Fahrenheit."
In fact, each unit's dryer will not need their vents to be cleaned because they are heat pump dryers, acting as a dehumidifier for clothes, which has the added benefit of being cheaper than heating them and avoids the collection of lint. Each bathroom will also have low flush toilets (.8 gallons per flush).
Tom Piatt further expressed the necessity for such sustainable technology in the construction of modern buildings.
"We don't know where our energy will come from in the next hundred years, but we know that society is in transition, so we can't build for the past," said Piatt. "We've gotta build for the future."
The property is set for completion in August and will be marketed by Galvin Group Real Estate. There is no tenant yet for the 850 square foot retail space on the ground floor.