By Rowan Walrath, Reporter Correspondent
July 27, 2017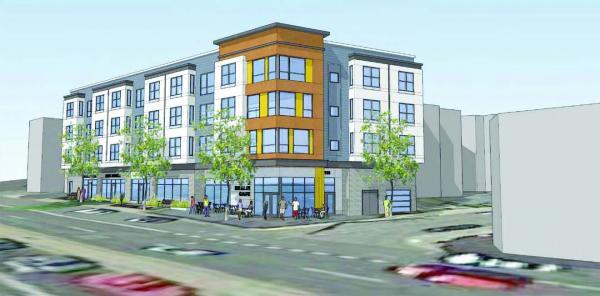 Mattapan residents will have the opportunity to express their opinions about a proposal for a mixed-use, four-story building on Blue Hill Avenue at a public meeting next Tuesday, Aug. 1.
The development, proposed by Allston-Brighton-based landlord George Minasidis for 1199-1203 Blue Hill Ave. — at the corner of Deering Road – would consist of 21 residential units, retail and restaurant space, and an underground parking garage.
The plan was filed with the Boston Planning and Development Agency (BPDA) in April.
Karen Bunch, project consultant for the development, said that although community members have expressed support so far, Minasidis and the developers are looking to get full public approval for the project. The meeting on Tuesday, set for 6 p.m. to 7:15 p.m. at the Mattapan Branch Library at 1350 Blue Hill Ave., will be the latest forum for residents to express their opinions.
"The most important thing for the property owner is that the folks in the community supported him for what they do," Bunch said, adding that the developers have already had at least four meetings in the immediate neighborhood.
The developers and architects have made slight changes over the past several weeks based on community suggestions, including additional trees and benches, more walkability, and a commitment to work with Boston Police to ensure public safety in the area.
The residential units, of which "three or four" would be affordable types available through a lottery system, will provide community members with homeownership opportunities, Bunch said. Developers have already reached out to people who may purchase condominiums in the building.
"There are people who are interested who are renting in the community," she said.
For the retail spaces, Bunch said small businesses, a bakery-café, and MetroPCS – which has indicated explicit interest, she added— are all possibilities. However, perhaps the most highly-anticipated part of the project is a 55-seat restaurant on the building's first floor.
"They've been saying all along, through the process, that they're excited," Bunch said. "They support a sit-down family restaurant; they need that in the community. They're excited about the small businesses."
BPDA senior project manager Lance Campbell said the developers have so far been actively engaged with the neighborhood."This is their second big go-round with the community," Campbell said. "They're just keeping them aware and updated about their plans for developing this property. That's the developer— that's what we expect them to do when they file. We're like, 'Look, we don't work for you guys. We're just here to facilitate the process.'"
Campbell will be at Tuesday's meeting along with Boston Neighborhood Services representative Ruth Georges. He said that with the public's approval, the developers are looking to go to the BPDA Board in September.
"I'm not there to advocate; I'm just there to facilitate," Campbell said. "Whatever you think about the project, please let me know."