By Jennifer Smith and Maddie Kilgannon, News Editor and Reporter Correspondent
November 8, 2017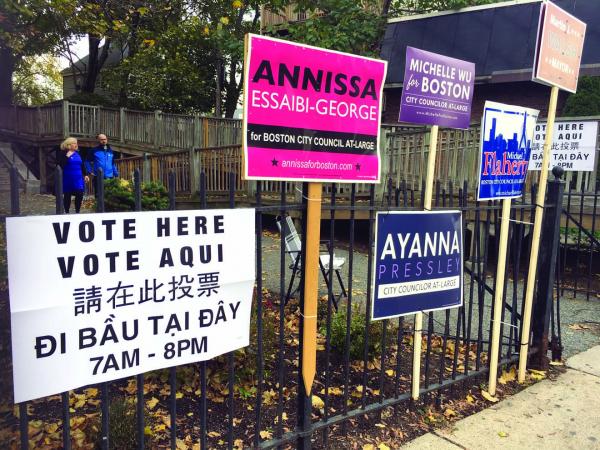 As the evening chill settled over the city, a steady stream of voters made its way in and out of the Cristo Rey High School in Savin Hill, where ballots are cast and counted for Ward 13, Precinct 10. Polls would close in an hour, and Martin J. Walsh would sweep his way to re-election in part due to wide margins from precincts like this one.
The polling place is solidly in Walsh territory, swinging his way with 80 percent of the vote this year. The former state representative and current mayor called it home until decamping for Lower Mills in 2015, though his mother still votes just down the way at the Kit Clark apartments. Members of the Columbia-Savin Hill Civic Association that he used to lead filtered in and out of the high school through the day.
But the day was at a close and the last of the 768 voters who had cast their cards at 13-10 headed home, some with collars turned up against the cold, others with headphones in their ears, and parents shuffling their children down Savin Hill Avenue past colorful campaign signs — Walsh red, Tito Jackson white, and at-large city council pops of navy, purple, and hot pink.
•••
Cadien Shaw, 26, said he had not been planning to come out Tuesday, though he is generally a regular voter. A flood of social media posts about the election got him out of the house and over to the polling place on a grocery run.
"If I didn't do that, I think it would kind of weigh on me," he said, "and I'd be upset with myself if I didn't swing by and take three minutes, literally, to do that."
The city seems to be generally on the right track, Shaw said, and he voted for "a lot of people who are already in office. I was thinking about the current situation we're in," he mused, "kind of, don't fix what's not broken."
•••
City progress looks different to 34-year-old Kemarah Sika, a lifelong resident of Dorchester who moved to Savin Hill about nine years ago.
Working with shelters, particularly those focused on women, and the house of correction, Sika said she has watched people "squeezed" out of a neighborhood where she owns a home "just because of luck. Seeing how this neighborhood has changed just as long as I've lived here can be really disheartening," she said. "Leaving not because they want to leave; they're leaving because they can't afford to live here."
Sika is a regular Hubway bike-share rider, she said, as her helmet bounced against her leg. But, she added, so many parts of Dorchester are "not accessible via T or by Hubway. Hubway only goes so far."
From the end of the Menino administration on, Sika said, she felt that the city has made moves that are "good economically but not good for communities. If we're bringing in large corporations that are getting tremendous tax breaks but my kid goes to school in Brighton, that says a lot… jobs are not community."
•••
Education was also at the top of the priority list for Dianne Lescinskas, 50, who took her 20-year-old daughter Alexa to vote for the first time, just an hour before the Cristo Rey polling location shuttered for the evening.
"We wanted to come out and give strong support to Marty Walsh," she said. Lescinskas is on the board of the Boston Public Schools Special Education Parents Advisory Council (SpedPac).
"Special education is very important to me, to have that voice represented," she said, "and Mayor Walsh has been a great partner with Boston SpedPac, working with us and working with all of our issues and we'll continue to do that for the next four years."
Mother and daughter voted for all four incumbent at-large councillors as well, Lescinskas said, but Ayanna Pressley and Annissa Essaibi-George, in particular, have been stalwart advocates for special education.
•••
As Walsh closed his day at Florian Hall, his challenger, City Councillor Tito Jackson, stood about four miles away at the Higginson-Lewis K-8 School in Roxbury, the final stop of the challenger's mayoral run before he headed back to his campaign headquarters to await the results.
He hugged supporters as they went in to vote. Most people who passed by the candidate, even students still in their school uniforms, recognized him. Dozens of cars beeped as they drove by and saw the red, white, and black signs for the Jackson campaign.
The Higginson-Lewis would a precinct where Jackson posted a rare decisive victory. In the last hour of voting, his spirits seemed high. When asked if he thought he had the support to win his own district, he said that he was focused on the city as a whole.
The car he had been traveling in was parked about a few yards away, stereo playing his campaign song, and the councillor dancing slightly in an attempt to keep warm.
"At least this isn't as cold as the special election in 2011," he said.
Jackson won a spot on the city council that year after falling short in 2009. He said that he learned a lot from losing the first time he ran.
•••
A former candidate for the District 7 seat, Charles Clemons, stood outside the polling location all day and urged the hundreds who walked by him to support Jackson for mayor and Rufus Faulk for city council. Faulk lost the council seat to Kim Janey.
As an MBTA 44 bus drove by on its way to Jackson Square, Clemons took it as a sign of good luck. He pointed at the bus, and exclaimed, "44, like the first black president and Jackson, like the first black mayor of Boston." Tito laughed as he waved at the commuters on the bus.
Clemons ran for mayor in 2013 and did not make it past the primary. He was the only primary candidate to endorse Walsh's opponent, John Connolly, that year. Clemons said that in 2013, Jackson had chased him up the steps and told him not to run. As a voter tried to squeeze past, Jackson leaned over and hugged Clemons. "I shouldn't have told you not to run," he said.
Jackson said that he was happy that he had decided not to run for mayor in 2013, adding that he likely would have made a lot of the same mistakes that Walsh made in his first term. He knows better now, and that's why he decided to run this year, he said.
As for endorsing Walsh in 2013, Jackson said that he did not regret it. He endorsed Walsh based off promises he made in 2013, promises Jackson felt were abandoned.
"He said that he would fully fund schools. And he didn't," Jackson said as he bumped fists with a young boy walking by.
•••
With half an hour left until the polls closed, and Jackson's defeat on the horizon, it began to rain lightly.
The candidate would leave soon, hugging and fist-bumping supporters as he went, dancing his way into his car, his campaign anthem blasting: "Vote for Tito Jackson."