By Daniel Sheehan, Reporter Correspondent
November 2, 2017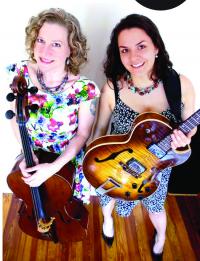 Elis Roseira and Catherine Bent are two halves of a rather unconventional musical duo: Elis sings and plays electric guitar, while Catherine plays cello. The two instruments don't seem particularly compatible, but the pair, who first met in Boston at the Berklee School of Music, say their chemistry with each other was instant.
"I was really struck because I've never had this connection with a musician before," says Elis. "We have a very deep understanding in terms of what each other is thinking." This understanding is evident in their effortless, free-flowing playing, which features syncopated guitar, alternating bowed and plucked cello, and buoyant melodic lines sung by Roseira in Portuguese.
There is a lot going on musically, with Elis and Catherine constantly shifting roles and trading musical phrases; at the same time there is a ongoing balance to the performance.
The duo will be performing in Peabody Hall at the Parish of All Saints next Thursday, (Nov. 9) at 7 p.m., in the third installment of the Dot Jazz Series presented by Mandorla Music.
While Roseira's and Bent's music draws on classical, jazz, and a number of Brazilian styles, including bossa and samba, much of what they play is based in choro, a traditional Brazilian musical genre from the late 19th century that resulted from a mixing of cultures in Brazil.
"It's kind of analogous to ragtime in that it is the child of European dance music –19th century polka especially – and West African rhythms from the very large slave population in Brazil," said Bent, noting that in this way, choro reflects the cultural diversity that makes up the social fabric of Brazil. Musically, she says, it provides a perfect balance for her interests and skill sets.
"My background was in classical music, and then I did a degree in jazz, so I kind of have both of these influences. I found a very happy home in choro music because composition is very important, but there's also room for improvisation and freedom."
Having completed tours in Europe and around the country, Roseira and Bent are used to playing to a wide range of audiences and they hope their show in Dorchester will attract both those familiar with and those new to Brazilian music.
Bent credits series curator Mark Redmond for expanding his vision and his "labor of love" to a wider range of listeners. "He brings artists and audiences together who might not otherwise find one another," she says. "We're grateful to him and the Greater Ashmont Main Street organization, and we're excited to play at the All Saints Church. It's a beautiful space with lovely sound and a great atmosphere."
Roseira and Bent will be playing traditional and original tunes from their first album, Um Gosto de Sol (A Taste of Sun). Tickets for the event are available at mandorlamusic.net. The $15 cover includes dessert and non-alcoholic drinks. Wine will also be available.