By Reporter Staff
June 7, 2017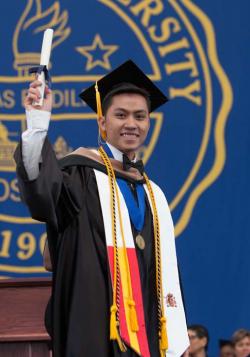 Tyler LaWhen Thinh "Tyler" La, of Dorchester, was assigned a marketing class data project in conjunction with the Boston Red Sox, he didn't know anything about the game or the team. In fact, having arrived in America at age 17, he had never set foot in Fenway Park.
However, the Suffolk student embraced the challenge with confidence.
"I knew I could do the work," said La, Class of 2017. "I'm a numbers guy."
He and his classmates were asked to generate data about a Red Sox promotional program aimed at attracting more college students to games.
They conducted primary and secondary research and analysis to evaluate program effectiveness. Then the students developed a strategic marketing plan aimed at increasing ticket sales and brand awareness.
"Experiences like this helped me to understand myself a little better and generated more interest in what I wanted to do," said La, who graduated with a double major in Marketing and Information Systems.
Before Red Sox home games, La could be found handing out one-page surveys to young people outside Fenway Park. However, after a month he was rewarded with a ticket to his first game, a moment he will never forget.
"It was beautiful," he recalled. "The field, the lights, the people – it was more than I expected. The crowd's enthusiasm made me excited."
La's life story was revealed when he auditioned to be this year's student commencement speaker for the Sawyer Business School. Taking a deep breath, he began:
"I was born and raised in Vietnam. When I was young, my family didn't have much; we lived for under $2 a day for four people. My very first words of English were taught by the foreign volunteers who came to my country to help children and families who lived under the poverty line."
La nailed the audition and spoke at the May 21 Business School undergraduate commencement.
After moving to the United States, La settled in with his aunt and uncle in Dorchester, entered the international baccalaureate program at the Newman School in Boston, and then applied to college.
"I chose Suffolk because I personally related to the University's history, mission, and values," said La. "In the past four years, Suffolk has allowed me to thrive, connect, fail, and develop. It has changed my life in such ways that I couldn't have imagined."
With Suffolk's help, La landed a marketing internship with the Mayor's Office of Workforce Development.
He developed a government services marketing plan for the tax season, identified new marketing channels using Google Analytics, and researched and constructed a photo marketing campaign.
"Every single opportunity I had at Suffolk made me believe in my ability to eventually work in the marketing and information systems field," he said. "It is an amazing feeling to find a career path that can integrate both of my biggest strengths – creativity and analytical thinking."
La can add leadership to his set of skills due to his active involvement with the Boston chapter of AIESEC, an international, youth-run organization that aims to develop leaders and connect the world through global volunteer and internship opportunities.
Among La's responsibilities as a member of the AIESEC student executive board were leading and training a team developing strategies for social media, content marketing, event planning, and public relations. This role taught him how important it is to "communicate and inspire others" when managing a group of people.
Management and Entrepreneurship Professor Laurie Levesque, a mentor to La, said that he has taken full advantage of all that Suffolk offers.
"He completed a strong academic program, studied at our Madrid campus, and has contributed to the vibrant, diverse student community," said Levesque.
"He has also added value across a number of settings – in the classroom, in club meetings, and in his presentations to local executives."
This year La received the Business School Outstanding Student of the Year Award from the Student Government Association, the Outstanding Senior of the Year Award, and the Academic Achievement Award from the Information Systems and Operations Management Department.
La plans to return to Suffolk in the fall for the Business School's master's program in business analytics. His goal is to become a marketing analytics management consultant.
"When I was young, I never thought that I would be able to attend college" he said. "Today, I am beyond grateful to Suffolk for giving me the opportunities to learn and explore my potential."