By Elana Aurise, Reporter Staff
March 30, 2017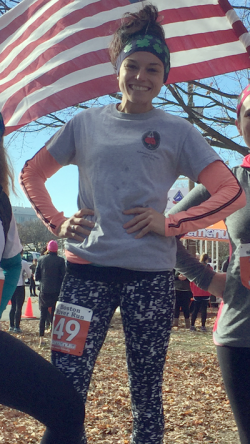 Michelle EganMichelle Egan is used to training hard for bouts in the boxing ring. But, this year the 31 year-old athlete has put aside the gloves for a pair of running sneakers as she preps for the BAA Boston Marathon.
While training for last November's Rocky Marciano boxing tournament which she won, the lifelong Dorchester resident decided to focus her energies on helping others.
"Running is a huge part of my boxing training and I [started] running 5k races on Sundays during training camps," said Egan, who elected to skip the Golden Gloves this year and raise money for the Mass Eye and Ear Infirmary.
"When I looked at each race, I saw a cause. Then I looked to the bigger picture," she said. "I knew there was a way I could do more; The Boston Marathon. First off, as an athlete, and [second as] a Bostonian, I had to do it."
Egan— who works for Atrius Health— crossed a major threshold this week, eclipsing her personal goal of raising at least $8,000 for the Mass Eye and Ear team. She's still accepting donations here.
"I wanted to give my all to this charity and marathon much like the workers, doctors and educators at Mass Eye and Ear do daily," said Egan. "These stories are not mine to share, but have touched me, one doctor runs to pay for her patients that cannot afford medication, teammates run to honor their family members and the care that they received […] It's an amazing hospital and I am honored to raise money for such a place."