By Reporter Staff
November 2, 2017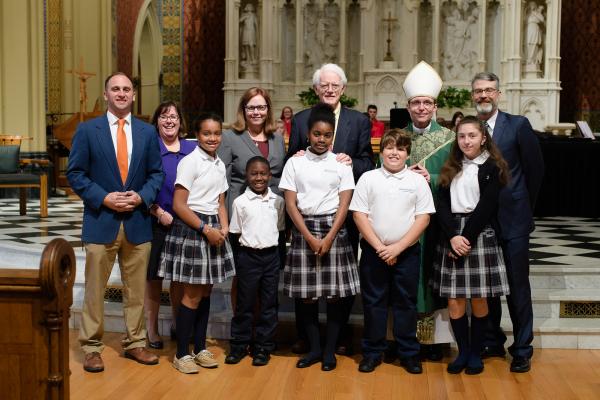 Nineteen students from Saint John Paul II Catholic Academy's four campuses were named Peter Lynch Scholars this month. The scholarships were awarded during a Mass celebrated in Newton.
Each Catholic elementary school selects its scholars based upon, among other criteria, grades, work ethic, and demonstrated care and concern for others in the school community and beyond.
This year's Dorchester contingent included Marianna Castro, Stefany Contreras, Chlory Lamerique, Jovani Maestre from the Columbia campus; Jason Beauvais, Lawrence Gustama, Jadlie Lamartiniere, Daniela Lopez, Jamae Richards from the Lower Mills campus; Falone Bertrand, Michael Brice, Sariah George, Karl Jean-Baptiste, Schaynalgee Souffrant from the Mattapan campus and Aaron Collier, Saidah DaSilva, Elizabeth DeLorenzo, Angie Edouard, Anthony Martindale from Neponset.
Lynch, known for his successful career as a money manager at Fidelity Investments, is a longtime supporter of Boston's Catholic Schools and serves as chairman emeritus for the Catholic Schools Foundation.