By Ryan Daly, Reporter Correspondent
May 4, 2017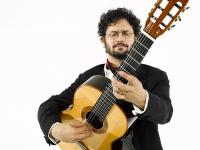 The classical guitarist Aaron Larget-Caplan, a resident of Uphams Corner, will perform at the First Church in Jamaica Plain on Friday in a solo concert covering Bach, Gershwin, and Mussorgsky, as well as his own contemporary pieces. The event, which is being hosted by Eliot Street Soirée, starts at 7:30 p.m.
Peter Janson, a senior lecturer at UMass Boston, where Larget-Caplan also used to teach, speaks highly of the latter's abilities. "[Aaron's] work is steeped in musical traditions, but offers a unique modern perspective," Janson said in an interview. "One of the first things that anyone, from a novice to an expert, would notice is the technical mastery and virtuosity of the pieces."
Influenced by many Spanish composers, Larget-Caplan started playing classical guitar when he was 16. He subsequently attended the New England Conservatory of Music. After graduating, Larget-Caplan linked up with a Russian guitarist and teacher, Dmitry Goryachev, who, he says, opened his eyes "to what was possible on the guitar."
Goryachev lived in a Dorchester three-decker at the time and Larget-Caplan remembers hiking up the three flights of stairs for more than seven years to practice with Goryachev's for three hours and more every day. "It was like going up the mountain to visit the guru," he said, adding that Goryachev taught him the value of concentration and the skills necessary to become an accomplished performer. "He was thorough and gentle," Larget-Caplan said. "Without him, I would have been a very different kind of player."
Larget-Caplan has released three solo albums, including "New Lullaby" and "The Legend of Hagoromo," which, he noted, was inspired by several legends and stories in Japanese culture. He added, "I really enjoy the idea of collaboration, of finding out new ways of introducing contemporary and classical music to people of all types and ages."
Larget-Caplan described the purpose of his concerts and performances with a similar fervor. "Everything I'm trying to do," he said, "is in the aim of keeping people on the edge of their seats. I like to challenge expectations."
Larget-Caplan loves living in Uphams Corner, a diverse and beautiful neighborhood steeped in so much history. The upcoming concert, he said, is an exciting opportunity for him to share his personal spin on music from all over the world with those in his neighborhood and beyond.
Tickets for the event are $15 and can be purchased at brownpapertickets.com/event/2905806.