By Rowan Walrath, Special to the Reporter
May 31, 2017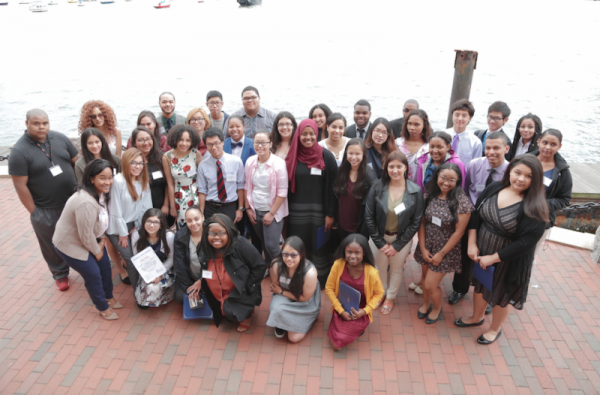 Leaders from the city and its school system saluted 38 valedictorians from the Boston Public Schools at a luncheon on Tuesday. Of the students who were recognized, 16 hail from Dorchester.
"Today, we are celebrating an elite group of young people," said Callie Crossley, the event's emcee and a WGBH host and commentator.
This year, nearly three-quarters of the valedictorians were female, while 42 percent immigrated from outside the United States, representing 11 countries in total. Sixty-one percent will be the first in their families to attend college.
Speakers at the luncheon, held at Boston Harbor Hotel, included Mayor Martin J. Walsh, Boston School Committee chair Michael O'Neill, BPS Superintendent Tommy Chang, and Maybelline Pérez Villatoro, valedictorian of East Boston High School's graduating class, who told attendees that her Latina identity is crucial to her understanding of the world. She immigrated from El Salvador when she was 12 years old.
Walsh, after thanking parents and the school committee, suggested that the students would go on to careers as community organizers, Broadway stars, cancer researchers, and even mayors of Boston. The mayor, who was born to Irish immigrants, then emphasized the importance of America's multicultural legacy.
"We are a city and a country built by immigrants, founded by immigrants, and we should never forget that," Walsh said. "It's important to never forget where you came from."
O'Neill, calling the valedictorians "shining spots" across Boston, told the crowd that he was the grandchild of an immigrant, and added that he recognized the importance of community in raising children to be successful students.
This fall, seven of the valedictorians will attend Northeastern University, more than any other institution for this year's class. O'Neill attributed this to the Northeastern Boston Valedictorian Scholarship, a full-ride award established by Dorchester native and longtime Boston banker Neal Finnegan, who was the chairman of Northeastern's board of trustees for 10 years.
O'Neill joined Walsh, Chang, and the Boston School Committee in presenting Finnegan with an award thanking and commending him for strengthening ties between Northeastern and the city of Boston.
Following the presentation to Finnegan, O'Neill called on the students to remember their Boston roots as they advance in their careers. "Work hard. Study. Persevere," he said. "But don't forget to come back to Boston or stay in Boston."
Most of the valedictorians are enrolled in Massachusetts schools for the fall. In addition to Northeastern, they are set to attend MIT, and schools across the University of Massachusetts system, among others.
Chang used his speaking time to remind students of their potential beyond high school. "You are the pride of Boston Public Schools," he said. "You are rewarded for following the game plan. But I want to let you know: You can do more."
Chang went on to make a distinction between the qualities that lead to success in high school and those for adulthood, telling the students, "Make sure you are involved beyond your bookwork." He added, "Embrace your identities. Don't suppress them. It is critical that you recognize this."
East Boston's Pérez Villatoro echoed Chang's and Walsh's sentiments, saying she would use her background to help her neighbors in the future. "We cannot forget to look back at our community and address its needs," she said. "My parents have taught me to not forget where I come from, so I know who I am in the future."
"Building a new life in the US wasn't easy," she added, "but it wasn't impossible, either. My story is the story of so many young people in this country." She said that the contrast between her life in Boston and El Salvador, where she said gang violence was rampant, has helped her appreciate "the smaller things."