By Ryan Daly, Reporter Correspondent
April 13, 2017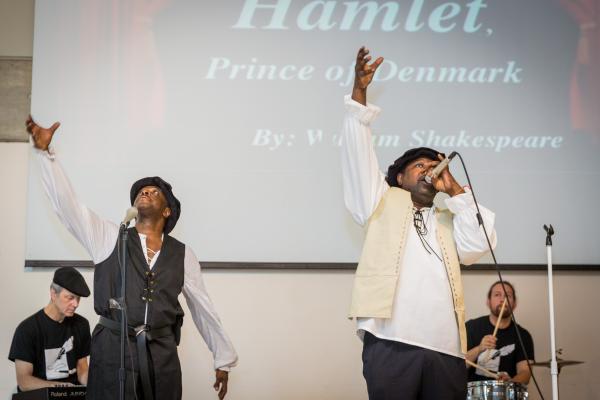 The life and work of William Shakespeare will get a contemporary treatment at the Codman Square Branch of the Boston Public Library on Thursday, April 20, in an event titled "Shakespeare to Hip Hop."
Regie O'Hare Gibson, a 49 year-old poet and actor Marlon Carey, 39, along with several musicians, will lean on American musical forms including jazz, blues, funk, hip-hop, and even country to deliver an sweeping history on the background and influences of England's seminal poet and playwright.
"I hope people leave with a more profound engagement with Shakespeare's work than they do right now," said Gibson. "Everything is done with live music, and the perfect audience is anyone from fifth grade, and up."
The performance starts at 6:30 p.m. and runs for an hour-and-fifteen-minutes with influences ranging from Jimmie Hendrix to Kendrick Lamar.
Gibson's own career started with a shaky approach to a microphone during a slam poetry event in Chicago.
"Fired my mind," Gibson said, during an interview, referring to his first experiences in Chicago. "I knew I had to get into poetry."
Gibson's history in both Shakespeare and storytelling, though, started much earlier.
His grandfather, who was illiterate, used the invention of stories as a mnemonic device; this exposure to storytelling was formative for Gibson's own performance abilities.
Gibson's mother exposed him to acomplete anthology of Shakespeare's work; he turned to this collection when he grew older and started falling in love. After watching a late 60s version of Romeo & Juliet, Gibson says the words started popping off in his mind.
The most difficult aspect to this upcoming performance, Gibson noted, was collecting the most contemporary scholarship on the mysteries surrounding Shakespeare's work and life—not only to make sure the information presented is current, but also to make sure the liberties taken during the combination of poetry, rap, spoken word, and song are realistic.
"There are gaps in what we can know," he said. "But we wanted to make sure we built the world around everything we did know right."
Gibson got his Masters in Fine Arts in poetry from New England College and has lived in Lexington for the past decade. He teaches at Emerson College in the summer and will be teaching at both Lesley University and Clark University this coming fall.
Gibson stressed that immense work was done to keep the writing colloquial and entertaining rather than dry and akin to a lecture. The Codman Square Branch of the BPL is located at 690 Washington St., Dorchester.