By Griffin Connolly, Special to the Reporter
June 2, 2016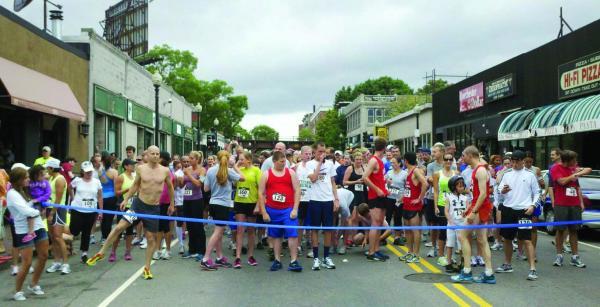 This Sunday at noon, runners from all over Dorchester will take part in the annual Project D.E.E.P. and Blarney Stone Dorchester Day 5K.
Event planners from Project D.E.E.P., the Dorchester Educational Enrichment Program, which provides weekly one-on-one tutoring to hundreds of elementary school students, started their work in the fall and say there have been upgrades across the board.
"We're going to be improving in lots of areas," said Beth Connell, Project D.E.E.P.'s executive director and a Neponset native. "Last race, we had the most participants ever, so we've updated our methods and brought in extra help."
In years past, officials have timed runners manually with a stopwatch, a meticulous, often error-prone, method. This year, for the first time in the 13-year history of the race, which starts outside the Blarney Stone Pub, meanders down Dorchester Avenue toward Lower Mills, and loops back along the same route, results will be recorded digitally with a chip timing system.
"It's going to be all electronic this year," Connell said. "That should help, given the increase in volume we saw last year."
On the eve of last year's run, 75 people signed up online, bringing the total to 250 participants as the servers closed. But at 11 the following morning, 200 more names flooded the registration tables, an unexpected, yet welcome, wrench in the planners' designs.
Kerrie Young, who hails from St. Brendan's and is a member of the Dorchester Running Club, which meets every Saturday morning at 7 at Garvey Park, ran in the 5K in 2015 and took note of the scene beforehand. "We know last year they had a lot more registrants than prior years," she said, "so it looked like they could use a few more hands to help out that day."
She fired off an email to Connell at Project D.E.E.P., saying that her club would be happy to chip in for 2016. Connell swiftly and gratefully accepted the offer. "It's a lot of work organizing a road race," Young said, "so we put the offer out there if she needed any help with registration or on the water stops. Beth was very appreciative of the offer," she added, noting that the race "is a community event, and at the Dorchester Running Club, we like to help the community and give back. Project D.E.E.P is a good community organization that helps a lot of kids."
As in years past, a cookout and awards ceremony will immediately follow the race.
The pre-race entry fee is $30 for adults and $15 for children up to age 12. Day-of rates are $35 for adults, $20 for children. Proceeds from the event will help fund enrollment in summer camps for the students of Project D.E.E.P. who completed the program's academic and service requirements during the school year.