By Caleb Nelson, Reporter Correspondent
March 17, 2016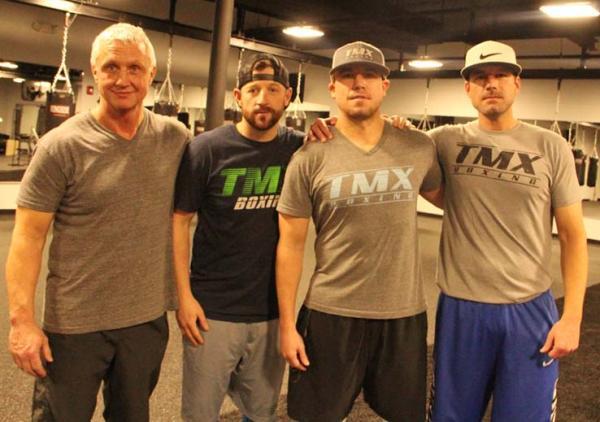 The thunder of 44 fists on canvas competes with the bass-heavy hip hop in Billy Traft's gym. "I'm noddin' on beat. I'm mobbin' on streets, The Method." Raps shake the floor while I sit in the bathroom, watching white dots in my eyes creep up the tiles, breathing, breathing, heart beating. I want to be out there moving my muscles like the rest of them, but I should have drunk more water an hour before I agreed to "train like a fighter." My arms hang limp at my sides. My blood feels thick, and through the door I hear Traft repeat his admonition: "On your toes, athletic," he says. "Get deep now."
Tony LaMonica, Taft's buddy, pops his head through the bathroom door, checking against a heart attack. I had just powered through several sets of pushups, jump rope, a little shadow boxing in a workout at the TMX Boxing and Fitness Center in Quincy. Three months after quitting smoking, my lungs feel weak and phlegmy. LaMonica assures me this happens,sometimes. "Splash on some water," he suggests. "Take a drink. Cool down."
LaMonica has been fighting since he was six, boxed in his first match when he was eight, and has been best friends with Traft since they were 14. They started sparring together in high school at Don Bosco, and trained together for amateur matches at a gym in Southie. After graduation they joined the Boston Police Cadet Program together, went to the police academy together, fought in the Golden Gloves and at the International Boxing Tournament in London together, and now they work as partners in the gang unit and at this gym.
"I see Tony more than I see my wife," Traft said while taking a break from typing behind the desk before the class began. He looked up, his unwavering eyes locked on my face as if we were about to spar. "When you do these exercises for 60 minutes, it goes by like that. It's almost like you have a personal trainer that you share with 20 other people at the class."
LaMonica and Traft each fought a few pro fights before they "shut down shop," as LaMonica put it. Traft had his amateur and pro debuts a little over 15 years apart, both at the Dorchester Armory, in the neighborhood where he grew up. "It was a good time. It was a big space," he said He fought for pay at Gillette Stadium and the Boston Garden, and he won all three of his pro bouts.
•••
TMX is a wide-open warehouse space with 15 yards of field turf running down the center. The walls are lined with punching bags and mirrors. Off to one side, behind a few speed bags, sit two Olympic-sized weights sets, a bench, a squat rack, a cable crossover, two brand new treadmills, kettle bells, double end bags, dumbbells, all neatly arranged next to an 18-foot ring where clients can spar.
"Most people that come here, they've never boxed a day in their life," Traft said. "We take them right from the ground up, first day fundamentals on." He and his partners specialize in training high school and college athletes. They also help prepare people for charity fights, to raise money for ALS research, or Haymakers for Hope.
"A lot of guys come here, white-collar type guys that never boxed, and now they're in their late 30s or 40s, sometimes in their 50s," Traft said. "Last year we had three guys start out to train for a cancer charity. One ended up going through with it, and we trained with him just like you would be training for a regular amateur fight."
Gathered with his brother Matt and his business partners Marty McDonough and LaMonica around the front desk, Traft said the gym is more than a business. It's a family. All four grunted and nodded or smiled and said, "That's true." "It's not your average business arrangement," LaMonica added. "We've got a good thing going over here, because we're a little different from the next gym. There's no gym in and around this location. If people from this area want the kind of workout we're giving them, they gotta go all the way out to Southie, or downtown for it, so we're hoping that in this location we can hit a much bigger market than we were down in Randolph."
They opened the gym in Randolph two years ago, then moved to Quincy last December. Located at 20 Independence Ave, near the Braintree split at the beginning of Route 3, the facility is barely off the beaten path, sitting behind a liquor store at the far corner of a parking lot beside a new Marylou's coffee shop. The layout is exactly what the partners needed, a simple wide open space for cardio, strength and conditioning, and, primarily, boxing practice.
•••
For the second half of Traft's "Intro to Boxing" class, I muster my senses to put on the gloves, and start beating up one of the bags in various combinations of hooks and jabs. I punch until my arms go numb, sit out for five minutes, and try again. The workout is a relentless course of violent energy and enervation. My whole body shakes by the end.
"We teach the fundamentals," Traft had said before inviting me to my free workout. "Every instructor is different. Tony's class isn't like my class. My class isn't like Marty's class."
Marty McDonough, who also grew up in Dorchester, trained Traft through the last five bouts of his amateur carrier, and for his professional fights in 2012 and 2013. A Golden Gloves competitor in his youth, McDonough is now a silver-haired, iron-chested guru and certified USA Boxing Coach. In 2013 he won the National Master's Boxing Championship at Gleason's Gym in New York City.
"You'll do everything a fighter does in preparation for a fight or just to get in shape, less the sparring," McDonough says in breaking down his workout regiment. "It's jump rope, calisthenics, bag work, mitt work, shadow boxing, that type of thing. It's always different."
For a beginner, it's striking to learn how many exercise options mitts and stuffed sacks provide.
After the workout, Matt Jenkins, a TMX client, sits on one side of the boxing ring unwrapping his hands and breathing heavily. In his second week of classes, he's hooked. "It's intense. It's very tough," Jenkins says. "I go to the regular gym three nights a week, but I wanted more for cardio. At the regular gym you get bored and stick to the same routine. Here they mix it up so you press yourself."
Nearby, Grace Larkin stands next to a pile of boxing gloves in the corner as she unwraps her hands. "It's a great class," she says. "It's different with the three guys. They each have their own style, but it's a good workout with each one of them. You'll be a bit sore after the first workout, but you'll get used to it."
There are six classes a day Monday-Friday, starting at 5:30 a.m. and continuing at 9:30 a.m., 11:45 a.m., 12:30 p.m., then 5:30 and 7 p.m. If you walk into the open gym in the afternoon, you might find McDonough in an individual session, guiding a client through squats with kettle bell. Saturday is mostly open gym, with a class first thing in the morning at 8 o'clock. There are also kids classes on Wednesdays at 4:30 p.m. and on Saturdays at 10 a.m.
"We're tuning the schedule," McDonough said. "We've barely been here three months, so we're figuring out what works and what doesn't work, depending on the number of folks."
"Every class is focused on the clients who show up," Traft explained. "It's all boxing-based classes, but we do a lot of exercises, a lot of functional training. We don't just tell you, we show you the proper way to do it, and we all boxed our whole lives. Everything we're saying, we've done."
•••
On the drive home from the gym, my foot cramps and I have to pull over to walk it out. Oddly I don't mind. The real reward comes in the hours after. As I type, I feel elated, head clear, mind focused. I might try to train like a fighter again. A month of gym access costs a C-note. Next time I will pre-stretch, and arrive hydrated. You can sign up for a free trial lesson at tmxboxing.com. It's true what the site says: "Boxing will give you the best workout of your life."