By Jennifer Smith, Reporter Staff
June 8, 2016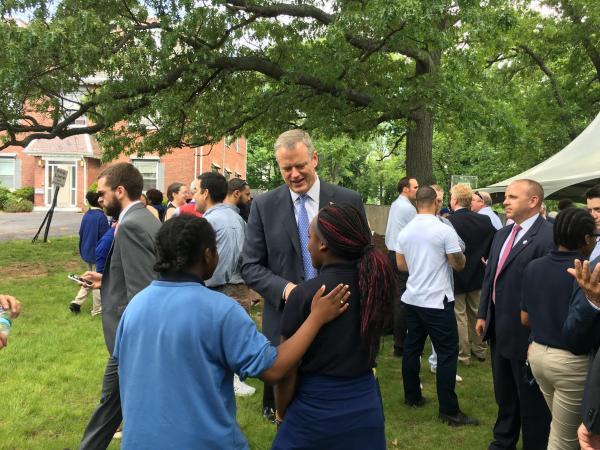 The Epiphany School broke ground on its new expanded campus Tuesday morning at a celebration attended by city and state officials, including Governor Charlie Baker. The approximately 2-acre campus will include an early learning center, expected to serve over 60 low-income infants, toddlers, and their families.
David Foster, vice president of the Epiphany School board of directors, said the school's ongoing $25 million capital campaign, Starting Younger, Growing Stronger, which includes the early learning program, will "serve to strengthen the fabric of our entire community."
He added, "We know that an investment in early childhood education, and in education overall is the most valuable commitment we can make to our community, our city, and our commonwealth."
The tuition-free Epiphany middle school serves Boston children from economically-disadvantaged families. Within the new 22,000 square-foot facility, which includes 7,000 square-feet of outdoor classroom space, the school would provide a pre-school education and full-service care to needy families.
Epiphany School's campus will also include expanded space to support graduates and families of the middle school program and free space for community gatherings, including a gymnasium and meeting space.
In his brief remarks, Gov. Baker congratulated those who have been involved in the Epiphany program over the past 18 years, which he said "enthralled" him when he was first introduced to it. "People invest in invest in ideas, okay, but people also invest in success," Baker said. "And I think the fact that you're here today to talk about a $25 million initiative to dramatically expand the capability of Epiphany... is a real statement about what everyone in this organization has been able to achieve over the course of the past two decades."
Michelle Sanchez, principal of Epiphany School; Rt. Rev. Alan Gates, the Episcopal Bishop of Massachusetts; and Rev. John H. Finley, IV, Epiphany's founder and head of school, spoke at the ceremony. Also in attendance Tuesday were State Rep. Dan Hunt, city councillors Andrea Campbell and Annissa Essaibi George, and State Sen. Linda Dorcena Forry.