By Maddie Kilgannon, Reporter Correspondent
February 25, 2016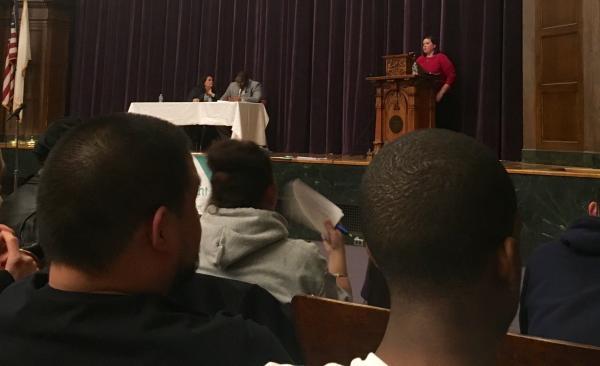 Students, faculty members and parents expressed serious concerns about proposed Boston Public School budget cuts at a lengthy town hall forum at Boston Latin School on Monday night. City Councillors Tito Jackson and Annissa Essaibi-George, who lead the council's Education committee, heard testimony as other members of the City Council and school administrators observed.
Boston Latin School is one of the several city high schools facing steep budget cuts. The prestigious exam school could lose seven teachers as a result of the $705,702 cut for the upcoming year. The Boston School Committee is scheduled to vote on the proposed budget on March 23.
City Councillors, who spoke at the beginning of the session, echoed similar statements of disappointment at the proposed budget cuts and a commitment to listening to their constituents during the budget proposal process over the next month.
"We will continue to work together, and we will continue to advocate together," said Councillor Jackson. "If we advocate together, we can roll back the cuts."
Representatives from each impacted school read statements on how their respective school would suffer from the proposed $38 million in budget cuts— a figure reduced from an earlier estimate of $50 million. Although the budget has not yet been approved, some schools have already felt the cuts. Reba Tierney, the librarian at the Jeremiah E. Burke High School in Dorchester for six years, received her layoff notice on Feb. 9. The Burke's budget is scheduled to be cut by $300,000 next year.
Tierney called libraries "the great equalizer" and said that regardless of her students' resources, "I can give them the tools they need to succeed.
"But you know what?" she said. "I won't be able to do that next year."
In addition to Tierney, the Burke's technology teacher, guidance counselor, and Spanish teacher were also told that their positions had been cut. This week, the school's social worker was informed that their job had also been cut.
Lauren Vogel, the only librarian for 1,200 students between four schools, received word that her position would be cut in January. Vogel spends every other week at Boston Community Leadership Academy (BCLA) and New Mission which share a building in Hyde Park. The other weeks, Vogel is at Boston International Newcomers Academy (BINCA) which is made up of two different schools in Dorchester under one principal.
For eight years Vogel has been a librarian at BCLA, which is now facing $875,000 in cuts, the most out of any school. Vogel says that her current "week on, week off" schedule does not allow her to plan programs or develop relationships with students.
The New England Association of Schools and Colleges evaluates schools by awarding accreditation for quality assurance. High schools without a librarian are at risk of losing accreditation. As a result of the proposed budget cuts, several city schools— including Brighton High School, Burke, CASH, BCLA, New Mission, and Boston International Newcomers Academy— are all slated lose their only librarian next year.
Vogel continued by saying, "Yes, we will lose our accreditation probably, and we fought so hard to get that."
Without accreditation, Vogel says, "we will no longer have proof that our students are college ready."
The O'Bryant School of Math and Science is facing a $340,000 budget slash, meaning that Advanced Placement, computer, and foreign language courses will no longer be offered, according to parents who spoke on behalf of the school. Many colleges require applicants to have at least two years of a foreign language.
Carolyn Lomax of Dorchester was one of the many parents who spoke at the meeting. She currently has 12 children in eight different schools. At the meeting, she spoke on behalf of TechBoston Academy in Dorchester. Lomax acknowledged that although TechBoston is not facing serious cuts compared to some of the other high schools, larger class sizes and a change in the base weight student formula is still a burden.
And because for this, Lomax says, "We're watching our children's diplomas diminish."
There was a public comment period after the impact statements were all read. Community members lined up to further express their feeling on the BPS budget.
As of now, the Commonwealth of Massachusetts has not paid the City of Boston $18 million in Charter School reimbursements. Essaibi-George said, "The way that you have advocated for your students and your schools, we need to be advocating for the city as a whole up at the State House."
Before this meeting, councillors were not fully aware of the exact dollar amount each school's budget would be cut by.
"We hear about these things in the abstract, and to hear about them in the concrete is helpful to me as we begin this journey as an Education committee," said Essaibi-George.
Jackson once again called the budget a "value statement."
When asked if he would vote against the Mayor's budget, Jackson said, "I cannot support the current budget proposal."