By Reporter Staff
November 23, 2016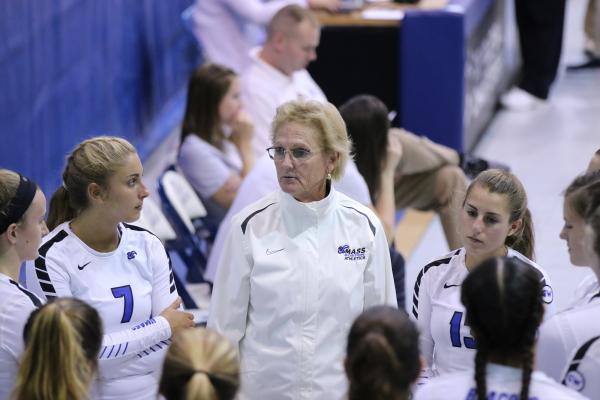 UMass Boston's Terry Condon has announced that 2016 will be her final season as a head coach of the university's women's volleyball team. During her coaching career, Condon mentored countless athletes while helping to grow women's athletics throughout the country.
"During her tenure, as the Women's Volleyball coach, at the University of Massachusetts Boston, Terry has set new standards of excellence and consistency for athletic and academic performance for our student athletes," said UMass Boston Chancellor J. Keith Motley, Ph.D. "As she steps down from her coaching duties, she leaves women's volleyball as the gold standard for programs throughout New England. We are very grateful that she is remaining with the Department of Athletics as the senior associate director of athletics. We will continue to benefit from her extraordinary efforts on behalf of the university and her influence on so many of our student-athletes, but she will be dearly missed on the sidelines."
During her 12 seasons, the Beacons hoisted a Little East Conference record eight straight regular season titles, seven tournament titles, and three NCAA Regional crowns. She compiled an impressive record of 258-126 during her time on the harbor campus.
While serving as the leader of the Beacons, Condon coached 41 All-Little East Conference honorees, which included 19 major award winners, 16 AVCA All-Region honorees, and 12 AVCA All-Americans. Condon will end her coaching career with a combined 460 career wins, having also served as the head coach of California State University Bakersfield and Texas A&M University.
"Coach Condon has had an incredible run as our head volleyball coach. Most importantly the academic performance by her team members has been near perfect. Under Terry's leadership volleyball has set the standard for consistent success, in the right way, among our teams. On behalf of the university I thank Coach Condon for her outstanding service," said Charlie Titus, vice chancellor of athletics and recreation.
Condon was herself a member of the United States Volleyball National Team throughout the 1970s and was named a seven-time First Team All-American, two-time Second Team All-American and was the Player of the Year in 1971. She was inducted into the New Agenda: Northeast Women's Hall of Fame in recognition of her coaching and teaching accomplishments within the community and the college arena.
"Coaching at UMass Boston has been an amazing experience. Even though it is hard for me to walk away from coaching, I could not be happier ending my career at this university," said Condon. "Working with all of these players both on and off the court has helped to make me a better person and coach. I want to thank the administration, my fellow coaches, and my co-head coach Mike Houlihan for everything they have done for me over these last 12 seasons."