By Griffin Connolly, Special to the Reporter
June 22, 2016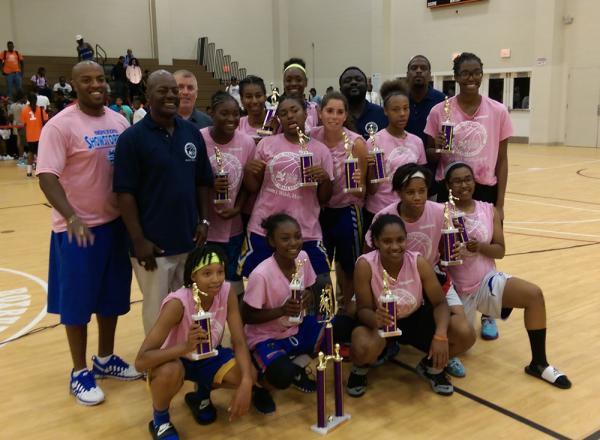 The Boston Neighborhood Basketball League tips off its 48th season on July 5, when nearly 2,000 youngsters from every corner of the city will flock to local blacktops and compete in two games per week.
The league features boys and girls teams in three divisions––13-and-under, 15-and-under, and 18-and-under––and has been a summertime fixture since its first iteration in 1969.
"The kids who do this league do it every year, the coaches who do this do it every year," said former program coordinator Woodley Auguste, who has overseen BNBL functions for the last nine years. "You don't have much transition in terms of people leaving unless the kids age out. It's like a tradition."
The Perkins Community Center at Franklin Field in Dorchester, in conjunction with Lee Elementary, has fielded 12 teams, six in the U15 division and six in U18, according to Lee athletic director Heyward Burdette.
Outfits from the Perkins-Lee machine have captured a considerable sum of BNBL titles over the years, but organization officials deem on-court success secondary to the league's original mission.
"From a historical background, yes, it was about neighborhood bragging rights, but it was mainly a public safety initiative," rookie coordinator Mike Mitchell said, remembering the years after Martin Luther King, Jr.'s 1968 assassination, when the league provided much-needed respite for neighborhood children surrounded by racially tinged violence. "And it continues to be because it gives kids opportunities to participate in something during the week instead of hanging out on corners out on the streets."
With years of first-hand experience in Boston's rougher areas, Auguste has come to believe that people respect basketball, that the presence of an organized game temporarily activates the pause button on hooliganism and shady behavior.
"Anyone who's grown up playing in the basketball culture will always say, 'Ballers get a pass,'" he said. "If you're a baller, everyone knows you're a baller. They don't mess with the ballers. … You sort of have this carte blanche to go into any neighborhood and play ball as long as you're going there to play ball. That's always been the magic of the BNBL."
Among the BNBL alumni is a notable list of current and former NBA players, including Shabazz Napier of the Orlando Magic, Wayne Turner, who played briefly for the Celtics in 1999, and Will Blalock, a second-round draft pick of the Detroit Pistons in 2006. "You can't name a player from Boston who's gone onto the pros and hasn't played in the BNBL," Mitchell said.
Registration for all divisions is open through next week, and participation in the BNBL, which operates under the umbrella of Boston Parks and Recreation, is free. "Bottom line is it costs no money, and it's fun," Mitchell said. "What's better than that?"