By Bill Forry, Editor
November 10, 2016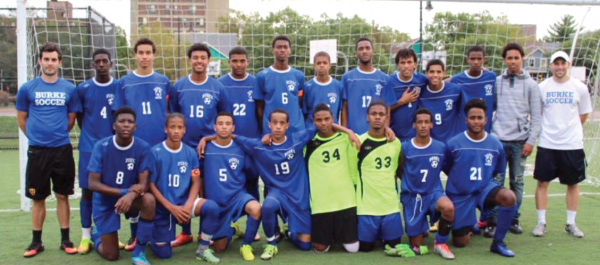 The boys soccer team from Dorchester's Jeremiah E. Burke High School will play for a shot at the state championship today in a Division 3 semi-final match-up with Marblehead High School. The Burke boys— led by second year coaching duo Patrick Mudie and Nathan Stern— came from behind to defeat a tough North Reading side 2-1 in the quarterfinals played on Monday evening at Moakley Park in South Boston.
Senior co-captain Yuran Teixiera notched two second-half goals to power the Burke squad to the win. The Dorchester striker has been "a beast," this season, according to Stern.
"He's scored 24 goals on the season," said Stern, who noted the squad's overall record is 13-2-3. "We had a great year. It's a great bunch of boys and they've been working hard since August. We're really proud of them."
The Burke team lost a bid to advance to the state title last year, losing a tough match in double overtime in the quarterfinals. The team plays ots home games at Ceylon Park on Columbia Road. This Thursday's match will be played at a neutral site: Manning Field in Lynn.