By Chris Harding, Special to the Reporter
June 8, 2016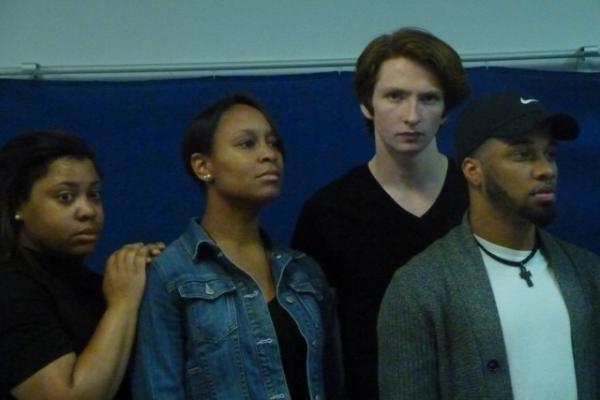 This afternoon (Thurs., June 9), and then again on Saturday evening, four young actors including Dot's Makiya Polk will bring to life the harrowing reality of the youth sex-trafficking crisis around the world and even in our own backyard.
This weekend's performances at Hibernian Hall in Roxbury are just the latest in the Boston area's series of productions of Deborah Lake Fortson's "Body & Sold," an award-winning documentary play based on her interviews with real-life survivors of sexual exploitation in five US cities.
In 2015, Fortson and producer Amy Merrill founded The Body & Sold Project, a theater and community initiative to raise awareness about commercial sexual exploitation of young people in metro Boston.
To date, the project has held readings or staged productions with post-show talkbacks at five area theaters, including the Boston Center for the Arts, and at several universities, among them Roxbury Community College and BU.
"This is a big, lucrative business, hidden in plain sight, that exploits and devastates our most vulnerable boys and girls, those who run away from home," says playwright Fortson. "Most Americans are not aware that it is happening on their home streets. We are telling the stories of four girls and two boys to give audiences a look at what is hidden and to start a conversation about these questions: 'How do we change our culture to prevent the stalking and destruction of our children? How can we create local action strategies against the deadly tide of exploitation?' "
Fortson's sentiments are echoed by director Jacqui Parker, who has won acclaim for tackling dramas that fearlessly address contemporary social and racial issues.
"Directing a play like "Body & Sold" feels like I am taking a stand against the ugly world of sex trafficking," says Parker. "Unfortunately, even today, when you say the words 'sex trafficking,' some people think it's that 'thing' that is happening in foreign lands. While that may be an awful truth, I believe that a play like "Body & Sold," [which is] about real-life experiences in America, will open up much needed dialogue about the horrors of what is going on in our own country, in our own neighborhoods and families."
Nearly 46 million people live in slavery around the world, according to the Walk Free Foundation's recently released third annual Global Slavery Index. A local example: Just a few weeks ago, 33-year-old Anthony Dew was sentenced to 8-10 years in prison for a human trafficking operation that was run out of two apartments on Adams and Maxwell streets in Dorchester during 2014 and early 2015.
Makiya Polk, who had done some acting at English High, was unprepared for the impact of being cast in this eye-opening work. Aside from playing a police officer and a social worker in a few scenes, Polk spends most of her time on stage incarnating the experiences of Susan, a suburban African-American woman from Virginia.
Prior to rehearsals, Polk never realized the scope of teen sex trafficking, saying, "I had no idea about how they were suffering. It's really shocking. Even though I can't personally relate, I certainly can connect with the feelings of the young people trapped in this very tragic life."
"Body & Sold" will have two performances: Today (June 9) at 4:30 p.m. and June 11 at 7:30 p.m. Today's free afternoon performance is for young people from after school and youth programs.
Tickets for the Saturday show are $20, ($10 for seniors, students). Among the speakers will be Sarah Dunham, Emmanuel Gospel Center, Kim Willingham, chair of Massachusetts Coalition to End Human Trafficking, Shatter the Silence Task Force, Bethel AME Church, Roxbury.  
Tickets can be purchased online@hibernianhall.org or at the door.