By Jennifer Smith, Reporter Staff
December 30, 2015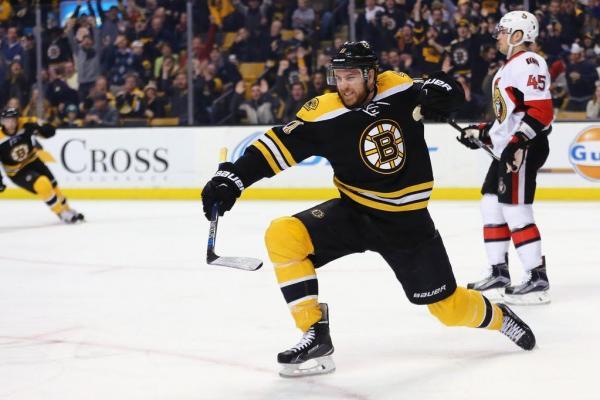 Jimmy Hayes of Dorchester scored the first hat trick of his NHL career last night, capping off a riotous game and nailing down a team and personal victory.
Going into their final game before the Winter Classic, the Bruins were following a three-game losing streak. They took on the Ottawa Senators on the Bruins home ice in TD Garden last night, after a 1-3 loss in Ottawa on Sunday in the first game of their home-and-home matchup.
It ended handily in a 7-3 win for the Bruins, who swept in four power play goals -- Patrice Bergeron in the first period, two for Matt Beleskey, and Hayes with his hat trick to bring in the final goal of the game.
"It's a dream come true and a pretty cool feeling," Hayes told a pool of reporters afterward. "It's always fun to score a hat trick in any league and to do in the NHL for your hometown team is great."
Hayes, a 26-year-old Westglow Street native, was drafted by the Toronto Maple Leafs and broke into the pros with the Chicago Blackhawks. The 6-foot-4 forward was traded from the Florida Panthers to the Bruins this summer for a three-year, $2.3 million contract.
Prior to his professional turn, Jimmy Hayes helped the Boston College Eagles win the Division 1 NCAA championship in 2010. At the time of the trade, Hayes had notched 36 goals and 30 assists in his NHL career.
Hayes' younger brother Kevin also made his way to the NHL, currently playing for the New York Rangers. Both brothers are towering right wing forwards lauded for exceptional performances for the BC Eagles.
On the same day as his brother's triumphant hat trick, Kevin Hayes was benched by the Rangers due to lackluster performance, including 16 games without a goal. He is a healthy scratch in tonight's Rangers game against the Tampa Bay Lightning, according to the NHL.
Jimmy's scoring performance since the trade had likewise been a disappointment; he knocked in only five goals during the 2015 season before Tuesday. His first goal that night — and the first of the match — was his second goal in 22 games.
"I haven't been scoring many goals lately," Hayes told reporters. "It was nice to get some confidence going."
Though the Bruins have netted some criticism for a weak defense despite an impressive deployment of power plays, that strategy hammered in Tuesday's victory.
Goals aside, the game devolved into a third period throw-down that warranted 82 minutes of penalty time handed down just before the last minute of play. Eyes were gouged, players pummeled, equipment flung down, and six 10-minute misconduct penalties sentenced to Senators players Chris Neil, Mark Borowiecki, and Zack Smith, along with Bruins players Adam McQuaid, Kevan Miller, and Belesky.
Hayes, who was not penalized, nailed his hat trick post-brawl with one second left on the clock.
The team will play in the 2015 Winter Classic in Foxborough on New Year's Day, facing off at Gillette Stadium against the Montreal Canadiens.