By Lauren Dezenski
October 23, 2014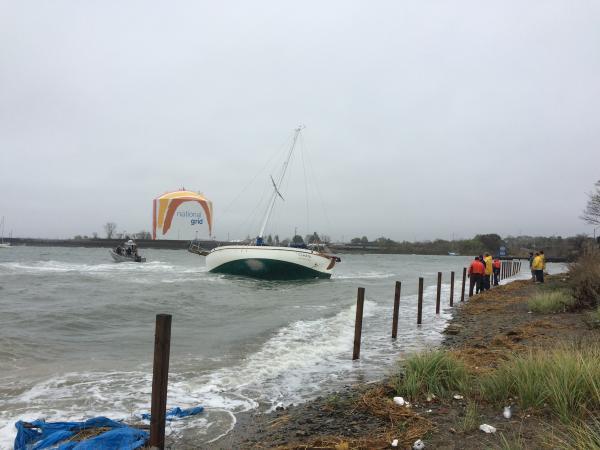 Minor flooding briefly forced lane closures along Morrissey Boulevard as traffic was funneled to one lane just south of the UMass Boston entrance just before noon today.
The roadway was flooded by high tides that rolled in at 11:28. Department of Conservation and Recreation spokesman William Hickey said the closed lanes would be re-opened by 2 p.m.–in time for the evening commute. The minor flooding took place around high tide and after a deluge of rain. As of 8 a.m. this morning, 2.64 inches of rain had fallen at Logan Airport over 22 hours as a result of the storm.
The storm could also shut down lanes of Morrissey Boulevard overnight as continuing rainfall coincides with high tide just before midnight, DCR said. Detours set up by DCR and State Police are possible between 11 p.m. and 1 a.m.
Just before high tide, waves lashed the shoreline along Morrissey Boulevard as a crew from UMass Boston worked with members of the Savin Hill Yacht Club to free four sailboats ripped from their moorings during the powerful northeaster storm currently battering New England.
A tug boat from UMass Boston used a rope to tow the beached boats. Some had tipped on their sides including the Cordelia, which had washed up near the boat ramp off of Morrissey Boulevard last night. The tug returned the sailboats to more secure moorings.
The Cordelia was pulled from its moorings and had washed ashore on Wednesday night. Photo by Lauren Dezenski.
Other pieces of debris were scattered along the shoreline, including a dock that had also been freed by the powerful waves in the harbor.
According to the National Weather Service, the northeaster hit communities north of Boston hardest, with street flooding and downed trees reported in Salem, Peabody, and other cities and towns.
Story developing and will be updated as information becomes available.
Members of the Savin Hill Yacht Club and UMass Boston watch as another beached boat is towed to safety. Photo by Lauren Dezenski