By Jeanette Origel, Special to the Reporter
July 8, 2014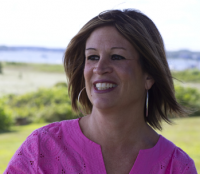 Neponset resident Paula Guerard realized a dream this month: Her first book for children, "Mary Lou Found a Really Big Shoe," was published through Tate Publishing on June 17.
Guerard, 51, has been living on Glide Street since she married in 1989. She lives with her husband Mark, 18-year-old son Mark and 15-year-old daughter Patrice. A Dorchester native, Guerard attended St. Ann's Grammar School and St. Gregory High School. She is a legal assistant for the MBTA, a florist at Kathleen of Boston and now a newly published author.
Guerard began to write in 2007 after experiencing a tough year, including the loss of both of her parents as well as her job. That same year, she met Kathy, a florist with Kathleen of Boston.
"It was a bad year, but positive things came out of the negative. I started going in a different route, I was writing and doing the flowers on the side, and I got back to work after couple of years," said Guerard.
A friend, Joanne Butkiewitcz, inspired Paula to write a children's book. Her first book, Ode to Rose, was written in 2007 but was never picked up by publishing agencies. The following year, she started work on "Mary Lou Found a Really Big Shoe" with a title in mind from the beginning. The book is based on a young girl named Mary Lou Butkiewitcz who finds a big brown shoe that takes her on adventures she never imagined possible.
With encouragement from her husband, Paula decided to pursue a publishing house after speaking with Mark Allio of UMass Boston's Small Business Development Center. A year later, while on vacation at Disney World, Paula received an email from Tate Publishing accepting the book.
Mary Lou found a Really Big ShoeGuerard credits her children behind the motivation to write this book, as well as her friends for their support, and husband Mark, who pushed her to make the book a reality. The community has also been supportive and she is fortunate to be a part of it.
"I don't know if it has sunk in yet. It's definitely exciting. It's something I never thought I would do," So far, Guerard says, "I'm getting great reviews, people love it. They immediately say they love the cover."
"Once the book picks up and reaches a certain goal, I would like to give to a children's foundation," says Guerard. "Especially since my two cousins were gravely ill years back and Children's Hospital was awesome. I think since it is a children's book it would be nice to give to children's fund."
"Mary Lou Found a Really Big Shoe" is available in the online bookstore at tatepublishing.com as well as amazon.com and other online bookstores. Guerard plans to host a book signing on Sept. 4 at Abbey Park in Milton. An August event is also in the works for the Adams Street Library in Dorchester, although the date is not yet finalized.