By Dave Eisenstadter, Special to the Reporter
June 19, 2014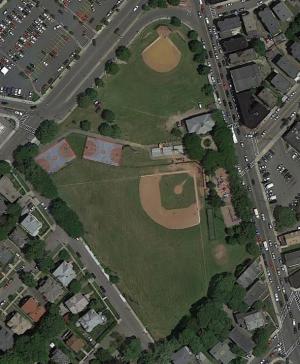 Town Field: A view from aboveWith just a week for artists to put their hat in the ring for a $250,000 installation at Fields Corner, only out-of-town artists have submitted their qualifications.
"This is a great budget and a great opportunity," said project manager Jean Mineo last Friday. "Maybe people are waiting until the last day."
Mineo said between 30 and 40 applications have come forward from artists from around the country, but none from the Boston area.
The project will be a permanent installation at Fields Corner's Doherty Gibson Park, better known as Town Field. It was initiated by Nam Pham, executive director of the Dorchester-based Vietnamese American Initiative for Development (VietAID).
It's title will be "Freedom."
"We came to America for freedom – not just Vietnamese but virtually every group that has come to the shores of America and Massachusetts," Pham said Friday.
Pham said he hopes the project will be a symbol of Vietnamese experience and said his organization chose Fields Corner because about 20,000 Vietnamese live within a mile of the Fields Corner intersection.
Pham hopes that local artists will be interested in the project and has spoken the three, who he said have pledged to submit applications.
"We'd prefer to have a local artist," Pham said. "One of our missions is to help to build a more vibrant Dorchester and Fields Corner area. We always try to do all we can to support and promote local artists and local businesses."
VietAID received $15,000 from the Edward Ingersoll Browne Fund for the first phase of the project – getting an artist and a design. That will be selected by the fall, with help from community input, according to Pham and Mineo.
Then the real fundraising work will begin, Pham said. The budget of $250,000 was selected because that is the average cost of a public art project in Boston, he added.
Mineo said that budget would cover artist costs for designing and fabricating the art project, and that for an out-of-town artist, could include travel, as well.
At this stage, neither Mineo nor Pham have an idea what the final product will look like.
"We purposely craft these calls to artists so they are pretty broad and open to interpretation," Mineo said.
In this case, Freedom could mean freedom from political oppression, but could also be freedom from poverty or violence, she said.
Mineo said the art project is not meant to be a war memorial, but that it would likely pay homage to sacrifices made during the Vietnam War.
Pham said the piece could serve as an icebreaker for different generations of Vietnamese and Dorchester residents from all backgrounds to communicate about freedom and sacrifice.
The project also stems from a desire to combat violence and crime in the neighborhood through community cohesiveness, Pham said. And there is an economic reason for the project, too.
"If you travel around downtown Boston or cities around the country and around the world, any good and interesting place has public art," Pham said. "We wanted to help transform Fields Corner into a cultural and business destination and make it attractive."
Mineo hopes the project will be completed by 2017.
The deadline for artists to submit portfolios and letters of interest is Friday, June 20.
Both Mineo and Pham are excited about the project and both hope that some local artists submit their work to be considered.
Mineo said on the last day of a project, the number of applications doubles, which she hopes will be good news for seeing applications from local artists.
"I hope there are more just waiting until the end; I would not be surprised," Mineo said.
For more information on the application process, visit vietaid.org/?p=2913.