By Lauren Dezenski, Reporter Staff
July 24, 2014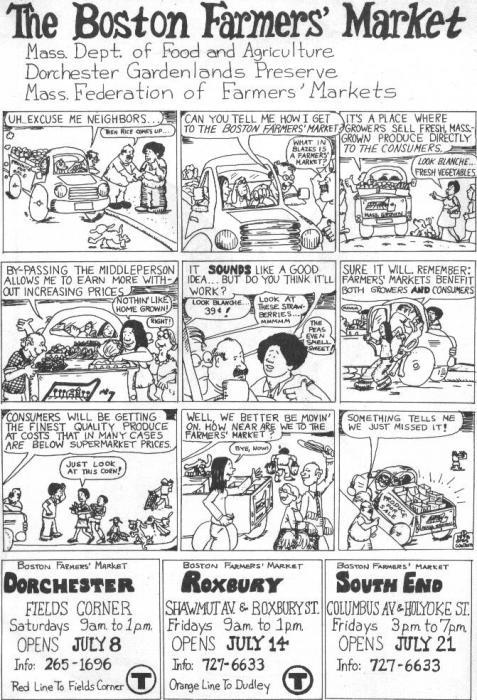 It was a tough sell back in 1978: convince farmers from the far edges of the state to travel to Boston's core to sell their wares at three of the city's first farmers markets.
"Many of them were a little concerned about coming out, asking 'will we make it out alive?'" recalled Greg Watson, who was hired by the state to help organize a network of farmers markets in and around the city.
Residents were miffed too, including some in Fields Corner, where the first of the three markets was slated to open.
"Consumers were saying, 'Why would we block off the street for this market?' They had the image that there would be these rich farmers coming in," Watson said. "We had to break down a number of stereotypes so both sides could see that this would be the best tool for everyone."
Faced with some of the highest food prices in the country, as well as shrinking demand for locally grown produce, the state's Department of Food and Agriculture sought to cut out the middleman and bring farmers directly into the cities, where demand for fresh, inexpensive food was most concentrated.
On that Saturday, July 8, 1978 Watson helped to secure 20 different farmers to sell at the inaugural Fields Corner market. That morning, only one showed up.
Residents, however, came out in droves to buy up the lone farmer's produce. A Boston TV station covered the opening and Watson worried about the images of the lone vendor at the city's first farmers market being beamed out over Boston's airwaves that night and what it could mean for the two markets opening the next weekend. Instead, Watson recalled the cameraman's merciful use of close-up shots, never actually revealing that nearly empty market, and instead showing happy customers clutching bags of fresh cabbage, radishes, beets, and spinach and a good day of business for the farmer.
The next Saturday at the markets in the South End and Roxbury, "they couldn't get stuff off the truck fast enough because people were buying everything," Watson said. "We had 10, 15, 20 farmers showing up. People were scared to drive in at first, but that quickly broke down."
Since then, nearly 250 markets have cropped up throughout state, with 21 in Boston alone. All now accept EBT and SNAP payments, and are enjoying success unlike anything Watson could have imagined.
"Honestly, to think that we would have this many farmers markets, in my wildest dreams, yes, I hoped."
Though support has burgeoned for the markets since the '70s, at the ground level, farmers still sell sweet corn, spinach, broccoli, and other speciality crops for eager customers as they did 36 years ago, as well as a wide selection of Asian greens. "The growing demand for locally grown food has just been through the roof. People have made a very important connection between health and well being and locally grown food," Watson said. He is now commissioner of the Massachusetts Department of Agricultural Resources.
Today, the Fields Corner market serves an average of 300 customers every Saturday morning. The market is open for business on Saturdays from 9 a.m. to noon beginning mid-summer through October. The market is located at the shopping center parking lot at Dorchester Avenue and Park Street. Fields Corner also has another market located at the Dorchester House on Tuesdays from 11:30 a.m. to 1:30 p.m.
Much of the markets' success is thanks to where it all began, Watson said.
"Farmers markets in the city have become a lot more sophisticated and established in large part because of success of the Dorchester market."
Rosanne Foley contributed reporting to this story.