By Gintautas Dumcius, News Editor
September 24, 2013
Decision Day: State Rep. Marty Walsh greeted a voter outside of the Cristo Rey School on Savin Hill Ave. this morning. Photo by Bill Forry
Dorchester state Rep. Marty Walsh planned to greet voters outside McKenna's Café, down the street from his Tuttle Street home in Savin Hill, as polls opened at 7 a.m. across the city. About 7 miles away, District 5 Councillor Rob Consalvo was scheduled to cast his vote at the Blake Estates on Hyde Park Ave. And three miles away from there, City Councillor At-Large John Connolly was set to greet voters at about 7:30 a.m. at St. George Orthodox Church in West Roxbury.
Preliminary election: Bill Walczak, with his daughter Elizabeth, highlighted his opposition to a casino in Boston on his election day signage. The two are shown outside the Cristo Rey School where the candidate voted this morning. Photo by Bill Forry
Nine other candidates have similar schedules. For the first time in 30 years, the municipal ballot will not include the name Thomas Menino. Twelve names will be there instead, along with dozens of candidates looking to snag a City Council at-large slot or a district seat. Today's preliminary will whittle the field of mayoral candidates to two, and the number of at-large candidates to eight.
Barros on Bowdoin: Candidate John Barros greeted a voter outside of the Pasciucco Apartments on Tuesday. Photo by Bill ForryPolls in the last week have shown what appears to be the solidification of a top tier, as many political observers had predicted months ago: Connolly and Walsh, two candidates who have been running for mayor longer than the other major contenders in the field; Suffolk District Attorney Dan Conley, who started with a significant cash advantage; and former Dorchester state Rep. Charlotte Golar Richie, the lone woman in the race and a former aide to Menino and Gov. Deval Patrick.
But the campaigns of the other contenders will argue they have a fair shot at the final, too, because of the high number of undecided voters that could break their way, the polls undercounting their supporters, or their below-the-radar ground game. The rest of the field includes Consalvo, former School Committee member John Barros, District 5 Councillor Michael Ross, City Councillor At-Large Felix Arroyo, and Savin Hill activist Bill Walczak. District 4 Councillor Charles Yancey is running for mayor and his council seat. TOUCH 106.1 FM's Charles Clemons and Roxbury Republican David James Wyatt are also on the ballot.
Secretary Bill Galvin, who oversees the state's elections department, predicted that turnout will be higher than in the 2009 preliminary, when Menino faced off against two city councillors at-large and a South End activist. That year, 82,000 voters showed up at the polls. Galvin said turnout could be around 100,000 this year, and possibly as high as 125,000, depending on the intensity of interest in the race.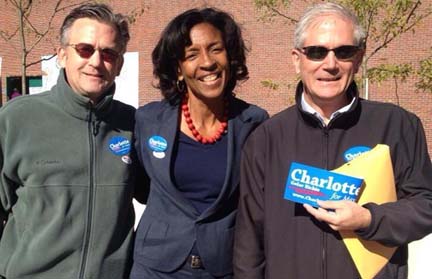 Richie on the Trail: The candidate is shown with supporters Dennis and Eddie Callahan in Charlestown this morning. Photo courtesy Richie campaign
The intensity of candidates' campaigns is another matter: Galvin expressed concern that voters will have to run a "gauntlet" of campaign supporters attempting to influence voters on their way into their polling place. Galvin said the law forbidding campaigning within 150 feet of a polling location will be enforced. The race for mayor has been largely congenial, Galvin said. "I want to make sure it has a congenial ending."
In the South End on Sunday, City Councillor At-Large Felix G. Arroyo canvassed with state Rep. Byron Rushing, running into a corner store and a hair salon and chatting up voters inside. They came upon one home with one bumper sticker after the other pasted onto her door, from Jesse Jackson's run for president, Mel King's run for Congress, to Rushing's campaigns for state representative. "Let me tell you, I'm an old lady. I've been voting since I've been allowed to," said the bumper stickers' owner, Beverly Adams, as Arroyo placed a sticker with his name on the door.
Seeing Arroyo with Rushing helped win her over, she said. "I remember when his dad first ran," she said, referring to Felix D. Arroyo, who also served on the City Council. "He's charming. He's personable. And I think he means what he says."
An hour earlier, 80 supporters of former state Rep. Golar Richie trickled into the Franklin Field Golf Clubhouse. Richard Taylor, the transportation secretary under Republican Gov. William Weld, kicked off the get-out-the-vote rally.
"When you get a little hoarse on Tuesday, think about her, think about where we are. When you get a little tired, and if it's raining a little bit, just shake it off and keep moving," he said. "We've already prayed, now we're going to go to work," he added.
On Monday night, 12 hours before the polls were set to open, hundreds of Walsh supporters, many of them union members, gathered at McConnell Park in a rally for their candidate. "We're more than a union candidate," Walsh, a longtime lawmaker and labor leader, told them. "We're the campaign that isn't a single issue campaign, we're the campaign talking about all the issues that affect the city of Boston. We're going to continue that tomorrow night, after the election's over, when we're campaigning on Wednesday."