By Tayla Holman, Reporter Correspondent
January 10, 2013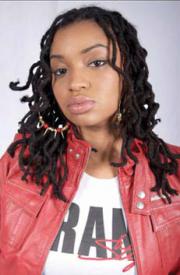 Dutch ReBelle: Haitian-born lyricist and MC has new album in works for spring '13 and new music just out with the Famous Nobodies.Originally from Haiti, she started rapping when she was about 9 years old. But it wasn't until she was a college student that she decided to pursue a music career. Now, Dutch ReBelle is poised for a breakout year that could put her and Boston on the national hip-hop stage once again.
She's at work on her second full-length album, Vodou, due out in spring 2013, and just recently released the official video for her latest single, "Sunday Morning." The release is getting strong reviews within Boston's tight hip-hop community, building on the positive reception to her mix-tape and first album, "Married to the Music," released last year.
ReBelle is also getting attention and critical acclaim for her contributions to the Boston trio Famous Nobodies, whose latest video for the single "What You Want" was just released this week.
Bernadeau, 25, was attending Penn State and studying law when she started having second thoughts about her education.
"It was during my third year that I wanted to drop out," she said. "College was a hustle."
Instead of dropping out, however, she decided to change her major to communications. Around the same time, she had freestyled for someone at school who was surprised that she could rap. From there, she decided she would take a year to figure out her music career.
"If it didn't work out, I was going to go to Atlanta," she said. "But I couldn't just skip out on my city. I had been gone for four years, and I had to get permission to really put on for Boston, because I was from Milton."
When she returned to Boston, Bernadeau "hit the ground running" and started doing shows at different clubs and venues in the city. She got her first real show at BU, and from there went on to do shows at the House of Blues and the Hard Rock Café.
"My friends were surprised," she said. "They knew I could rap, but then they realized I could really rap."
By this point, Bernadeau was going by the name "Dutch ReBelle." The stage name evolved from a nickname she had been given in high school.
"When I was in high school, it kind of just happened that people started calling me Von Dutch after the trucker hat line," she said. "Then it got shortened to Dutch in college, and when I started taking music seriously, I added the ReBelle to the end."
The reason for adding the ReBelle was two-fold, Bernadeau said.
"It was an ode to my country, but it was also from a Lauryn Hill song ["I Find It Hard To Say (Rebel),"] she said.
Besides inspiring her MC name, Hill's music was also an integral part in helping Bernadeau realize she could – and wanted to – rap.
"What made me know I could do it was the Fugees' album, 'The Score,'" she said. "The song 'Cowboys' has Rah Digga and Lauryn Hill on it. Listening to them go back and forth on the record, I knew I had to be able to do that."
It is this Lauryn Hill influence that informs much of her music, said Greg Ball, editor-in-chief of KillerBoomBox.com.
"I used to always say that if Ghostface Killah and Lauryn had a baby, it would be Dutch," said Ball, who has watched Bernadeau's career take flight.
Bernadeau, he says, has the "integrity of someone from Wu-Tang, but the understanding of how to make a record like Lauryn."
Not only could Bernadeau rap, but she was being recognized for her ability from established rappers. Last year, she performed at the Female Hip-Hop Honors in downtown Los Angeles and was able to meet Shawnna, the first female to sign to Ludacris's Disturbing the Peace label.
"She was being awarded with a 'Lyrics for Life' award," she said. "And she actually called me up on stage because she saw my performance."
Bernadeau said the two still have a relationship.
The Hip-Hop Honors allowed her to network and meet other female rappers. But, Bernadeau said, it's important that female rappers don't get too wrapped in their gender when it comes to their music.
"It's not about a female perspective, it's about a perspective from a female," she said.
"Stop letting them tell you it's about the female perspective, because you don't speak for all females. Don't let them box you in like that."
Ball said that early on, Bernadeau was concerned with drawing the line between being a female and being a rapper.
"She would shy away from subjects like sexuality," he said. "But just because you're trying to draw the line in the sand, doesn't mean you shouldn't talk about it. You have to find your inner Missy," he said, citing one of Bernadeau's favorite artists, Missy Elliot.
"That's part of who you are," he said. "And I've kind of seen her grown. 'Stop It' is a record about her on a date, and you wouldn't have gotten that from her before."
Dutch ReBelle takes pleasure in telling her story through the music.
"I try to approach music the way I approached theater. I want people to step into a scene of my life," she said. "A lot of characters, a lot of scenery and a lot of plot twists."