By Melissa Tabeek, Special to the Reporter
March 22, 2012
Shea Rose performs on the Red Bull Soundstage at the SXSW festival in Austin, Texas last week.: Photo courtesy Rox www.roxnrollin.comBoston's neighborhoods have launched their share of music superstars into orbit in past decades. Donna Summer, the original disco diva, hailed from Dot. Gang Starr's legendary MC Guru (aka the late Keith Elam) honed his rap chops in Four Corners. And, of course, New Edition and New Kids on the Block served as the twin pillars of boy band stardom in the 1980s and 90s.
The landscape that spawned those artists has changed dramatically. Local artists are now able to utilize tools such as social media, pirate radio stations, and the Internet to market their music and create hype for themselves, rather than having to depend on a record company or promoter to do it.
This autonomy has made it easier not only for musicians to share their music and build a fan base, but to capitalize on opportunities also. Through a Twitter competition among Red Bull Soundstage artists, Shea Rose — an up-and-coming singer who has lived in Dorchester, Braintree, and now Mattapan — was able to rally her fans to help her win an all-expenses paid trip to Austin, Texas, to this year's South by Southwest (SXSW) Festival. She performed at the Red Bull Soundstage at the Universal Music Group Showcase.
"It was crazy, like Mardi Gras for musicians," said Rose, who spoke of the Boston music scene as supportive, vibrant, and a huge part of her success. Not all musicians share her sentiment though. Some — such as solo artist and CEO of the label Groundup Entertainment, Mike Biggs — believe that there is a lack of unity, particularly among Boston hip-hop and R&B artists, that have impeded Boston from being bigger on the national stage than it is now.
"I could live on one street, look out my window to another street, and people will have a problem with that other street. That's how it is all throughout Boston...I try to get real people from each hood. I reach out to all the artists," said Biggs.
Andre Lang — a solo artist and co-founder of Top Gunnaz Inc. — who is also known as "Dre Tha Cyclone," shares Biggs' view. In an effort to bring the Boston hip-hop and R&B artists together, the Dorchester native has organized six free showcases called "No I In Team," at Sammy's Patio on Revere Street.
"What I try to do is bring more unity into the scene. Everyone is for themselves and their crew. But that's not going to get us the win," said Cyclone.
Regardless of differing musician opinions on Boston unity, there is one fact they all agree on: Boston has a plethora of talent. In this week's issue, the Reporter has highlighted a sampling of that promising talent in Boston neighborhoods.
Bay HollaSharell Jacobs a.k.a "Bay Holla"
Sharell Jacobs, known to the scene as "Bay Holla," said rapping is her first love, but not her only one.  She is also a model, promoter, activist, and actress as well. The 30-year old Roxbury native began writing and performing when she was only nine. About six years later, in 1997, Bay Holla became part of Michael Biven's group, Boston's Big Ten.  This was back when she was still "Relly Rel."
Relly Rel became Bay Holla in October 2006. Since then, she's opened for Roc a Fella's Freeway at the Dublin House, Dipset and Young Money, and provided support for G-Unit's artist, "Trav."
For the past year, Bay Holla has not been as active in the music scene as before. She lost her niece to homicide more than a year ago and she is just starting to get back into her music. Her current project— called "What Is Beautiful Never Dies" — is organized by Anonymous Boston, a project that pairs families of victim of violence with recording artists to create an album with a message.
Bay Holla said her music has transformed as well.

"I've transitioned from the hardcore hip-hop to doing now music with a message. Eighty-five percent of hip-hop is now about selling crack, holding guns, selling drugs. We need to stop supporting these hip-hop artists who are promoting killing and shooting," said Bay Holla.
Bay Holla said Boston can look forward to more music with a positive hook, starting with her newly wrapped EP Rebirth, which she'll be releasing snippets of this month. The first single is called, "No More Murder."
Willie Hobson IIIWillie Hobson
Eighth grader Willie Hobson III is not your typical middle-school student. The 14 year-old dancer not only strives for high grades and perfect attendance, but to dance well enough to make a career of it.
Hobson will be moving one step closer to that goal when he leaves Lilla G. Frederick Pilot Middle School to join Boston Arts Academy this September. Though he auditioned for both dance and visual arts, Hobson ultimately decided that dance where he wanted to develop his skills.
"It's all about the dance," said Hobson.
His mother, Kenyatta Moon-Sprinkle, said that her son has been dancing since he was two years old, honing his skills through programs like OrigiNation, Incorporated, a non-profit organization dedicated to teaching dance, theater, and African history. Hobson also had the opportunity to attend AileyCamp Boston, which is a 6-week day camp for middle school students combining personal development and dance instruction— which changed his viewpoint on dance.
"I used to just think it was people jumping around," said Hobson.
For the past three years at his school, Hobson has also had the opportunity participate in the program, "Boys in Motion," part of Boston Ballet's Taking Steps. Each year, the group gets to participate in a performance at the Strand Theater with the Boston Ballet. Dancing in this program has gotten Hobson thinking about what he wants to do in the future.
"Sometimes I teach the class, showing them different moves in a performance. I did a part of choreography in a performance with my group members. It came out really good. I want to teach younger kids how to do the styles that I do so that they can dance too," said Hobson.
Teaching, developing his own style, and following in the footsteps of his friend and mentor, Russell Ferguson are all goals that Hobson is chasing. Ferguson, who won the televised national competition "So You Think You Can Dance?" is Hobson's biggest inspiration.
"One day that'll be me," said Hobson.
 
Mike Biggs

Mike BiggsMike Biggs is a 30-year old hip-hop and R&B solo artist and CEO of the label Groundup Entertainment. Though the Mattapan native did a mixed tape called The Rebirth in 1997, he said that he didn't start performing in earnest until 2008, the same year he started his own label.
In his career thus far, Biggs has had the opportunity to open up for notable artists such as Jadakiss here in Boston, as well as Fabolous in Providence, Rhode Island. He also has a network that stretches down south to North Carolina and Tennessee, where he spent part of his childhood.His parents did not allow him to listen to rap or hip-hop growing up, so his first musical influences were in the church, where he sang in the choir. Then he discovered Biggie Smalls and Tupac.
Biggs moved to Dorchester four years ago and is hoping that area that is rich in artists, but not in venues, will become more united in the hip-hop and R&B community.
"We're trying to put Boston on the map," said Biggs.
 Looking forward, Biggs hopes to get more artists and a major distributor on his label, and to keep "going hard."
 
Shea Rose
Shea Rose is an artist with a mosaic of influences. The 2011 R&B/Soul/Urban Contemporary Artist of the Year winner of the Boston Music Awards describes herself as "Lenny Kravitz meets Lauryn Hill," with inflections of soul, rock, rap, and jazz in her music.
She attributes much of this to her upbringing. Rose has bounced from Dorchester to Braintree to now Mattapan, where her family has been for about 15 years. Rose says that growing up in Braintree is what introduced her to rock music such as Guns 'N Roses.
"Braintree is a suburb. I don't know if I would've gotten that influence if I was in urban Boston," Rose said.
Rose started off her music career the same way most girls do: singing in their mirror, desperately wanting to be Whitney Houston. But she says it wasn't until she went to the Berklee College of Arts that things really started to take off for her.
"Berklee and the Boston music community have had a big influence in launching my career. They have both helped support my career tremendously, more than I ever dreamed," said Rose.
A highlight of her time at the college, Rose was able to participate in Berklee professor Terri Lyne Carrington's Grammy winning jazz release "The Mosaic Project" as part of a directed study.
Rose points to the Boston music venue's willingness to embrace her at a variety of clubs has been crucial to her success.
"Being able to play the variety of clubs, from Paradise to Middle East to Matt Murphy's (when he still had music) to Berklee Performance Center, has given me the ability to weave through all those different venues and audiences and not be put in one category," said Rose.
Rose has big plans for her future. "My dream is to work with some of my menotrs like Andre 3000 , Lenny Kravitz, Pharrell [Williams], Ron Fair and tour the world," she said.
Darrell Clay, 'OGD' and Matthew Hall, Jr. of Helltowne SoundzDarrell Clay
Darrell Clay, also known as "OGD" is the founder of the production company, Helltowne Soundz. The 45 year-old has built a team of Dorchester natives, including Matthew Hall Jr., "Ebony," Lloyd Poindexter, "DJ LP," and Steve Barnes, "DBILLZ," and up-and-comer Chris Robinson, "FredyBlas4Me."
OGD started the production company in 1990 from a studio in Dorchester. OGD started first as an artist, but wanted to build a career in producing.
He says they do have many different types of artists who record in their studio, but the majority is hip-hop, reggae tone, jazz and, gospel genres.
"We have a pretty eclectic group of productions," said OGD.
Right now, OGD says there are three artists working primarily with Helltowne Soundz, including DBILLZ, Kali Robinson also known as "Blak Luv," and Saquan Robinson. He believes that these three artists are going to be big.
OGD says what makes Helltowne Soundz different from other production companies is that rather than just looking for money, the people working there want to cultivate the talent that comes into the studio and help young artists learn how to navigate the industry.
"We help the guys in that respect. Whatever level they're on, I try to give them a little bit more information that they didn't have before. I learned it the hard way coming up and I want to help them avoid it," said OGD.
Ultimately, he thinks this is a good strategy for bringing the hip-hop scene together and raising the quality of new talent's work.
"At the end of the day what can make the scene better is that we have to unify the areas," said OGD.
 
Alex Mendez, FloeticAlex Mendez a.k.a. "Floetic"
Alex Mendez, "Floetic," is a 21-year old sophomore at Bennington College in Vermont, studying architecture and music. Mendez grew up in Dorchester and has been making music since he was 14.
Although he first went into a studio when he initially began making music, he did not start working on professional singles and mixtape until he reached out to Ron Mendez-McFarland, also known as Rudament the Producer.
With Rudament producing, Floetic was able to recently drop his first single, "Floetic-Jetlife," which has been played on both Big City 101.3 and Touch 106.1. Floetic is happy that he has finally found some direction.
"I've always had an interest in music and I didn't know how to reach out, or what to do," says Floetic, whose performances are enhaced by his dancing skills.
"I do pop-and-lock, hip-hop, and krump dancing. I do African dance as well," he said.
Professional music is relatively new for Floetic, but writing lyrics is not. His rap music developed out of poems he would write based on life in the neighborhoods he knows best.
"Dorchester, Roxbury, Mattapan, those areas are hard to pull yourself out of in certain situations, it's like you're in a bubble," he said.
Floetic is motivated and looking forward to the end of the semester, when he can get back to focusing on music.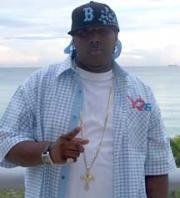 Dre the CycloneDre the Cyclone
Andre Lang, also known as "Dre the Cyclone," considers himself an artist first. But this hip-hop and R&B artist also cares passionately about bringing together his fellow artists, both in Boston, and in the New England area.
Cyclone grew up in Dorchester before moving to Providence, Rhode Island, five years ago. He has been performing since 2003, opening for artists such as Lil' Flip, Carl Thomas, 112, and Young Gunz. Cyclone recognizes the value of these gigs, but he said that opening for these artists does not necessarily launch a career.
"From 112 to Cassie, those are good gigs, but those industry artists don't care about Boston artists because they're already established. That's what I want to put into the brains of New England artists, is that we have to care about each other," said Cyclone.
Cyclone's first effort to encourage artist collaboration and support was creating and producing a CD/DVD called "The Movement Begins" series. He filmed musicians in the Boston scene, highlighting them during their shows, freestyles, and studio time.
More recently, Cyclone has been able to create a tangible unification among hip-hop and R&B artists through the label that he started in 2006, Top Gunnaz Inc. In January 2011, he organized a showcase called "No I in Team," at Sammy's Patio in Revere, Massachusetts. Cyclone said it provides a place for artists to mingle, then perform.
"Boston is small but at the same time we don't see each other that often. One part of it is the meet and greet, and the performance is the icing on the cake," said Cyclone.
Cyclone said it remains to be seen if what he does will eventually be successful. But if it's not, he has a back-up plan.
"I don't plan on doing this forever. If we don't make it, if people aren't pushing, I'm going to go off into movies or different scripts or filming," he said.
K'loni SkyK'LoniSky
Kalonie Smith, also known as K'Loni Sky, is a multi-time New England Urban Award winner. She is also a 30-year old woman of many trades: R&B and gospel singer, songwriter, motivational speaker, modeling instructor, student, and mother.
Growing up at the crossroads of Roxbury and Dorchester, Sky said that her mother often made her sing to her company because she had such a good voice. She hated it.
"I was her show. It bothered me. I didn't like her to push me," she said.
Sky's first time in the studio was in high school was difficult for her. She was nervous. But when she went back into the studio in 2008 to record her debut album Controversy, it was a completely different experience.
"When I got into the studio, I felt like I was at home. In June or July 2008 I recorded 'Oh La La' from my first album. It felt amazing," she said.
Local shows have been important for Sky's success, such as when she performed at the Strand Theater for the Urban Music Awards and at the Lee School in Dorchester.
Sky — a self-proclaimed networking-queen — said she is just going to keep on doing what she is doing to succeed.
"My plans are to stay on course, continue to make the music I like, 100 percent creativity control, and eventually music will get back into letting real artists with real talents and something with feeling to it," she said.
 

Natural JahVybzMorgan Jankie a.k.a. Natural JahVybz
Morgan Jankie, also known as Natural JahVybz, is originally from the Caribbean Island of St. Lucia. Since emigrating to the United States, JahVybz has had the opportunity to experience success both in Boston and in Europe performing reggae music.
JahVybz said social media and the Internet are what have allowed him the success he has had so far. By using Youtube and Facebook, he was able to get much more exposure than through traditional means.
Though JahVybz mostly performs in the reggae scene here in the city, he is quick to point out that he also will sing anything with has a beat.
"I write about everything, a lot of social commentary, spiritual music, lover's rock, it depends on the mood. If I hear the beat and it catches me, I just sing whatever comes," said JahVybz.
JahVybz moved to Mattapan in 2003, which he said is a place that has given him the quiet and creative space to think.
"Mattapan is different from the stereotype. It just has a vibe. Hit Quarters, Hear I studios, Fyah Base. The music is right here," he said.
He added that although Mattapan is a great space for artists, Cambridge — for reggae artists in particular — is where he performs most often. He said, "it's like a home for reggae artists."
 JahVybz is currently focusing on his new EP that is out, Seven in Seven, and has another tour abroad in the works. But in six months, he is looking to open a studio solely to nurture young local talent. He laments the lack of a major label in Boston and thinks the local talent is being wasted.
"The talent is being suppressed because we don't have the avenues. I will build them and make them into professionals, then take them with me around the world,"  he said.
You can be sure of one thing, JahVybz said, that will happen when he does get the studio and the youth together.
"We'll be making a lot of noise and everybody will hear about us."