By Chris Harding, Special to the Reporter
January 12, 2012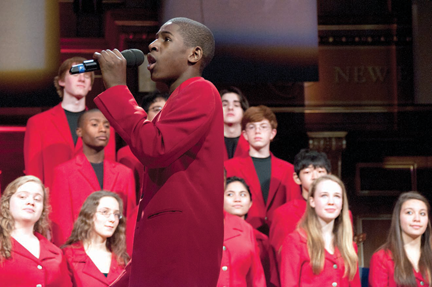 Rolling around next Monday is the only national holiday to honor a former Dorchester resident. Dr. Martin Luther King, Jr. lived here while he pursued his doctoral studies at BU, and in 1952 even served as Interim Pastor at Dot's Metropolitan Baptist Church.
Dorchester and the rest of Boston will host a variety of arts commemorations of the slain activist and Nobel Peace Prize honoree in addition to the usual prayer breakfasts and service opportunities.
The most unusual celebration will be on the January 16 holiday itself at the JFK Library and Museum. Codman Square's Sean Fielder and his Dot-based Boston Tap Company along with the Cambridge Youth Dance will be presenting "The History of Tap: Moments in Time" at 10:30 a.m. The demonstration, part of the library's monthly "Celebrate!" series, will explore the history, rhythm, and multicultural expression of this dance form. The show is free, but pre-registration is required at 617-514-1644.
Dorchester residents Olivia Genesus, Abigail Robinson, Hanifah Bostic, and Khamari Barnes will be among the vocalists at the city's highest profile event: the Boston Children's Chorus' ninth annual MLK tribute concert.
This year's concert entitled "Beloved Community" guest-stars Melinda Dolittle, third place finisher on Season Six of "American Idol." Dolittle, whom the New York Times called "phenomenally gifted," blazed new trails last year voicing "Cassie Cassava," the first African American character on "Veggie Tales."
BCC performances are at 2p.m. and 7p.m. at Jordan Hall on the holiday; tickets range from $15 to $45.
On Sunday, January 15, the New England Conservatory will present a free Family Folk Song concert at 3 p.m. in NEC's St Botolph Street building. Dr. Jill Trinka, a nationally known musician-educator, who plays guitar, autoharp, dulcimer, and banjo, will lead sing-alongs about peace and love.
Using music and the spoken word, the City of Boston will salute Dr. King on January 16 at 1 p.m. at Faneuil Hall. This event will feature a moving selection of classical music, spirituals, and freedom songs performed by the Boston Youth Symphony Orchestras' Intensive Community Program. Admission is free.
Also free will be admission to the Museum of Fine Arts including its new Linde Family Wing for Contemporary Art on Jan. 16. Children are also invited to pick up a copy of the book, "Greek Gods and Heroes" at the 465 Huntington Avenue entrance while supplies last. Details at website at mfa.org or call 617-267-9300.
MLK-related events will continue well past next week. On Friday, January 27, Harvard Street Neighborhood Health Center President and CEO Chidi Achebe will be awarded Dartmouth College's 2012 Martin Luther King Social Justice Award in recognition of his ongoing commitment to bridging health care disparities.
Finally, on Friday, March 9 at 6 p.m. the Morehouse College Glee Club will bring its MLK Memorial Concert featuring classical, spiritual, and folk songs to Old South Church. This distinguished all-male chorus, just back from a successful tour of the Russia and Poland, will continue the commemoration of the civil rights giant into late winter.