By Meena Ramakrishnan Special to the Reporter
March 8, 2012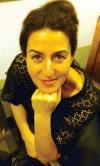 Liz CarneyComing back to Dorchester means a lot to Liz Carney and even more for the Dorchester Community Center for the Visual Arts, or DotArt, as its more commonly called. After a year-long search for the right match, the non-profit center has found the perfect fit in Carney as the new executive director.
Much of the youth-oriented programming has been scaled back since founding director Leslie MacWeeney stepped down. The organization was largely volunteer-driven with fewer classes being offered. But Carney is determined to get the center back on its feet with new classes in the spring, future partnerships and summer fundraising.
"I'm up for the challenge, especially in this fiscal time," she said. "I've already reached out to a lot of Dorchester people."
The organization, which began in 1998, has focused on providing a variety of visual art programming for hundreds of students of all ages each year. Since public schools have tightened their belts, art class is considerably lacking in school curriculum. At DotArt, the classes, held in multiple branches, are long enough for students to explore art and learn about themselves in the process.
"It's about teaching young people confidence and autonomy in art making, and that's so important because many people will say, 'I can't do that' or 'I'm not good at that,'" explains Carney.
This spring, the center will offer additional classes for children ages six to 11 years old. And if all goes as planned, Carney anticipates adding more after-school sequential learning, adult classes and an April vacation week program.
The early childhood and teen summer programs have remained as popular fixtures. The teen program is seen as especially vital to the community because it's an opportunity for youth to find employment during the summer months. DotArt works with with the Boston Youth Fund and Action for Boston Community Development (ABCD) to pay teens to create art installations that are placed around the neighborhood.
So far, there are over 100 life-sized self-portraits around Dorchester, including landmark places such as the Dorchester District Courthouse. Last summer, Carney Hospital also displayed some of the teens' work at the front entrance of the building.
"They're actually helping to beautify the neighborhood and also gaining skills by working as part of a team," said Carney.
Partnering with places like Carney Hospital is what the new director hopes to be one of many collaborations. The board has welcomed a number of new members, one of whom is a curator at The Kennedy Library and Museum. The iconic institution is one such place Carney has plans to hold exhibitions or special events. DotArt already has support from local non-profit College Bound Dorchester and the Mass. Cultural Council.
But Carney wants to take DotArt a step further. The professional artist community in Dorchester is a resource she says the organization needs to tap into. Instead of finding instructors elsewhere, local artists could teach classes. Carney says employing locals not only strengthens community ties but also gives kids a chance to see how professional artists make a living.
"We want to not only just be teaching art, we want to help people see art is being made here by professional arts," she said. "That's something as executive director that I'm hoping to increase--that collaboration with the existing artist community in Dorchester."
Growing up in Savin Hill, Carney has always been surrounded by art. With a mother very active in the local artist community, she started painting at age 14. Carney went on to receive her degree in Fine Art from Smith College and became the art director at the Dorchester Boys and Girls Club. In her five years at the organization, Carney expanded the art program with a number of collaborations.
Until she joined DotArt last December, Carney worked at the Provincetown Art Museum, where her experience only grew in heading art programs. For the last three years, she helped create the museum's first youth art program. Carney also opened her own art gallery in Provincetown, where she continues to show her paintings. She describes her artwork as very colorful and somewhat abstract views of Dorchester and Provincetown.
Carney's new position at DotArt means a lot to her on a personal level. Seeing her name next to the DotArt logo designed by her late husband, Paul Hansen, has felt like coming home, she says. Hansen was a graphics and web designer and a former volunteer at DotArt who worked tirelessly in the community. He's one of the reasons she says she is so passionate about DotArt.
"It feels like the right time for me to continue his personal mission," Carney said. "It felt like a real coming home when I saw my business card with his logo on it. It made me have that moment of saying, 'This is the right place for me to be.'"